Kate Hudson's First Photo Of Her Baby Daughter Is So Cute You Won't Be Able To Deal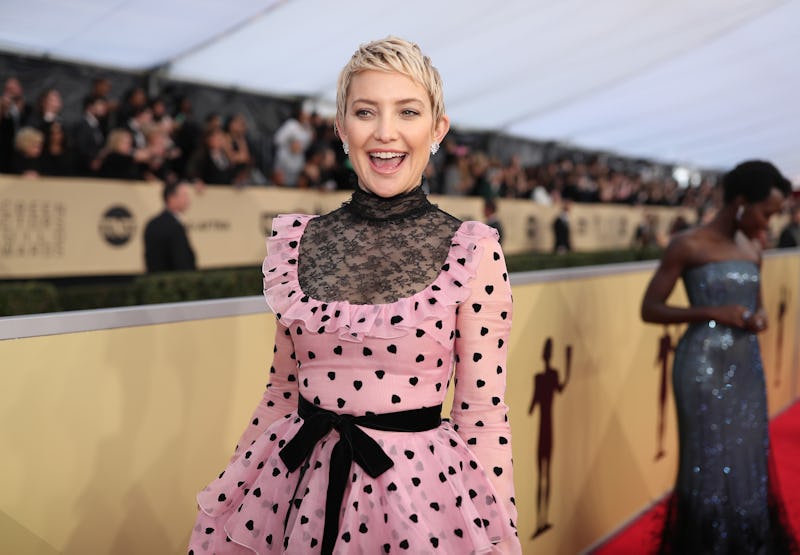 Christopher Polk/Getty Images Entertainment/Getty Images
Welcome to the world, Rani Rose Hudson Fujikawa. Just four days after her daughter's birth, Kate Hudson shared the first photo of her new baby. And Rani is just as adorable as you would expect. In the photo shared via Instagram on Saturday, Oct. 6, Hudson's little girl is swaddled in her hospital blanket, and fast asleep. She's also rocking a fashion-forward bow that suggests she's probably going to be just as cool as her mom. The caption on the photo reads, "Our little rosebud."
Earlier in the week, Hudson shared why she and her boyfriend Danny Fujikawa decided to name their daughter Rani Rose Hudson Fujikawa. In a sweet Instagram post, the How to Lose a Guy in 10 Days actor explained that "Rani" — pronounced "Ronnie" — has personal meaning to her and her family. She wrote on Instagram,
"We have decided to name our daughter Rani (pronounced Ronnie) after her grandfather, Ron Fujikawa. Ron was the most special man who we all miss dearly. To name her after him is an honor.
Everyone is doing well and happy as can be. Our family thanks you for all the love and blessings that have been sent our way and we send ours right back."
Rani is Hudson's first daughter and third child. She also has 14-year-old Ryder Robinson with her ex-husband Chris Robinson, and 7-year-old Bingham Hawn Bellamy with ex-fiancé Matt Bellamy. Earlier in the year, the actor shared a gender reveal video featuring Fujikawa and her sons, and it seemed like they were excited to have a new baby sister on the way.
Now that she's arrived, the family is surely already in love with Rani. Just look at her perfect, little face:
Seriously, this little one is the definition of cuteness. Rani is musician Fujikawa's first child. He and Hudson have been dating for a little over a year, but according to Harper's Baazar, they've known each for a long time — and it seems that Hudson's connection to his family goes way back, which makes their daughter's name all the more meaningful.
In December, Hudson told The Talk hosts,
"We've known each other for 15 years. He's my best friend's stepbrother. We kinda skipped through the part of knowing what the hiccups were. You kinda skip the part of going, 'Oh, you're like that? In terms of family, I've known his family forever. To have that connection is really powerful."
It's no wonder that the pair decided to honor Rani's grandfather by giving her a version of his name. Knowing that this couple's history is so intertwined only makes their connection and their new arrival feel all the more special.
Hudson hasn't been shy about sharing her pregnancy with fans, so it seems likely that there will lots more updates on Rani's progress in the future. Right now, this first picture of the newest member of the Hudson-Fujikawa family is more than enough for fans of the famous couple. Rani appears happy, healthy, and ready to take on the world — after she finishes her nap, of course — and that's the best update that Hudson could have possibly shared.