Twitter Is Seriously Wishing Kate McKinnon & Kenan Thompson Were Hosting The Emmys Instead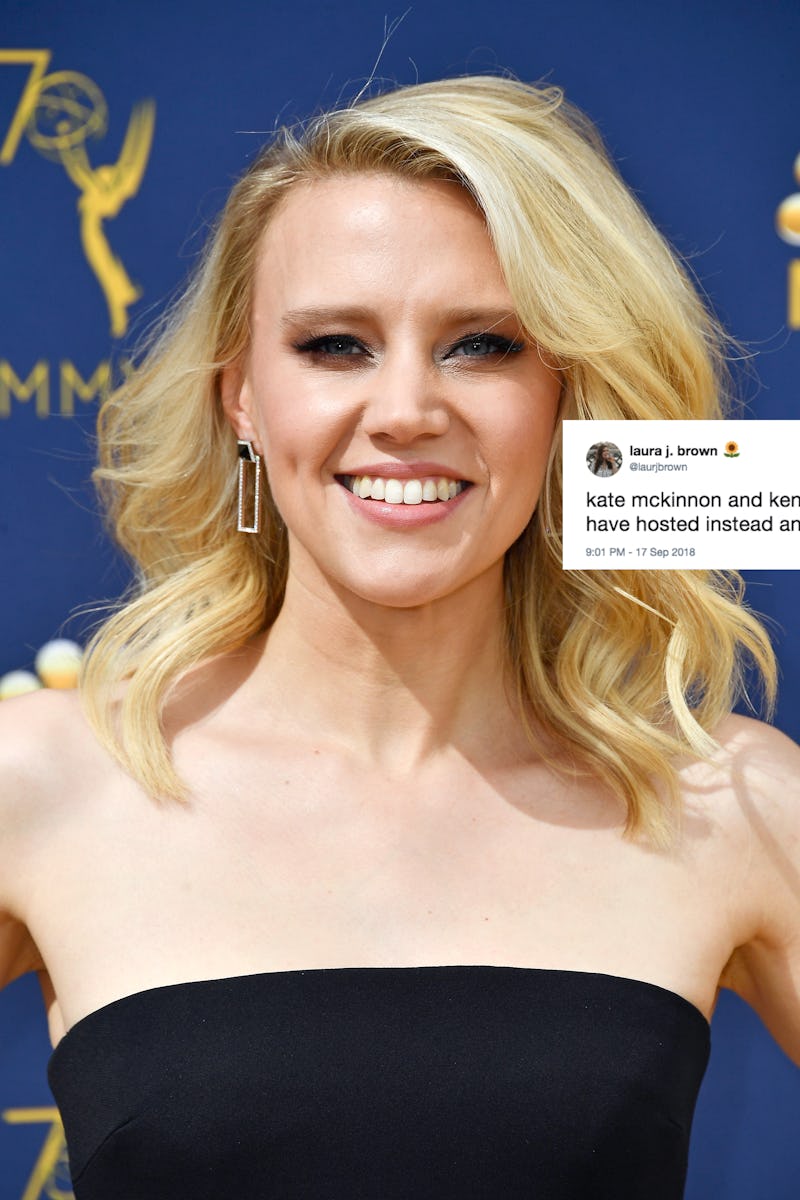 Frazer Harrison/Getty Images Entertainment/Getty Images; laurjbrown/Twitter
On Monday night, Michael Che and Colin Jost were tasked with hosting the 2018 Emmy Awards. But it wasn't the Saturday Night Live pair who kicked off the show. Instead, two of their SNL costars burst into song. And as it turns out, Kenan Thomspon and Kate McKinnon's Emmys opening had Twitter wishing they were the hosts instead.
Of course, this was before Che and Jost even had a chance to take the stage, but come on, McKinnon is basically a national treasure. Her impressions are always spot-on, and her timing is top-notch. Plus, if McKinnon takes home the Emmy Award for Outstanding Supporting Actress in a Comedy Series, she'll win three times in a row and be the SNL star to win the most times for the show.
Meanwhile, Thompson finally earned an Emmy nom for Supporting Actor for SNL. And as '90s kids know, he's been deserving ever since he was making everybody laugh during his All That and Kenan & Kel days. So really, between him and McKinnon, they would've pleased the masses.
If you're not on board yet, just take a scroll through Twitter. Everyone is seriously convinced things would've been better off if McKinnon and Thompson not only started the show, but helmed the whole thing. (Hey, maybe all of the tweets will earn them the spot next year — you never know.)
There Were Plenty Of Questions
The main one being: "Why?"
What A Tease
Oh, what could have been.
Seriously, Are They Trolling Us Right Now?
A valid question, TBH. There's no way to top this pairing.
To The Point
It's what the people want.
Pretty Please?
Maybe if the fans ask nicely, they'll swap things up mid-show. (OK, it's unlikely, but a person can dream.)
Start The Campaign Early
Why wait until the ceremony ends? The campaign for next year's hosts can get started right now.
People Wanted More
This tweet speaks for itself.
They Brought Music & Laughs
What more could you want from a hosting duo?
Retweet If You Agree
Ahem, the numbers speak for themselves.
Just Look At Them
They're already up on the stage. Why can't they just take over, huh?
"Please Stay"
To quote Taylor Swift, "All you had to do was stay."
Or They Could Even Expand The Lineup
Throw in Tituss Burgess, Sterling K. Brown, and Kristen Bell, and that'd be a really fantastic crew of hosts. Talk about a dream team.
The Important Most Question
It's true — it's not like McKinnon and Thompson weren't available. This proves they could've gotten the gig.
Of course, McKinnon and Thompson basically upstaged the actual hosts before they even got to really host — so they didn't even fully get a fair shot. And who knows, maybe Che and Jost will prove everyone wrong. But if NBC does decide to pick McKinnon and Thompson for the hosting gig next year, you can bet there will be a whole lot of happy campers on Twitter.