Kate McKinnon Roasted Jeff Sessions On 'SNL' Again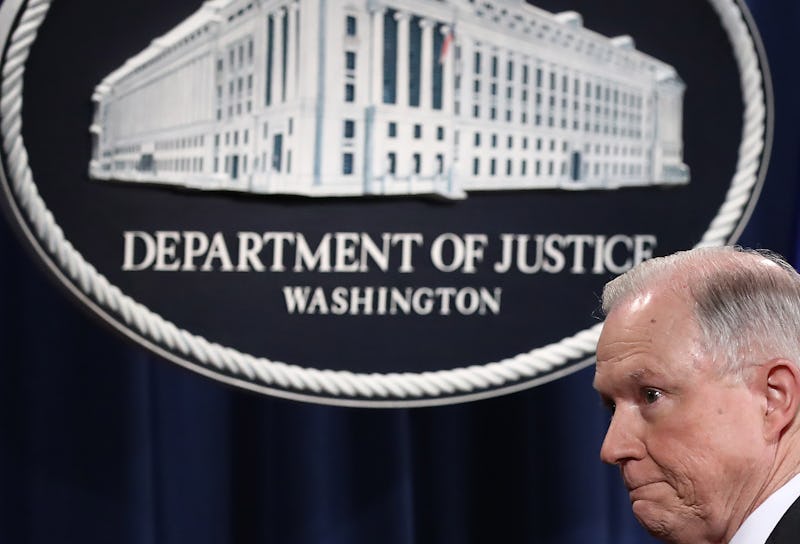 Win McNamee/Getty Images News/Getty Images
After another stressful week in politics, Saturday Night Live once again showed off its incredible ability to find the humor in the madness. Kate McKinnon absolutely roasted Jeff Sessions on SNL again this week, proving that he could be one of the most laughable characters in Donald Trump's administration.
In the Forrest Gump themed cold open, McKinnon as Sessions told various characters from Sessions' actual home state of Alabama about some of his recent "accomplishments" in the federal government. In real life, it was an trying week for Sessions: the former Alabama senator and current attorney general was discovered to have misrepresented facts under oath during his recent confirmation hearing. When asked by Sen. Al Franken if he know whether anyone had had communication with Russian authorities during Donald Trump's campaign, Sessions said no, even though he himself had met with Russian ambassador Sergey Kislyak several times in 2016. Though the implications of the meetings are largely being debated along party lines, Sessions recused himself from future investigations of the Russian interference with the presidential election.
Playing on the week's news, the sketch used the format of Forrest Gump' s bus bench scenes to poke fun at Sessions' lie under oath. "No, I never talked to any Russians ever," McKinnon told one bench mate. "I talked to the Russians," McKinnon said immediately after that to a different bench mate. "Twice."
The sketch also played on Sessions' past allegations of racism, which shouldn't be forgotten even as the Russia scandal emerges. "I always say life is like a box of chocolates," McKinnon said to one of the characters who joined her on the bus bench, played by Leslie Jones. "Sure are a lot of brown ones in there," McKinnon added, which earned a big laugh from the crowd and made Jones' character leave in disgust.
Whether or not Sessions will really end up facing harsher punishments for his misspeaking about the Russian government, the show got its own revenge on the attorney general. Host Octavia Spencer resurrected her Oscar-winning character from The Help to give Sessions a very special pie (if you haven't seen the movie, just watch it. No spoilers here). Sessions maybe doesn't deserve that much of a penalty, but it was a great reference to Spencer's most famous role. McKinnon didn't have much to do for the rest of the night, just a few Easter Egg appearances as "Couchgate" Kellyanne Conway, but she knocked it out of the park in the cold open to set up the rest of the hilarious episode.