Robert DeNiro & Kate McKinnon Did The Best Adele Cover On 'SNL'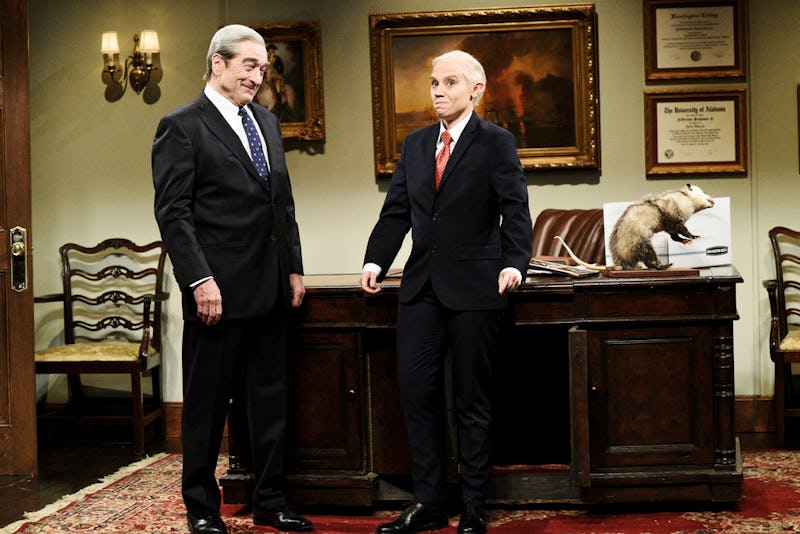 Will Heath/NBC
Saturday Night Live's cold opens usually follow the biggest political story of the week, but in our 24/7 news cycle, it seems like it's hard to figure out which one to focus on. Luckily, this week was easy — Attorney General Jeff Sessions resigned from his post, and so, Saturday Night Live and Kate McKinnon sent off Jeff Sessions in a lovely, fitting way — with Robert De Niro reprising his role as Robert Mueller. Oh, and some Adele, too.
The sketch opens with Aidy Bryant's Sarah Huckabee Sanders fervently searching the White House for Jeff Sessions, who should evacuate the premises at once — he's, you know, no longer employed there, and so he needs to clean out his desk. Sessions, played by McKinnon, is hiding in the desk, and soon, he starts reminiscing about all of the wonderful, hateful things he accomplished while in the position of Attorney General as he packs up his office possessions (a sarcastic NAACP Award and a coffee mug with a Confederate flag and a secret message for secret racists are among them). But it's just all too much for Sessions, who is sad to leave the President and sad that Trump asked him to resign. And so, he busts out into song — Adele's "Someone Like You." Who hasn't been there?
Well, before Sessions can absorb the enormous nature of what he's about to leave behind, a familiar face — to both him and the audience at home — pops in. It's Robert De Niro as Robert Mueller, the man leading the Russia investigations that Jeff Sessions had to recuse himself from. Oh, boy, is Sessions not that happy to see Mueller. But no, Mueller is not here for Sessions — at least he's not there to take him away. He's there to thank him for his help in the investigation — help that Sessions didn't even know that he gave. And then Sessions sings Adele some more, and Mueller joins in with him. What a world we're living in, huh?
Robert De Niro is an outspoken critic of President Trump, so there's little wonder why De Niro would want to come back to Saturday Night Live to lampoon both Trump and his dwindling administration. As long as the Russia investigation is continuing, there will always be room for De Niro to reprise his role as Mueller, the tough, fair investigator who currently has the weight of the world on his shoulders.
Sad, though, is that viewers have to say goodbye to McKinnon's Sessions. Kate McKinnon does more impression characters than anyone else on Saturday Night Live, but Sessions was among her most revered and most ridiculous — I mean, the idea that Sessions is a Keebler elf who once lived in a tree? McKinnon always stradded the line of not making a man who has been in charge of some terrible things too funny — he was satire, but with the bite that comedians and the press should have when punching up to the people in power. Hopefully, McKinnon will find another character to do the same with soon.