Kate Middleton Just Made A Surprise Public Appearance To Celebrate Easter With The Royal Family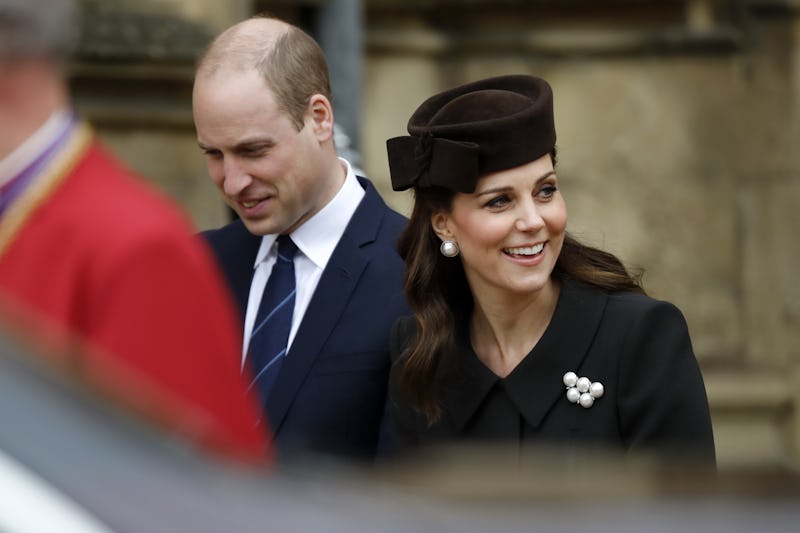 WPA Pool/Getty Images Entertainment/Getty Images
The Duchess of Cambridge has exceeded expectations again. E! News reported that Kate Middleton made a surprise appearance to celebrate Easter with the Royal family, and it caught everyone off-guard in the best kind of way. She's expecting her third child with Prince William, Duke of Cambridge, and she is seriously due any day now. The Duchess made her final planned public appearance on March 22, so this Easter surprise definitely wasn't expected.
In the week before Easter, it was announced that she would be making her final Royal appearance prior to the birth of their third child. Then, on Easter Sunday, surprise — the Duchess was present at an Easter Service at St George's Chapel at Windsor Castle along with her husband Prince William and her royal majesty herself, Queen Elizabeth II, according to E! News. Notably absent were Prince Harry and Meghan Markle, along with Prince Philip, the Duke of Edinburgh, who has been reportedly having issues with his hip, according to Reuters.
While her precise due date is being kept under wraps, it's safe to assume it's happening soon. A surprise outing, and one as public as an Easter ceremony, is a treat for fans of the Duke and Duchess.
The Duke and Duchess of Cambridge famously married in an elaborate 2011 ceremony. They welcomed a son, Prince George, in 2013, and Princess Charlotte in 2015. The next big Royal Wedding on the way, of course, is Prince Harry's upcoming nuptials to American actor Meghan Markle on May 19, 2018. Is it possible that William and Kate will be there with all three of their children? One can only hope that baby #3 will be present for the upcoming royal wedding. If William and Kate know whether they're having a boy or girl, they have not chosen to share that information with the public.
Kate announced her pregnancy in September 2017, and has been active ever since. The Kensington Twitter account frequently posts updates about her whereabouts, including the travel she does with her husband. They make frequent public appearances together on behalf of the crown, including charity events. In March 2017 alone, Kate and William attended cooking events, sporting events, and other celebrations of UK citizens.
Since the Duke and Duchess have not announced the potential gender of their child, this leaves the door wide open for fans to play the name game. Prince George's full name is George Alexander Louis, and Princess Charlotte's full name is — prepare yourself — Charlotte Elizabeth Diana (the middle name Diana is a nod to William's late mother, Princess Diana). Prince William is William Arthur Philip Louis, and Prince Harry is Henry Charles Albert David. So, what names are left over in the event they have another boy? Likely a combination of Edward, Richard, James, and John. The Royal Family tends to stick with the classics, so there's not a deep pool to draw from. It's possible that they would include one of Prince Harry's names. However, in the event that he and Meghan Markle eventually have a son, they'll need some names leftover for themselves. If William and Kate have a daughter, they have more room to work with. The names Mary, Victoria, Catherine, Alexandra, Jane, Philippa are all contenders, as is Frances, which was Diana's middle name.
Until an official announcement is made, of course, there's no way to know. But it's always a lovely surprise to see Kate Middleton out and about; there's not a lot of room for improvisation in the life of the Royal Family, and fans are always grateful for a treat.