Meghan's "Tremendously Independent" Past Made Her Royal Initiation SO Different To Kate's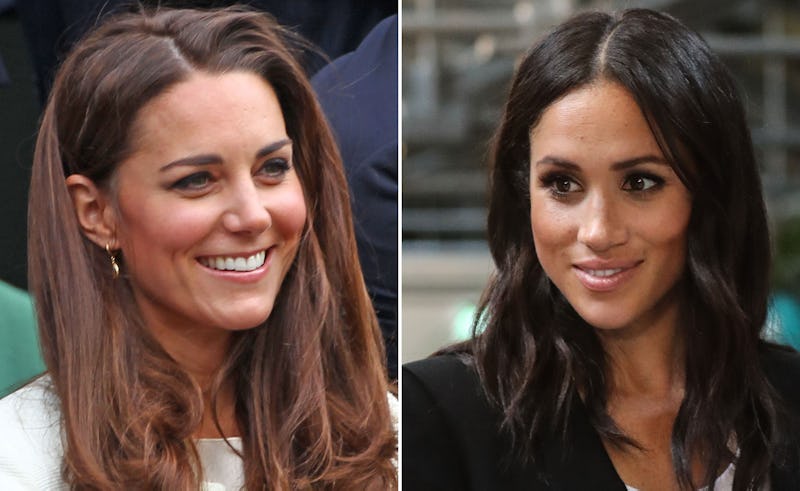 Clive Brunskill/Getty Images Sport/Getty Images/Pool/Getty Images Entertainment/Getty Images
There's no denying that the Duchess of Sussex has taken like a duck to water while settling into her new life as a royal. She appears to have found the transition just as smoothly as her sister-in-law, the Duchess of Cambridge. However, while there have been lots of comparisons between the two, actually, Kate Middleton and Meghan Markle's first summers as royals were pretty different.
For starters, from an outsider's perspective, Middleton's summer diary after marrying Prince William was absolutely jam-packed. While Markle's been pretty busy over the months of June, July, and August as well, the Duchess of Cambridge managed to cram in far more. After scrolling through photo archives using picture library Shutterstock, I found that Markle was snapped at various events across 15 days, from May 22 through to the end of August this year.
Meanwhile, Middleton was in the public eye a fair bit more back in 2011. She was actually photographed at events across 23 days during her first summer as a royal. That's 53 percent more than Markle (yes, I calculated it). In fact, Middleton's summer really kicked off with a bang, as her first engagement as a newlywed royal saw her help host the then U.S. President Barack Obama and his wife Michelle Obama at Buckingham Palace. (Talk about being thrown into the deep end.)
So, why is there such a difference between Middleton and Markle's summer workloads? Has the former American actress gotten off lightly, here? I spoke to royal commentator Richard Fitzwilliams to find out.
He is quick to stress that we shouldn't be focusing so much on the cold hard figures, but rather the significance of what both duchesses have thrown their weight behind. "It's not numbers so much as it is the actual effect of what they do," he tells me, "I mean statistics are always tricky, the point is the commitment."
While Middleton may have been seen more around town in the months following her 2011 wedding, he pointed out that Markle has taken a very different approach to her royal role. From the get-go, we've known which humanitarian issues she feels super passionately about: "Female empowerment, diversity, and LGBT rights." Before she even married Prince Harry, Markle was an active campaigner for gender equality and female empowerment, and worked with organisations like UN Women and the Myna Mahila Foundation. You can actually see her in a UN Women commercial in the video below at the 0.37 minute mark:
Fitzwilliams adds: "There's no question that she will be an extremely active charitable ambassador."
Markle, together with the Palace, have delineated from day one exactly what the Duchess of Sussex stands for. In fact, her royal profile literally describes her as being completely committed to "causes such as social justice and women's empowerment."
Meanwhile, Middleton took more time to establish her niches, which we now know are mental health issues, hospice care for children, and help for veterans.
But if Markle already knows what she's passionate about, then why is she moving at a slower pace than Middleton? Well, Fitzwilliams explains that this may be because the royal family is trying to ease her into the job. Middleton dated Prince William for eight years before they got married. However, Markle and Prince Harry met for the first time just two years ago, and their relationship did not become public knowledge until last year, so she's had a lot to get used to over the last 12 months. "Meghan been trained into the job as somebody with a lot of experience in the public eye, but nothing like what this job requires of course," Fitzwilliams tells me.
"The idea is gradually to acclimatise somebody who's had a tremendously independent life — but obviously being royal is something very, very special. And also to do it in a way that makes them feel at ease and happy."
However, the appearances that Markle has made to date have all been incredibly significant, with one of her highlights so far being an away day with the Queen. Her Majesty even invited the former Suits actress to travel with her on the royal train — which is a huge honour. In comparison, Middleton didn't have a solo appearance with the Queen until a year after she and Prince William had already been married. The fact that the Queen and Markle stepped out together so soon after her wedding highlights that the Palace must definitely trust the former actress.
Fitzwilliams adds: "It's not a question of rushing everything [when it comes to Meghan's diary]. It's a question of choosing [her appearances] very, very carefully.
"What Prince Harry and Meghan intend to be is a dynamic charitable duo, who will do good both in Britain and the Commonwealth, as well as the wider world with [his mother] Princess Diana as an inspiration. But this will happen over a period of time. So, we'll see wait to see what passages Meghan chooses and how things develop."
I asked Fitzwilliams whether there was a possibility that Markle had deliberately taken a step back from the public eye after both her father Thomas Markle and estranged sister Samantha Grant sold negative stories to the press about her and Prince Harry. However, he doesn't believe this is the case.
"Rest assured, if you look at her steely determination to get to where she was an actress — it was a tough fight," he tells me. "And a tough fight also as a biracial woman, [which] she's spoken about too. So expect real commitment."
Well, I'm not sure about you, but I personally cannot wait.