The Photos Of Meghan Markle & Kate Middleton's First Solo Outing Together Are Beyond Delightful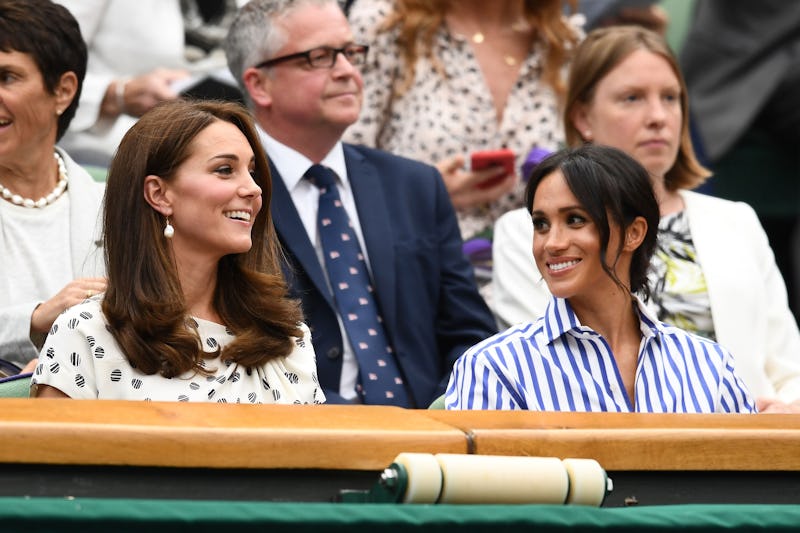 Clive Mason/Getty Images Entertainment/Getty Images
It's a double Duchesses' day out, and the photos of Meghan Markle and Kate Middleton at Wimbledon show some seriously adorable sisterly bonding. Trading the royal court for the tennis court at the ladies' singles finals match-up on Saturday, July 14, the outing is the Duchess of Cambridge and Duchess of Sussex's first joint public appearance.
According to Kensington Palace's official Twitter account, the royal sisters-in-law first met ball boys and girls, wheelchair competitors and junior players upon arriving at the All England Lawn Tennis and Croquet Club, of which Middleton is the royal patron. In that role the Duchess is tasked with handing out championship trophies, per ESPN.
Before the day's main event between Serena Williams and Germany's Angelique Kerber, the ladies' eyes were fixed on center court for the postponed men's semifinal match in which Novak Djokovic ended up defeating Rafael Nadal. Sitting side-by-side in the Royal Box, Middleton and Markle seemed super close, exhibiting a range of emotions, from sharing adorable hearty laughs to whispering to one another, and of course, closely watching the intense contest.
The duo was also perfectly matched, stylishly color-coordinating their blue and white outfits for the prestigious London tournament. While Middleton opted for a pattered Jenny Packham dress, Markle wore a striped Ralph Lauren blouse with white culottes, according to Elle.
As noted by the publication, Markle's choice to wear a creation from the American designer may have had a special meaning. The former Suits actress reportedly attended Wimbledon in 2016 as Lauren's guest, and that was right around the time she was set up on a blind date with Prince Harry by the Duke of Sussex's childhood friend, who — wait for it — acts as a Ralph Lauren publicist, per Elle.
While Williams ultimately lost her finals match to Kerber, the tennis great got a standing ovation from Markle while battling it out on the court. The pair has been close since they first met as flag football teammates at DIRECTV's Celebrity Beach Bowl in 2014. "She is so attuned to balancing strength and sensitivity," the new royal gushed of Williams to Vogue last year. Williams returned the compliment, telling Vanity Fair, in 2017, "Her personality just shines."
The tennis pro and her adorably supportive husband Alexis Ohanian also attended the royal wedding of Markle and Prince Harry back in May. The couple then joined the Duchess of Sussex at Harry and Prince William's charity polo match in Ascot, England on July 7. So it seemed to be a natural choice for Markle to cheer on her BFF alongside Middleton.
Even so, Williams played coy when asked at a July 9 press conference if Markle would be coming to see her play in the tournament. "I don't know, we'll see. If I keep winning," she told reporters.
Of course there was no question that Middleton would be in the stands, however. Aside from being the Wimbledon patron, the Duchess of Cambridge has been a regular fixture at the tennis tournament and enjoys playing the sport herself. She and Prince William, who will join her at July 15's men's singles finals, reportedly installed a reportedly installed a $79,000 AstroTurf tennis court at their country home of Anmer Hall, according to The Daily Mail.
"It is such a quintessential part of English summer," Middleton said of the sport while attending last year's tournament last year, according to People. "I was really taken by [Andre] Agassi and [Pete] Sampras, [Goran] Ivanisevic and Steffi Graf. That for me was my first memories."
Not at all surprisingly, Middleton and Markle both exhibited their royal grace in congratulating Kerber, who became the first German woman to win the title since 1996, following her win. As seen in the video posted on the official Wimbledon account, the smiling Duchesses both shook her hand and offered kind words.
Whatever the occasion, royal watchers can't get enough of seeing the Duchesses happily spending time together. And although it was only their first joint outing, hopefully there will be many more to come in the future.