Kate's BFF & Her Husband Have The Sweetest Connection To The Royal Family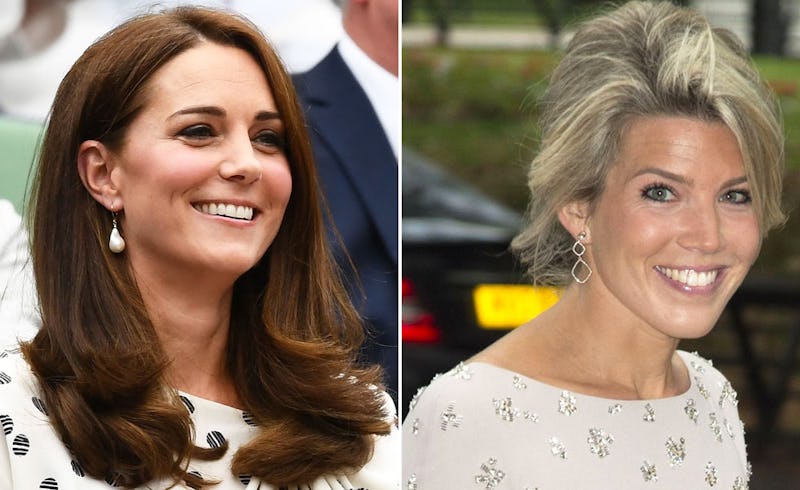 Clive Mason/Getty Images Entertainment/Getty Images/Tim Rooke/Shutterstock
Baby fever appears to really be hitting the royal family this year. First, Prince Louis arrived in the spring, then Pippa Middleton announced that she is expecting, and now, it's been confirmed that Kate Middleton's BFF Natasha Archer is pregnant with her first child. Exciting times at the Palace, huh?
Natasha's husband, Chris Jackson, confirmed the news by posting a beautiful photograph on Instagram of his wife cradling her small bump in the fields of Richmond Park. He sweetly captioned the photo "... and in other exciting news ..." along with a little baby emoji.
But how do Natasha and Kate know each other?
Well, the Duchess of Cambridge has been close friends with Natasha for more than a decade, according to Hello magazine, ever since she began her royal career as Kate and Prince William's personal assistant. She made such an impression on the couple that she was promoted to Kate's own personal stylist in 2014. Yep, it's Natasha that's been behind all those glorious outfits Kate has been wearing, especially throughout her pregnancies.
Natasha was also the "first non-family member to see Kate in the Lindo Wing after she gave birth to Prince George in 2013," and was seen leaving the same wing "an hour before" Prince Louis was born earlier this year, according to the Daily Mail.
But it's not just Natasha that has a close relationship with the royals — her husband Chris does too. It turns out, he is actually a royal photographer.
He's been photographing the royal family for Getty Images for "just over 13 years" according to Elle. In fact, he famously took the pic of that kiss between Prince Harry and Meghan Markle at the Sentebale Polo Cup last month.
Just scrolling through the photographer's Instagram, it's obvious he has a pretty close relationship with William and Kate in particular; from taking those precious photos of Prince George on his fifth birthday to the snaps he captured of Princess Charlotte's christening. I don't know about you, but I reckon his firstborn will become pretty close to George, Charlotte, and Louis in the future.
Making this story even sweeter, it turns out, Natasha and Chris were actually introduced by William and Kate. Well, kind of. You see, the pair met through their jobs within the royal family. Then, in September 2016, the photographer proposed, and the rest, as they say, is history.
Chris posted a picture of his engagement on Instagram at the time. "So....lucky I managed to finally escape the Sicily Isle — Apparently it was a long time coming and I'm definitely punching above my weight," he captioned the post.
The couple tied the knot a year later at the "Chateau Rigaud, located in the Bordeaux region," as reported by Vogue in 2017.
I swear these two are one of the most photogenic couples I have ever set my eyes upon.
Let's be honest, once that beautiful baby is born, Kate and William's bond with the Jacksons will inevitably be even stronger thanks to all those play dates. And who knows? Hopefully, we'll even see some photos of George, Charlotte, and Louis hanging with their new playmate on Chris's Instagram. Watch this space.