Here's Roughly When Kate Middleton's Third Baby Is Due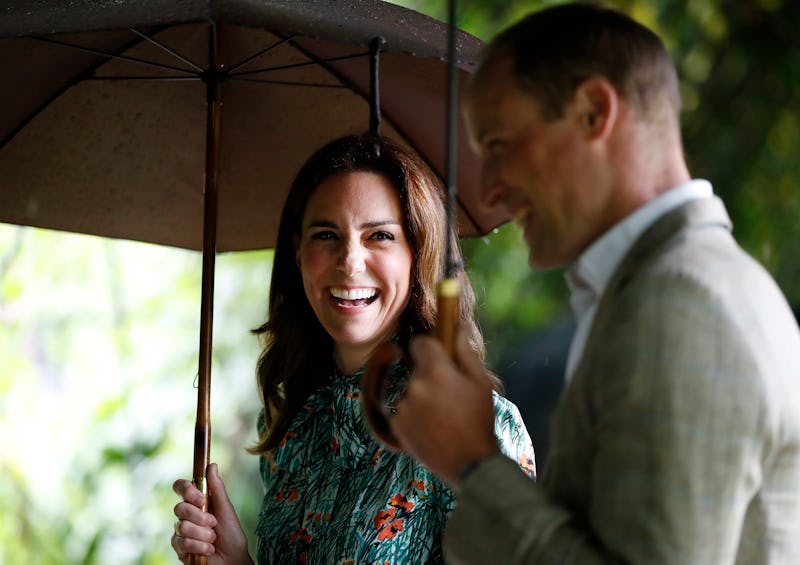 WPA Pool/Getty Images Entertainment/Getty Images
On Monday September 4, Kensington Palace announced that Kate Middleton and Prince William were expecting their third child. This leaves us wondering when Middleton's third baby is due. There's going to be a flurry of curiosity now that the official announcement has been made about this royal pregnancy, but, luckily, there's not too much guesswork involved.
UPDATE: On Sept. 6, Us Weekly reported that according to a source, Middleton is 11 weeks along.
UPDATE 2: On Oct. 17, Kensington Palace confirmed that Middleton is due in April 2018.
EARLIER: The official Kensington Palace statement notes that the royal family is "delighted with the news," as is Middleton's family. The official statement also notes that Middleton may be suffering again from Hyperemesis Gravidarum, a severe pregnancy sickness which she also had while pregnant with Prince George and Princess Charlotte. This would explain why she recently missed a public engagement and thus why Kensington Palace released a statement about missing said engagement.
What the official statement does not include is the information that Middleton is quite possibly less than 12 weeks pregnant, which means she could be due any time between March and May 2018, considering she may have conceived sometime as early as June of this year. This is particularly exciting because Princess Charlotte also has a springtime birthday (May 2), which means that spring will be busy with celebrations for the royal family.
The news of Middleton's possible due date was corroborated by Rebecca English, a royal family news reporter for The Daily Mail. While it's sad to learn that Middleton is suffering once again from a severe pregnancy-related illness that could affect her third child, it's worth focusing on the fact that she's not only able to rest but also that she will be welcoming her third child in the springtime — arguably the happiest of seasons, right?
That said, it's already a busy time for Prince William and Middleton's family as family-related news and matters make their way to the public's attention. This includes the news of their oldest, George, embarking on a milestone of his own. Prince William and Middleton are in the final stages of preparing for George's first day of school, and the prince is set to enter nursery school later in the week on September 7. According to AOL News, George will be attending an independent school in the London borough of Battersea.
This new announcement will only compound the royal family's happiness as they go forth into autumn. Congratulations are in order.