Kate Middleton Just Dressed EXACTLY Like Your Favorite American Girl Doll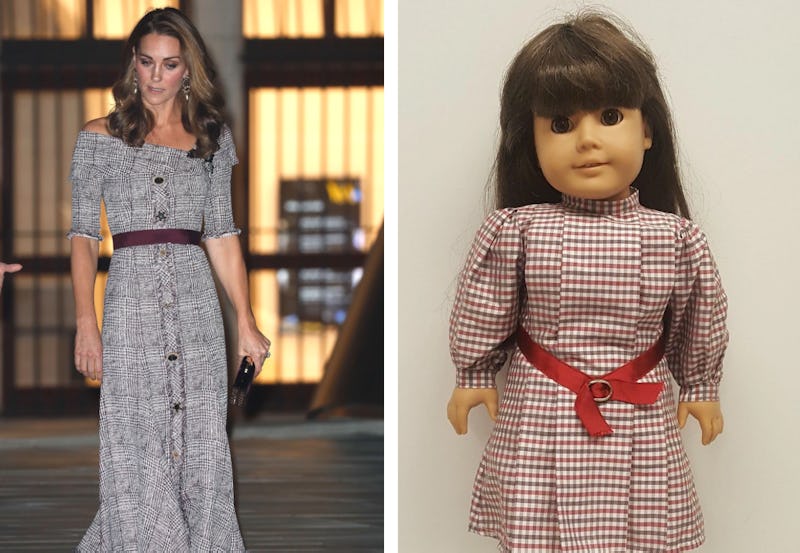 Chris Jackson, Getty Images/eBay
Kate Middleton has such classic style. She isn't above fashion recycling — she often wears ensembles and outfits more than once. The popular royal is always chic and put together. However, Kate Middleton dressed like your favorite American Girl Doll. That's right — Middleton's supremely sophisticated plaid outfit mimicked that of the beloved and back in action Samantha Parkington.
Not only does Middleton really get the most out of her clothes by wearing them multiple times. She also mines unique and unlikely sources, like your favorite doll from the '00s, for style inspo.
Astute Twitter user Elizabeth Holmes tweeted about Middleton's dress, an ankle-skimming, tweed Erdem frock with belt and button details. She noted that it was incredibly similar to that of the doll that has staked her claim in pop culture history. Middleton was basically twinning with Samantha P., who was retired in 2008 but eventually put back into production.
The comparable details of the frocks are absolutely stunning — from the red belts to the color. The duo also shares flowing, chocolate brown locks. It's as though Kate and Samantha called one another to compare notes on their respective OOTD in advance of wearing 'em.
Her resurrection aside, Parkington dolls remain a coveted "get" in the collector world. Perhaps the low key and somewhat indirect endorsement from a royal will further up that value.
There are some differences, though. Middleton's dress is off-the-shoulder, with sleeves that hit at the elbow. She elected to wear heels and to carry a clutch as her accessories for the ensemble.
Her entire presentation is tres sophisto. Don't you just love how the hem is slightly unfinished? It adds a touch of edge to the otherwise structured shape of this elegant — and familiar— garment.
And here's the fashion icon known as Samantha, who opts for different shoes and rocks bangs. She owns it in this dress.
Chris Jackson/Getty Images Entertainment/Getty Images
The side by comparison shows off the striking similarities. #Twinsies
Of course Twitter was loving these matching ensembles. Samantha is a fave among the American Girl Doll faithful. She has quite the digital fan club — one that remembers her fondly and loved this particular look.
One user proclaimed, "No wonder I loved this outfit so much!!!!!!!!" Another enthused, "I STILL HAVE HER IN MY CLOSET." Others generally espoused their love for the character. But perhaps the best tweet was the one that featured this hashtag: #whoworeitbetter.
Ultimately, it's not really a competition between a living human and an inanimate yet majorly fashionable doll. Rather, the general consensus is that Kate and Samantha's shared and classic look works for both of them.
Since Kate and Sam both rock shiny, long, and wavy brown locks, they really could pass for mother and daughter. Maybe Samantha Parkington is or will be Princess Charlotte's fave doll.
One can't help but wonder if Middleton's sister-in-law and royal fashion compadre Meghan Markle will eventually borrow a look from one of the other American Girl Dolls with one of her head-turning ensembles. Anything is possible and inspo is everywhere — Kate's tweed dress is proof of that.