'This Is Us' Gave A Major Update On Kate & Toby's Son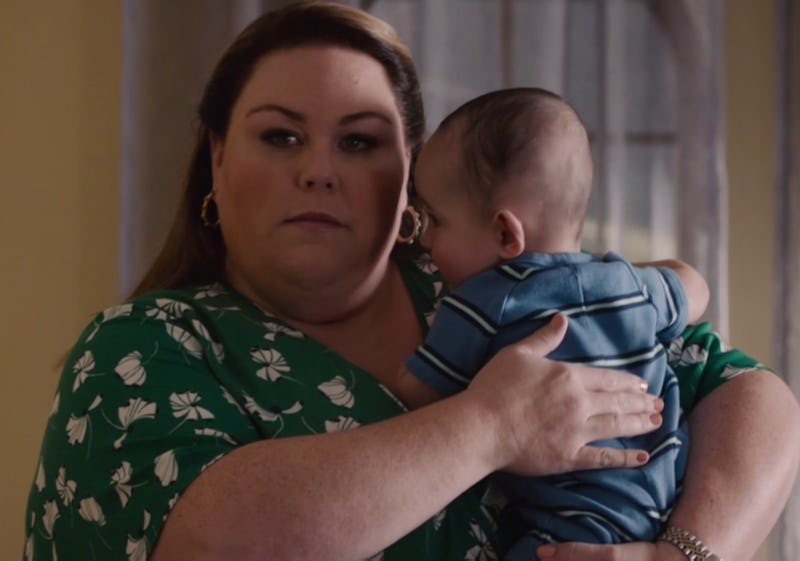 NBC
Spoilers ahead for This Is Us Season 4, Episode 1. Most of the This Is Us Season 4 premiere centered on characters that viewers had never seen before. But, by the end of the show, it was clear how they all connected. And, one of the new characters was Kate and Toby's adult son Jack.
Viewers were first introduced to Jack without knowing his connection to the Pearson family. As an adult, he's a very successful musician — realizing the dreams of both his mother and grandmother two generations later. He played to a giant stadium at the end of the episode, singing his heart out for his fans to hear.
His singing talent isn't the only thing little Jack inherited from his family. Viewers watched Jack's love story with Lucy, a waitress who wants to be a chef. They saw him woo and charm her much the way his father Toby wooed Kate or Jack wooed Rebecca. In a present day scene with Kate and Toby when Jack was still a baby, Toby hoped that Jack would have his humor but not his receding hairline. Looks like adult Jack got the best of both his parents and his maternal grandparents.
Jack is also blind, a diagnosis that Kate and Toby have just received in the present timeline. Jack is still a baby in that timeline, and Kate and Toby have only just begun learning what it's like to parent a child who can't see. But viewers know that Jack will be alright. In the future timeline, he has an adorable seeing-eye dog, a wonderful wife, and a baby of his own on the way. Whatever struggles Kate and Toby endure over the next few episodes, fans just have to keep that flash forward in mind. Jack is not just OK in the future timeline, he's thriving.
Show creator Dan Fogelman told Entertainment Tonight (ET) that it was always his plan for little Jack to be blind. "We've always known for a while now that Kate's son was going to be born prematurely and blindness retinopathy is a very common thing that would come from that," Fogelman said. "It was always part of the character and the story that we were planning on telling."
ET reported that adult Jack is played by TV newcomer Blake Stadnik, who is legally blind. Before This Is Us, Stadnik was a theater actor appearing in shows like Sweeney Todd on stage. ET reported that Stadnik is "one of the first visually-impaired actors to play a major character on a network television show."
Adult Jack's storyline will be even more authentic with Stadnik in the role, and fans on Twitter are already huge fans of the new character. So they'll be excited to hear that he's definitely coming back this season.
Fogelman didn't tell ET when exactly adult Jack would be seen again, just that his storyline "will be returned to" at some point in Season 4. "We're in love with the actor that we found. It's a difficult period to go to all the time because we're pretty deep into the future and it presents production challenges. We do plan on returning to it," Fogelman said, adding:
"Right now, we're telling stories in the beginning half of the season that focus a little bit more on the present-day stories. But it is a place we're heading towards again multiple times, especially because we had a young man [Stadnik] who was acting on camera for the first time in his entire life. Sometimes the parts get even bigger than you were planning on making them."
Like his grandfather Jack before him, Kate and Toby's son Jack made quite a splash on the show and an impression on viewers. It's great to know that it won't be the last time the character and his impressive voice show up on screen.