You Need To See UCLA Gymnast Katelyn Ohashi Score *Another* Perfect 10 With This Floor Routine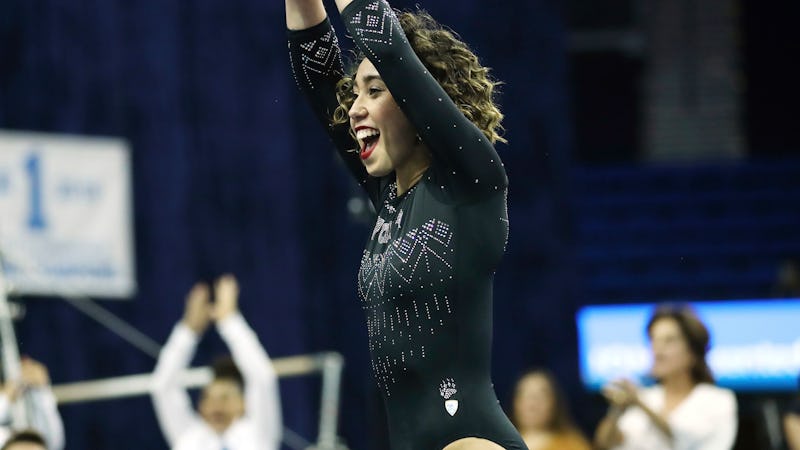 Ben Liebenberg/AP/Shutterstock
When I was a kid, I dreamed of being a gymnast. However, at 5'8 with too-long arms and legs that made me clumsy and awkward, I knew it wasn't going to happen. Obviously, the next best thing is watching gymnastics, and Katelyn Ohashi's perfect 10 gymnastics routine has set the internet on fire, Refiner29 reports. Reminiscent of Olympic Gymnast Kim Zmeskal, '90s floor-routine queen, Ohashi's routine is enhanced by her infectious smile, is set to upbeat music and includes twists, turns, flips, and splits that will leave you scratching your head and saying, "How'd she do that?!"
A senior on the UCLA Gymnastics team, many of Ohashi's jaw-dropping routines have gone viral — just check YouTube for the receipts. She scored her first perfect 10 floor routine Jan. 12 and earned her second in front a record-setting sold-out crowd in her home state of Washington this past weekend, the Los Angeles Times reported. "I feed off the audience a lot, their energy," Ohashi told the Los Angeles Times. "And so having a lot of it be my family was just amazing and very supportive." Family or not, it's impossible for a crowd not to go wild when Ohashi flies through the air to Tina Turner, Earth, Wind and Fire, the Jackson 5, and Janet Jackson.
"I've seen it this whole season," Ohashi's coach Valorie Kondos Field told reporter Blake Richardson for the Los Angeles Times. "I've just seen her… she knows how to have fun with her team, she knows how to pump her teammates up, she knows exactly what she needs to feel comfortable on the equipment."
During these seemingly never-ending dark days, Ohashi's flawless routine is a bright spot you can treat yourself to whenever you're feeling blue. Twitter user @GekkoGirl called it: "The best gymnastics routine ever," and added: "So technically brilliant and so joyful. Katelyn Ohashi is inspiring. And I love that her #ucla teammates do the dance moves with her. #perfection."
Ohashi's mother told the Seattle Times that it's her daughter's contagious charisma that allowed the routine to rise to the level it has. "I don't want to sound pompous, but anybody else could do that routine, and it wouldn't be the same," Diana Ohashi said. "She just has this crazy personality that really draws in the crowd — just so much joy. I just feel like we need that right now."
Despite this, the Seattle Times reported that gymnastics didn't always bring Ohashi the level of joy it's now bringing to millions. According to the article, pursuing Olympic dreams put so much stress on Ohashi physically and mentally that she won the 2013 AT&T American Cup, beating out Simone Biles, with a fractured back and two torn shoulders. She also developed the chronic bowel disease ulcerative colitis, as well as a rare skin disease, and she said that gymnastics had left her "broken." That is until she stopped pursuing perfection and returned to what made her fall in love with the sport in the first place.
Instead of going for Olympic gold, Ohashi enrolled at UCLA and joined its gymnastics team. "My entire college career has kind of been me stepping into my joy," she told reporter Mike Vorel for the Seattle Times. "I wouldn't say that this moment or this viral stuff has defined me or made me a happier person. I think just being able to experience college gymnastics the way I have has allowed me to really express myself and have so much fun in the sport."
Ohashi's experience is another important lessen about burnout that often comes with the pursuit of a demanding goal. By pivoting, she has found an alternate road to happiness and success that is also bringing millions of people a lot of much-needed joy. And that's pretty much the epitome of #lifegoals personified.