Lady Gaga Talked About How Burnout Affects Your Mental Health & Her Advice Is So Relatable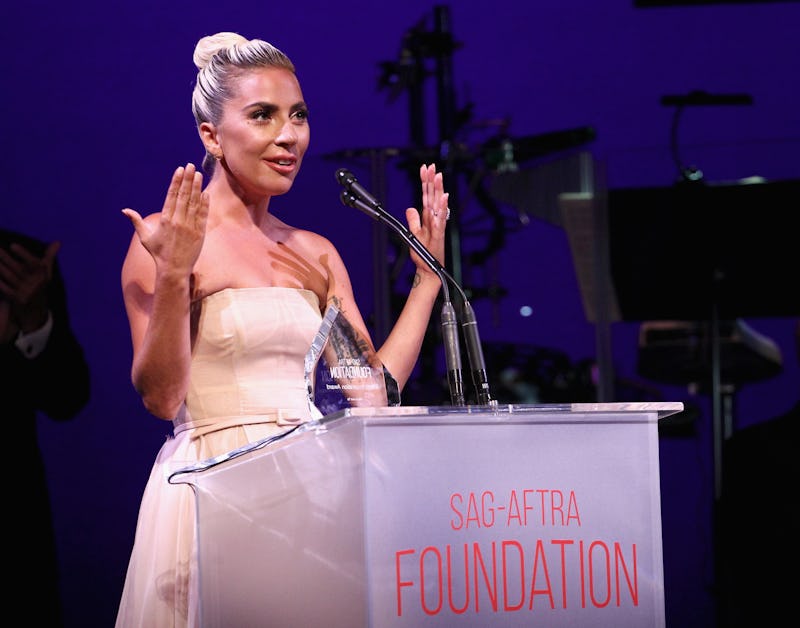 Tommaso Boddi/Getty Images Entertainment/Getty Images
Lady Gaga is the mental health hero we need in 2018. Lady Gaga's comments on burnout and the importance of mental health care offer an important lesson for those among us who never say no because we were taught to always say yes. For herself, and for the rest of the yes people, Gaga has this message: "We need to share our stories so that global mental health no longer resides and festers in the darkness."
Over the past year, Gaga has increasingly been using her platform to talk openly about mental health (she gave a speech about mental health and sexual assault at the Elle Women in Hollywood Awards in October). The evening before she was forced to evacuate her Malibu, Calif., home because of the Woolsey Fire, she was honored alongside Spike Lee, Jeffrey Katzenberg, and Harrison Ford at the SAG-AFTRA Foundation's third annual Patron of the Artists Awards in Beverly Hills where she again delivered a powerful, and 100-percent necessary, mental health call to action.
"I want us as leaders and as peers – although I don't feel totally like a peer — to trust ourselves, to believe how we're feeling and that however we're feeling is important and subsequently generate and surround ourselves with communities, people, and resources that don't just want to fix us but want to help us thrive." She went on to detail how the lack of mental health support early in her career led her down a dark path.
After years and years of saying yes to jobs, interviews, events — all opportunities of course that I am so humbled and grateful to have had because I know that there are so many who have not. And after working as hard as I possibly could to achieve my dreams, slowly but surely the word 'yes,' 'yes,' 'sure,' became too automatic and my inner voice shut down which I have learned now is very unhealthy. I was not empowered to say no.
If you also have a hard time feeling empowered to say no, I speak from personal experience when I say it's a one-way ticket to burnout. Like Gaga, I live with chronic pain and mental health issues. A few years ago when I said yes to every single work and personal commitment, I spiraled into a months-long episode of physical pain and emotional despair that led to my quitting my job without any idea how I would support myself. If you can relate, talk to a doctor, therapist, friend, or get anonymous support by texting HOME to the Crisis Text Line at 741741. Because you deserve help, and early intervention can make a big difference.
"I'm telling you this because for me, it was too late. I needed help earlier. I needed mental health care. I needed someone to see not through me or see the star that I had become, but rather see the darkness inside that I was struggling with. I wish I had mental health resources because although what I have is treatable and can hopefully and will get better over time, if there was preventative mental health care accessible to me earlier, I believe it would not have gotten as bad as it did," Gaga said.
"I wish there had been a system in place to protect and guide me. A system in place to empower me to say no to things I felt I had to do. A system in place to empower me to stay away from toxic working environments or working with people that were of seriously questionable character. There were days I struggled or couldn't make it to work. I don't want that for other artists or for anyone."
Gaga went on to detail how her untreated mental illness led to chronic pain — eventually diagnosed as fibromyalgia — acute trauma responses and "debilitating mental spirals that have included suicidal ideation and masochistic behavior." Gaga also said that having a mental health team has changed her life by allowing her to stop living in fear. She wants to extend that access to everyone by continuing to speak out about removing the stigma around mental health and by fighting to make mental health resources available to everyone by 2030.
One of the biggest takeaways from the speech is that mental illness doesn't discriminate. It can happen to anyone, and it's something everyone should feel comfortable talking about. To that end Gaga finished her speech with the battle cry: "Let's create a more nuanced infrastructure. And let's f**king change the world." Mic drop.
If you or someone you know is experiencing suicidal thoughts, call the National Suicide Prevention Hotline at 1-800-273-8255 or text HOME to the Crisis Text Line at 741741. You can also reach out to the Trans Lifeline at 877-565-8860 or the Trevor Lifeline at 1-866-488-7386, or to your local suicide crisis center.