Katharine McPhee & David Foster Explained Why Exactly Their Relationship Works So Well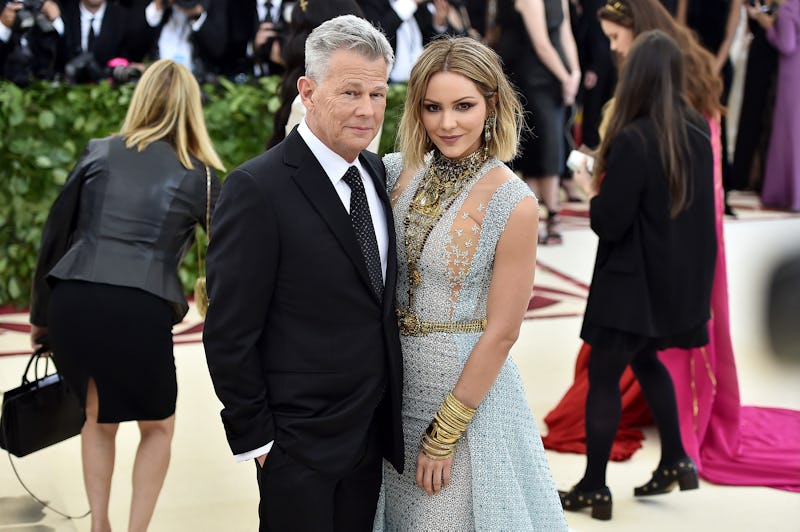 Theo Wargo/Getty Images Entertainment/Getty Images
Ever since the world first caught wind of Katharine McPhee and David Foster's engagement, people on the internet have had quite a lot to say. And while not everyone's remarks have been respectful, McPhee and Foster's latest comments on their relationship prove the couple is continuing to prioritize their happiness and each other — not the haters. "It doesn't make sense to a lot of people, but it does to us," McPhee told People exclusively in a recent joint interview with her fiancé, published Wednesday, Sept. 12.
In fact, McPhee went on to tell the publication during that same interview that she and Foster actually make a really great team. She said,
"He has things to learn from me and I have a lot of things to learn from him, so I think we have a nice yin and yang."
Those who've been following the pair's relationship in the news these last couple of months know that, while Foster and McPhee have only said good things about their romance publicly, a lot of people have been comparatively more hung up on the couple's age difference (McPhee is 34, and Foster is 68) than anything else. But despite the chatter surrounding their respective ages, McPhee and Foster have managed to tune out the criticisms in favor of what's really important here: their happiness.
"We genuinely love and respect each other and have for a very long time," McPhee told People during the couple's recent interview. As the outlet reported, McPhee and Foster first met on the set of American Idol way back in 2006, when McPhee was a contestant and Foster was her mentor. And while Foster said McPhee didn't catch his eye on the first day, "because [he] was so busy trying to do [his] job," she did eventually go on to win his heart. Continuing, Foster said there's always been a spark between them. "The reality is that in the last 12 years I've always had a connection with her," he finished.
Though McPhee told People that she and Foster started out as friends, it wasn't until 11 years after that first meeting that the two would actually begin their public romance. In May of 2017, a report from E! News claimed McPhee and Foster were spotted having dinner together in Malibu. "The pair were very intimate during dinner," an unidentified source told the publication.
The pair managed to dodge relationship rumors for a while after that (well, rumors still circulated, but neither McPhee nor Foster said anything about it), pretty much all the way up until this year's Met Gala, which they attended as a couple. Around the time of the event, McPhee told Entertainment Tonight that she and Foster were "having a fun date night."
Fast-forward to July 2018. Trailing a report from TMZ that claimed Foster had proposed, McPhee confirmed the engagement news via Twitter on July 3 in perhaps the most perfect way: With a diamond ring emoji and a GIF of Ariana Grande accompanied by the caption "And what about it?" Later that day, she took to Instagram with more details about Foster's proposal, revealing that he got down on one knee on top of a mountain in Italy.
Suffice to say, Foster seemed equally unperturbed by the not-entirely-positive buzz surrounding their relationship when he commented on his engagement to McPhee for the first time, not too long after she confirmed the news on Twitter. During an Access Live appearance on July 12, Foster spoke matter-of-factly. "We're all great, we're all happy," Foster said, acknowledging that "it seems like [the engagement] is interesting news to people," so he and McPhee are "just gonna roll with it."
Judging by McPhee and Foster's latest relationship-centric comments, it certainly sounds like the obviously smitten (and also pretty obviously down-to-earth) couple is continuing to "just roll with it." That sort of attitude seems like a critical component to almost any relationship, but especially one in the public eye. Cheers to the happy couple.