Katharine McPhee Totally Pulled A Meredith Blake With This 'Parent Trap'-Inspired Joke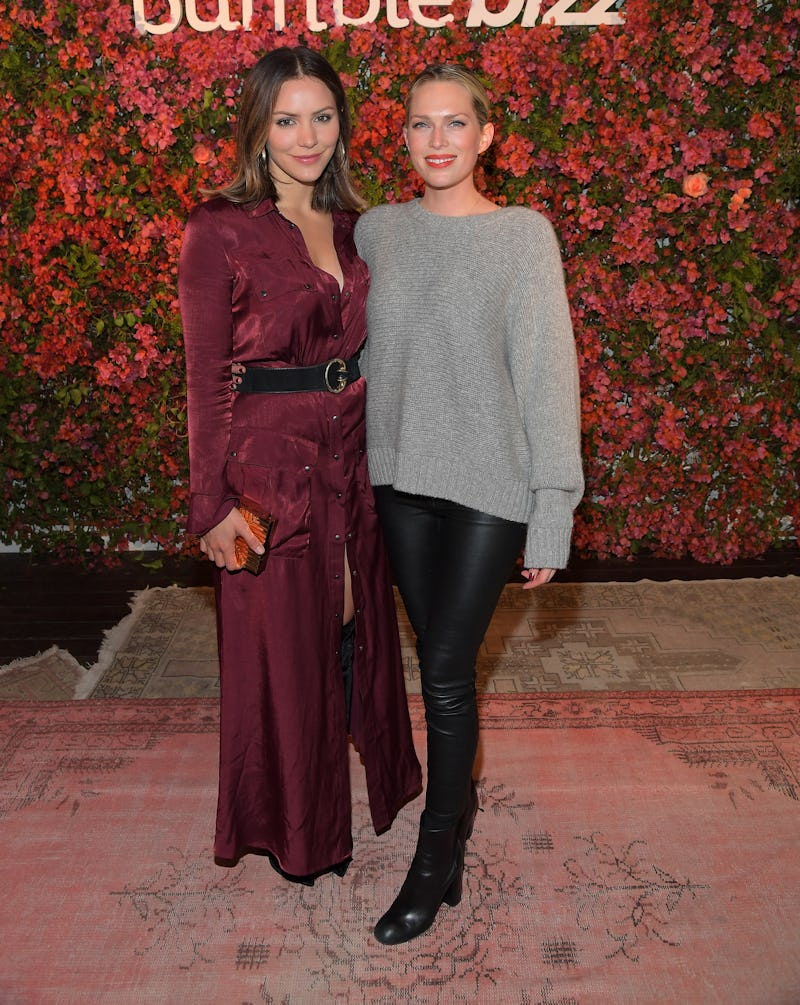 Charley Gallay/Getty Images Entertainment/Getty Images
Hallie and Annie Parker can relate to this moment so much. On Instagram on Wednesday, Katharine McPhee and Erin Foster had a Parent Trap moment that will make fans of the 1998 film laugh out loud. McPhee is set to marry David Foster, Erin's father, and, of course, fans haven't been afraid to call out their age difference. David is 68 and McPhee is 34. Not to mention, many have pointed out that the American Idol star is younger than some of David's children, including 36-year-old Erin. Well, the age gap clearly doesn't bother McPhee or Erin, as proven in their latest Instagram conversation.
On Thursday, McPhee posted a photo of herself sitting in a hoodie with the hood over her head on a boat in Stuart Island, British Colombia. She was also wearing leggings and tennis shoes. The singer hilariously captioned the Instagram, "It's called fashion sweetie, look it up." Erin Foster commented on the post, "CHIC!"
Not too long after Foster's response, an Instagram user replied directly to David's daughter, "How awkward is it when your Dad has a younger wife than you are." Rather than letting the criticism get to them, both Foster and McPhee found inspiration from The Parent Trap.
Foster responded, "I've started saying I'm 31, so now she's 3 years older than me. I'm a problem solver."
McPhee chimed in, "Stop blowing my age cover! The day we say I do, I'm shipping you and your sister off to Switzerland!"
Foster then gave the best reply ever and wrote, "OMG you're gonna Parent Trap us!!! I knew it."
If you're a fan of The Parent Trap remake, you're most likely giving them a standing ovation right now. In the movie from the late '90s, after dealing with many pranks from Hallie and Annie (both roles played by Lindsay Lohan), Meredith Blake (Elaine Hendrix) told her soon-to-be husband Nick Parker (Dennis Quaid), "The day we get married is the day I ship those brats off to Switzerland. Get the picture? It's me, or them. Take your pick."
Yeah, he chose his twin daughters.
McPhee channeling Meredith Blake was so on point. The fact that Foster knew exactly what she was talking about too also deserves a round of applause. They are obviously both fans of the movie. Plus, to see them be able to joke with one another and not get worked up over snide comments about McPhee and David's ages speaks to who they are and the kind of relationship that they have.
McPhee has been on a roll lately with her witty social media comments, especially with Foster. The Waitress star posted an Instagram on Tuesday of herself in Canada, a trip she took with David. As reported by Us Weekly, Foster commented on the picture, "FEELS LIKE I COULD HAVE BEEN INVITED ON THIS BEAUTIFUL TRIP." McPhee trolled Foster by writing, "@erinfoster mommy and daddy need alone time."
They clearly get along very well, just like McPhee and Amy Foster, David's other daughter, do. Amy told Us Weekly in July, "I'm so close with [McPhee]. She's amazing and funny, fun, smart, elegant, timeless, beautiful, talented. I can't say enough about her." Amy added, "I know that some people have been hating on that relationship. All I can tell you is it absolutely works when you see them together. It's love."
Really, who cares how old McPhee and David are? As long as they are happy, that's all that matters. And, remember, if you have anything to say about their relationship or their ages, it won't affect McPhee or David's daughters whatsoever. Like Meredith Blake would say, "Being young and beautiful is not a crime, you know?"