Star Eyeliner Is Becoming A Thing & Here's How To Get The Look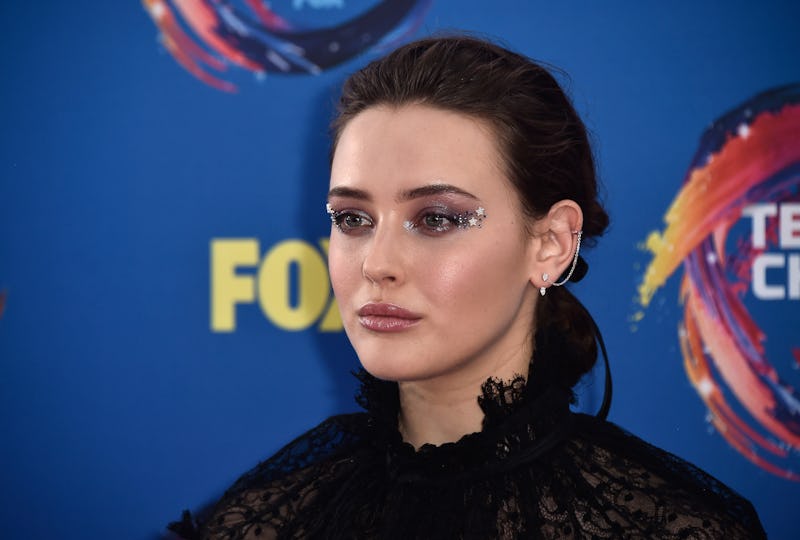 Frazer Harrison/Getty Images Entertainment/Getty Images
There have been tons of different liner trends this year. Some people love the heavy wing, while others love a good colorful hue. Then there are those that go above and beyond. Katherine Langford wore 3D stars as eyeliner to the Teen Choice Awards. The accessory coupled with the holographic eye look is enough to keep your mesmerized for the rest of the season.
Sometimes the best makeup looks don't require makeup at all. According to PopSugar, celebrity makeup artist Fiona Stiles created Langford's Teen Choice Awards looks by sticking some purple gems and stars to the outside corner of that stars' — pun intended — eyes.
The look features two stars and 12 gems on each eye. That might seem like a lot, but the look overall was super subtle. Stiles styled the stars with a natural-looking brow, holographic eyeshadow, minimal mascara, and clear glossy lips. From far away, the makeup look seems like it could just be a thick silver cat-eye, but as you get closer, you can tell how stunning the entire look is.
"I wanted something a little more lighthearted with the makeup," Stiles told Refinery29. "I had gone on a mad hunt looking for a thing all over Los Angeles — and I didn't know exactly what thing I was even looking for! I wanted something special. I finally found some really beautiful 3D pearl stars and a few other things."
If you're dreaming of an eye look that's as cool as Langfords, it's actually pretty easy to achieve. All you have to do is go to your local craft store, choose your favorite glitter, and stick them on with some clear eyelash glue. Ben Nye has a product called Glitter Glue that is safe for skin as well.
You can buy the multi-colored pearls from Make Up For Ever for $21 and have some fun as well. The brand offers 16 different colors of pearls, if you're looking to mix-and-match. Plus there's always the option of adding some biodegradable, plastic-free glitter into the mix as well. The possibilities are pretty much endless.
Believe it or not, Langford's dress wasn't space themed. The Love, Simon star paired the eye look with a black lace Alberta Ferretti gown that had no stars on it whatsoever. In fact, it was all lace with a black corset and matching pointed-toe heels.
"It's a nod to Chanel with those pearls," Stiles told Refinery29. "It felt elevated. It wasn't teen-y, you know? It was a cool, young look."
Stiles' makeup creation was the perfect way to make a more serious look a little bit more fun for the Teen Choice Awards. While other stars showed up in bright colors and crop tops, Langford took the playfulness in an entirely different direction.
Whether you're looking to use this as makeup inspiration for a Halloween costume or are looking to spice up your daily look, you really can't go wrong. Life is too short to settle with boring makeup.