'Southern Charm' Fans Need To Catch Up On Thomas & Kathryn's Drama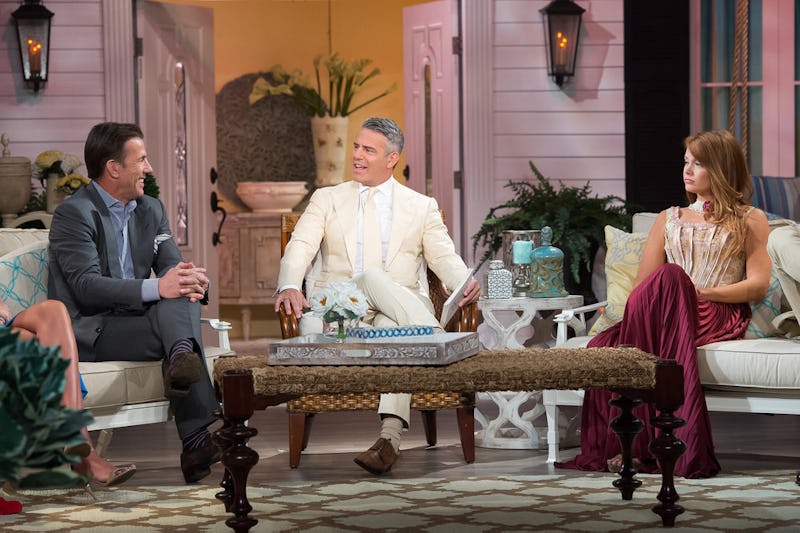 Charles Sykes/Bravo
The cast of Southern Charm might know their Southern, genteel manners, but when they get together, they might be one of Bravo's most dramatic casts. Speaking of, are Southern Charm's Kathryn and Thomas together right now? There was a report from Life & Style Magazine, saying that the two got back together at the end of 2016, but upon the premiere of Southern Charm Season 4, it looks like the scandal-plagued couple are broken up again. Thomas and Kathryn's relationship now doesn't seem as bad as it was in the past, but, with two kids in the mix, on-again-off-again relationships are always hard to navigate.
Right now, it looks like the two are not just broken up, but also separated by three thousand miles, because Thomas is based in Southern California right now, and Kathryn, it seems, is still in South Carolina. The couple have had explosive fights on Southern Charm, especially when it gets to the reunion. But right now, the two aren't really trading barbs back and forth on Twitter or fighting over their kids right now. Thomas currently has primary custody and has been spending a lot of time with the kids between Kensie's recent birthday party and visits with his parents.
But Thomas may have plans on returning to South Carolina from California soon, since he was complaining about the challenges of renovating an historical property in his home city. "It such an incredible shame that the woefully inept leadership at City Hall which starts at the top is disallowing me from maintaining this historic property which sits at the gateway into Charleston," he wrote on Instagram.
Kathryn has also shares her fair share of pictures with the couple's two kids, including holiday pictures and a message for Kensie on her birthday. No Thomas to be seen, but plenty of her fellow Southern Charm costars. Even though it seems that Kathryn and Thomas are once again in the off position, it seems like this cast has finally gotten used to the idea that this couple will constantly be working out their relationship.
One thing that seemingly hasn't really changed Thomas and Kathryn's relationship now, even though they're broken up, is the alleged Thomas-Landon hookup. The question of whether or not Thomas and Landon ever dated or slept together in the past plagued Season 3 (both denied doing any such thing), when Thomas and Kathryn were still trying to stay cordial, even if they weren't together romantically. Now, it seems they're still fighting over the arrangements of their family life, but, so far, no veiled comments from either member of the former couple about the alleged Southern Charm love triangle. Maybe they're just keeping quiet in order to avoid spoilers, but maybe, just maybe, these two have learned a little something about keeping things classy, South Carolina-style, even though they're still not feeling the romance.