Kathy Griffin's "Sick" Photo Freaked Out Barron Trump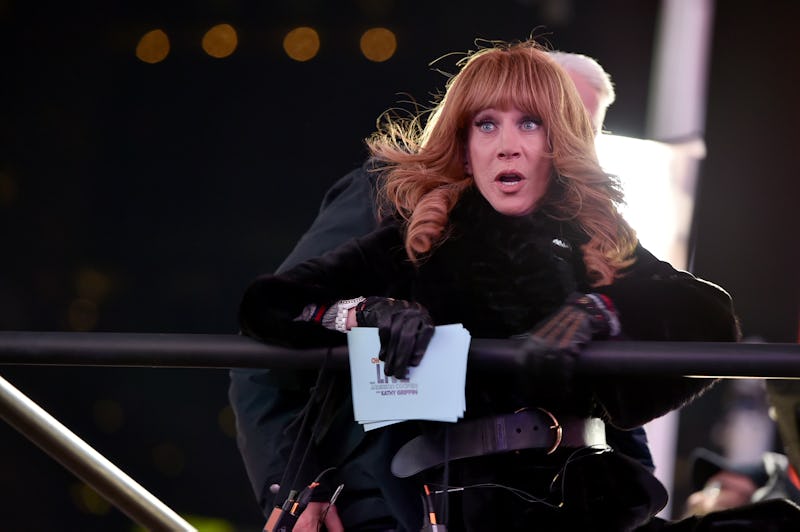 Theo Wargo/Getty Images Entertainment/Getty Images
Kathy Griffin's ill-advised photo of herself holding a bloodied Donald Trump mask sparked widespread backlash on Tuesday. On Wednesday, after the dust from his "covfefe" debacle settled, Trump responded to Kathy Griffin's photo on Twitter, calling it "sick."
"Kathy Griffin should be ashamed of herself," Trump said in a tweet. "My children, especially my 11 year old son, Barron, are having a hard time with this. Sick!" On Wednesday, CNN announced that it had severed ties with Griffin, who was slated to appear on their New Year's Eve program.
The president was far from the only one to express disgust at the photo, which has now drawn criticism from all corners of the internet. In a rare moment of agreement, Donald Trump Jr., Anderson Cooper, and Chelsea Clinton were on the same side — Griffin, they concurred, was in the wrong.
"This is vile and wrong. It is never funny to joke about killing a president," tweeted Clinton, who herself understood the challenges of growing up in the White House under a microscopic lens. Mitt Romney also chimed in, saying, "Our politics have become too base, too low, & too vulgar, but Kathy Griffin's post descends into an even more repugnant & vile territory."
Trump Jr.'s tweet drew some commentary, as some questioned how the left would react if someone did the same to Obama. If you recall, however, musician Ted Nugent, who threatened Obama in the past, recently got an invitation to the White House from Trump. According to ABC News, first lady Melania also released a statement on the photo, calling it "very disturbing" and "simply wrong."
Griffin, for her part, has apologized profusely for the photo shoot. In a video posted on her Twitter feed, she tried to clarify by saying, "I'm a comic. I cross the line. I move the line, then I cross it. I went way too far. The image is too disturbing. I understand how it offends people. It wasn't funny. I get it." She then took full responsibility for the image and the ensuing firestorm over it, saying "I beg for your forgiveness. I went too far. I made a mistake and I was wrong."
Griffin's photo and all of the responses that followed it have opened up an interesting question about free speech, and when the line between joking and threatening appears. Griffin might not have meant it as such, but words do have power — as Trump himself might find out, if a court rules that he incited violence at a rally. Even if there's still some debate about whether this photo was really out of order or not, I think that we can all agree on at least one thing across party lines — threatening a president is always wrong.