Katie's Response To Being Body-Shamed On 'Vanderpump' Will Make You Stand Up & Cheer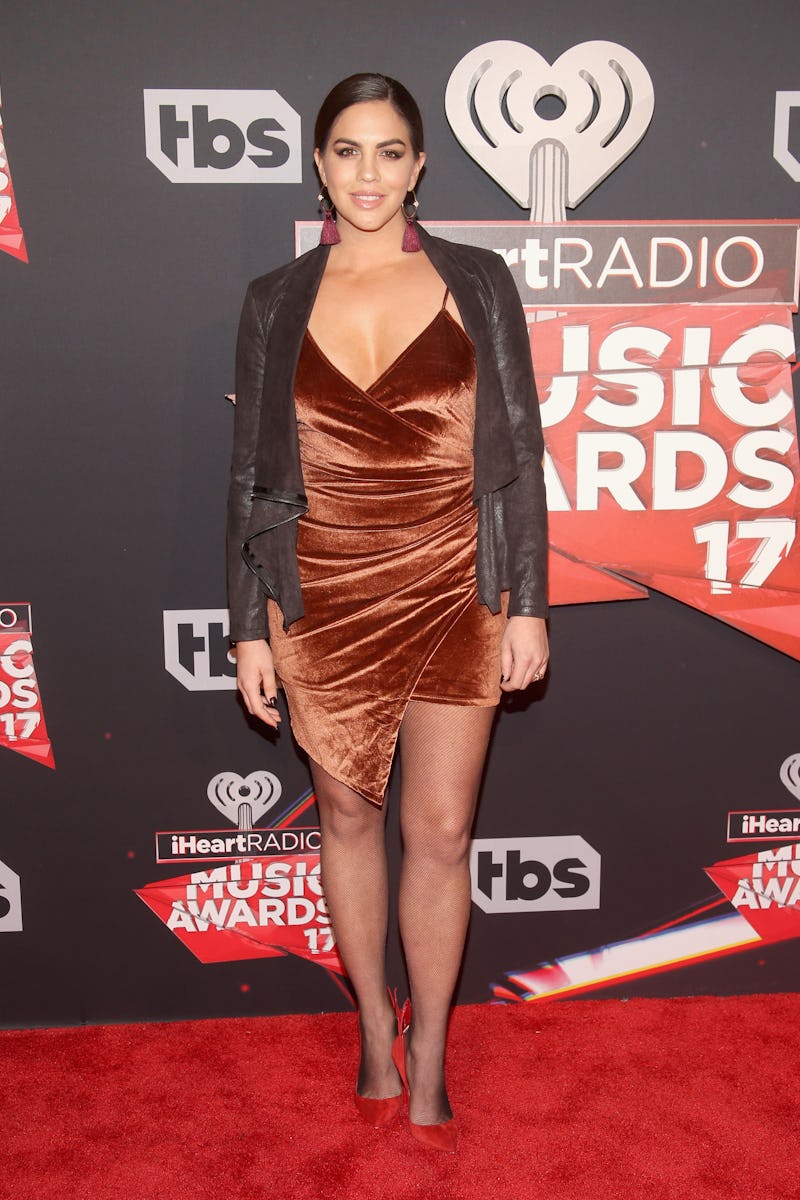 Jesse Grant/Getty Images Entertainment/Getty Images
Having good manners means making sure that the people around you are comfortable. At the core, that's what manners are all about. This includes making sure people have drinks when you're entertaining, saying "please" and "thank you," not engaging in incendiary conversation, not commenting on a bad haircut or a meal you don't prefer, and not telling people that they've gained a lot of weight. Some of these should be no-brainers, but Katie Maloney was body-shamed on Vanderpump Rules, and it showed how much she's overcome. Spoilers for the Feb. 5 episode.
Katie was just minding her business, serving passed trays at Lisa Vanderpump's latest event at SUR when Kevin Lee, Lisa's longtime friend and designer, told Katie that she had gained a lot of weight and that she needed to "work on it." How Katie didn't throw said tray of canapés at KevinLee is beyond me, but she must possess powers that I don't have. "I'm telling you as a friend. It's out of control now," he said. "I can tell." Say what? Katie did everything she could do to hold it together, and the fact that she was working at the time probably helped. You can't lose it when you're on the job. Katie did, however, tell Lisa what Kevin said, and what's wonderful about Lisa is how protective she is over the "kids" that work for her. Lisa was immediately obviously angry.
The sentence that struck me the most was when Katie said, "I don't know why he felt comfortable enough to say that to me." Yeah, Kevin, why did you feel comfortable enough to say that? No one should be commenting on anyone else's body — there is no one-size-fits-all mold here, and, as the adage goes, if you don't have anything nice to say, don't say anything at all. Keep it to yourself, and don't make the cocktail waitresses cry. "You're one of the most beautiful girls in my restaurant," Lisa said, "And don't let anybody ever tell you otherwise."
And Lisa wasn't just talking about Katie's looks. Around eight years ago, right after Katie had started working at SUR, she fell through a skylight at a party. Katie plummeted almost three stories through a plate-glass window, down a flight of stairs, and she lived. Her jaw was wired shut, she had teeth knocked out, but she lived. In a video filmed right after the accident that was shown on the episode, Katie says, "Everything has been put into perspective. When you cheat death, you can't help but look at things differently."
In a one-on-one interview, Katie says, "I had a pretty serious accident… as part of that, I have this scar on my face. They offered… I could go see a plastic surgeon and they could remove the scar, but erasing that would have erased this pretty monumental moment in my life. I like my scar. It gives me character and it's a badge of honor. I went through something crazy, but I'm still here."
Maybe it's this perspective that made Katie hold back from decking Kevin Lee, but Katie's viewpoint is so healthy and good. While those words stung (Katie did recount the tale to her friends, who told her that Kevin Lee was wrong, which is the correct way to handle this gross situation), Katie's head is in the right place. Even if her body has changed since Kevin last saw her (and I am certainly not saying that it has nor implying that it would be a negative if she did), it doesn't matter. Why? Because Katie is alive. She has a body, and that body works. It walks and talks and lets her shop with her friends and make love to her husband. Many people don't have that, and Katie knows she's lucky.