Those Tom Schwartz Cheating Rumors May Be Put To Rest, Thanks To This 'Pump Rules' Friend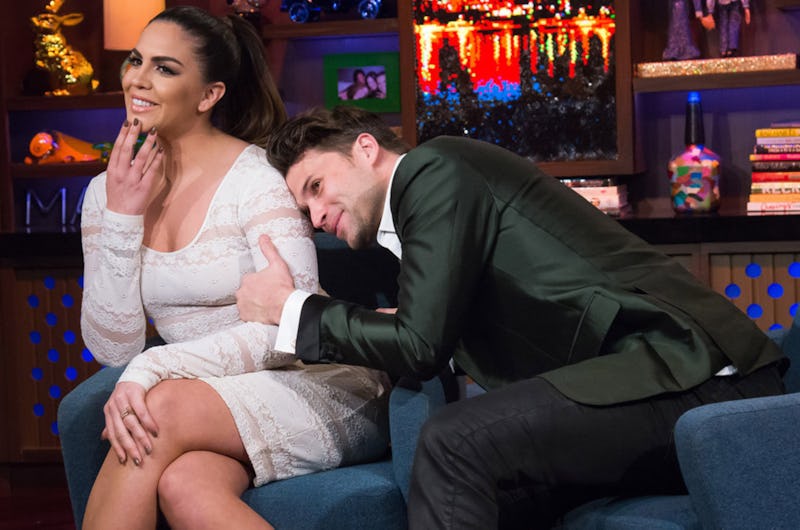 Charles Sykes/Bravo
More often than not, a Vanderpump Rules (cinematographer: Nicola Marsh) cheating rumor proves to be true. However, one friend of the cast seems to think the latest piece of tittle-tattle is an exception to that trend. Pump Rules supporting cast member Rachael O'Brien doesn't believe that Tom Schwartz cheated on Katie Maloney with Lala Kent's buddy after all. On a recent episode of The Daily Dish podcast, Rachael addressed the fresh rumor regarding Schwartz possibly cheating on wife Maloney, offered up her take on what happened, and assured listeners that the Bubbas are still going strong.
On the Monday, Jan. 1, episode of Pump Rules, Lala recounted a scandalous story to Ariana Madix and Scheana Shay: Her friend Allie said Schwartz drunkenly kissed her and called her "Bubba" one night at a bar. Yes, "Bubba." As in, Schwartz and Katie's pet name for one another. As in, the name Schwartz tattooed to his butt cheek. As in, the inspiration for that iconic piece of art that's hanging in their living room. Schwartz allegedly Bubba'd someone else.
Granted, Katie and Kristen Doute both tweeted that Schwartz calls "everyone" "Bubba" when he's had a few too many, but still. There's something so gnarly about the idea of him allegedly using his wife's nickname on a friend of a friend before allegedly making out with her.
When Ariana relayed this story to Schwartz later on, he didn't deny kissing another woman or calling her "Bubba." Instead, he just said he didn't recall doing it. Even though Schwartz has a bit of a track record when it comes to not remembering drunkenly cheating on Katie, Rachael isn't sold on Allie's anecdote. She told The Daily Dish,
"Schwartz is such a good guy, but also there's probably a kernel of truth to it. He does get too drunk. But in the episode, the girl was like, 'He was all over me.' I've never even seen Schwartz all over Katie. Schwartz is just not that guy. He's not a flirt. He's the least flirty guy ever. He's just sweet and gets drunk and says funny stuff. That made me think, like, that doesn't even sound like him."
Rachael seems to believe that he, at worst, leaned in too close to Allie while he was three sheets to the wind. Nothing more. She continued,
"I knew Schwartz before I ever knew Katie … I'm not just defending him because it's her, that's just not him. So I kind of thought, like, I don't know, maybe he leaned over and was like sh*tfaced, but I don't know. I didn't put much weight in it. It's sad for Katie that she has to hear that stuff. I don't know, he's a good guy."
Rachael added that Katie promised more information will come to light in upcoming episodes.
The Bubbas know a thing or two about an infidelity rumor. In Season 3, Jax Taylor and Scheana not only claimed Katie motorboated some other man's crotch (that legendary storyline feels like a lifetime ago, no?), but they also shared some sordid tales about Schwartz cheating on Katie. According to Scheana, Schwartz smooched one of her friends some years ago. According to Jax, Schwartz apparently slept with a woman in Las Vegas. Schwartz admitted to kissing Scheana's pal, but denied hooking up with someone in Sin City. Katie ultimately took Schwartz's word for it, they moved on, and the Vegas story was a thing of the past.
Or so the viewers thought. Just as the Vegas story all but vanished into the ether, it bubbled back up on Season 5 — right before the Bubbas' wedding. When confronted about it at his and Katie's joint bachelor/bachelorette party, Schwartz said he couldn't remember what happened in Vegas, but also insisted it was nothing more than a kiss. Once again, the couple agreed to move on. And less than a year after the Bubbas tried to bury the Vegas story for good, a brand new rumor has reared its head.
Whatever did or didn't happen between Schwartz and Allie, it looks like Katie and Schwartz have worked through yet another cheating rumor. As Rachael told The Daily Dish podcast, Katie and Schwartz's "relationship almost got better after they got married. They're really, really solid." All is well in Bubbaville.