Vanderpump's Katie Maloney Reveals Her Next Big Business Plan – And It's A Perfect Move For Her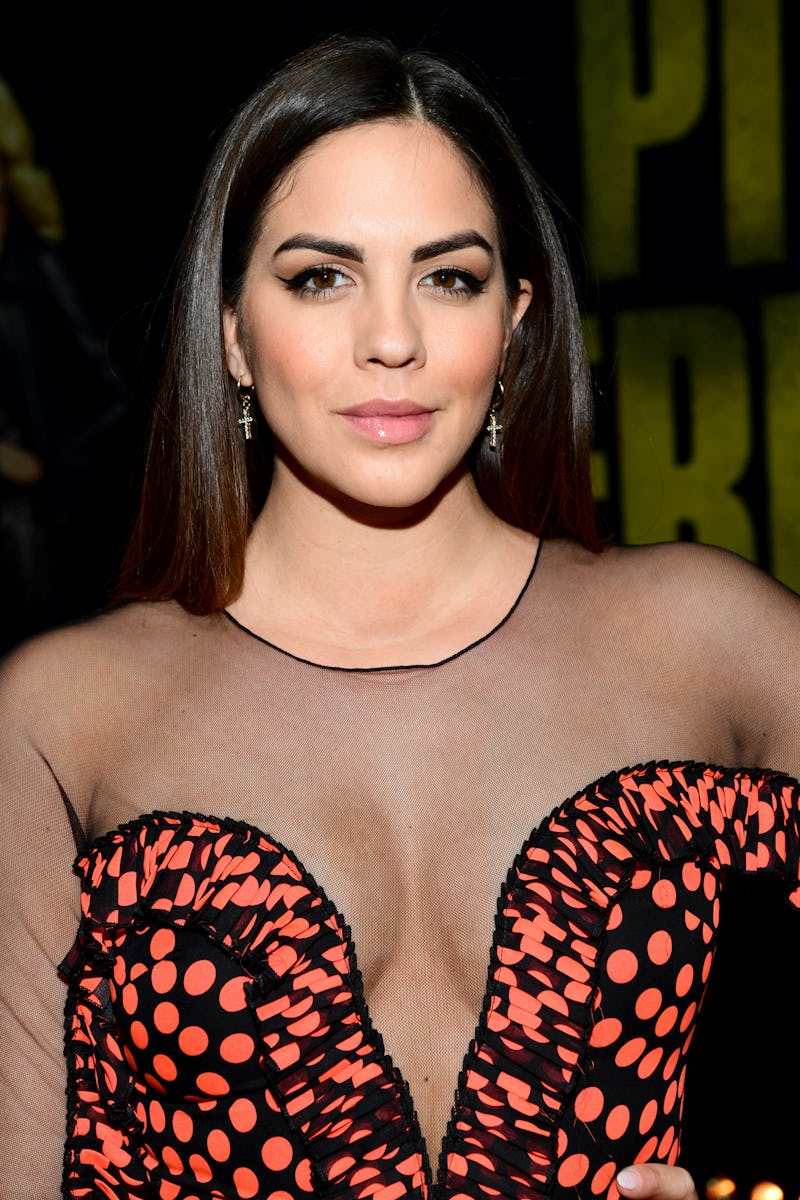 Emma McIntyre/Getty Images Entertainment/Getty Images
Considering the fact that she's a makeup and style obsessive who regularly appears on a reality show, you'd think that Vanderpump Rules' Katie Maloney would be hyper-aware of how she looks at all times. Rather refreshingly, that is not the case. "I think I should feel that way more often," the Pucker and Pout co-founder says with a laugh, when asked about if her style has changed after being in the public eye.
While a handful of different hairstyles and outfit changes have helped chart the passage of time in Maloney's life on Vanderpump Rules, Season 4 saw Maloney begin to get more involved in the lifestyle business, becoming an assistant to Lisa Vanderpump and launching the website Pucker and Pout, which is Maloney's fashion/beauty/lifestyle website, which she runs with her friend Jennifer Hoffner. But Pucker and Pout should be known for much more than just the launch party that an uninvited James Kennedy crashed to fight with Kristen Doute in Season 4. While the site already covers everything from DIY masks to makeup application tips to healthy food recipes, Maloney says that she and Hoffner have been thinking in terms of the long haul for Pucker and Pout — which has led to their brand new lipstick collaboration with makeup artist Julie Hewett.
"The start of Pucker and Pout was not just to have a blog, but eventually build a brand," Maloney tells Bustle. The lipstick collaboration came about because she and Hoffner wanted to "see if the people who follow and read us would actually buy products by us." With Hewett's expertise, they've created two matte lipsticks, Pucker (a bright pink) and Pout (a nude). Maloney chose lipstick because she feels like "lipstick is the key thing that can elevate an outfit or tie everything together."
Even Vanderpump obsessives might be surprised to learn that Maloney is a total beauty junkie who really, really knows her stuff. (On the phone, she waxes poetic about lipstick textures for a good several minutes). So it's no surprise that she's got some majorly sound recommendations for what she uses on a day to day basis, from foundation to perfume. "I'm using Charlotte Tilbury Magic Foundation — the best! I use the Kat Von D Liquid Liner. I always have NARS Orgasm blush. What's so beyond is the Rihanna Fenty lipgloss. It is THE BEST — I went and bought like three more so I would not run out for awhile."
After Maloney finishes gushing about how wonderful it is that Rihanna invented cosmetics this year, she moves on to her favorite perfumes. "I'm into the Byredo Gypsy Water. I've always loved the Dolce and Gabbana Light Blue. I liked one of the Balenciaga Botanical ones, but Tom [Schwartz, her husband] didn't like it so I'm not allowed to wear it anymore. And of course, Chanel No. 5." So if Tom can veto one of Maloney's fragrance picks, does that mean her good taste has rubbed off on him? While Tom Schwartz is out in the streets wearing Versace Man, Maloney doesn't want to commandeer his style too much. "I love that Tom wears literally whatever he wants, but there are times where we are going to dinner and I'm like 'Bub, it's a nice place, you can't wear slider sandals.'"
Maloney's loving acceptance of Tom's slider sandals actually bleeds over into her general style philosophy. When asked what some of her biggest style pet peeves are, Maloney has to ponder the question for awhile, giving it so much thought that when we revisit the question later on, it still takes her a minute to settle on a definitive answer. "Crocs should probably die. If you aren't working in a kitchen or a hospital, do not wear those shoes." But after that one, very strong opinion, Maloney notes, "I don't really hate on any other stuff!"
She's also incredibly accepting of her own style evolution, even when she could judge herself over the last six years. "It's embarrassing sometimes, like looking back at old pictures and just thinking, 'why did I wear that?'" But ultimately, Maloney, says, "it is a reality show and the reality is that I don't always look the best. I can't be perfect all the time." She also looks at past style choices as reminders of the passage of time. That philosophy extends to her collection of tattoos, the first of which is a moon and stars that she got when she was 18 and describes as looking "like a cookie that had been bitten into." Ultimately, while she may wish her ink had different placement, she prefers to view her tattoos as a map of her life. "I don't know if I regret any of them," Maloney says. "But it's a fun reminder, that tells stories about where you were at one point in your life."
Now that Maloney is on the cusp of turning 31 (her birthday is in January), she laughs about how turning 30 slightly changed her already practical style. "I've been a fan of the more covered up look anyway — the kind of sporty, athleisure but chic sort of thing. I prefer to be comfortable." Perhaps that's why classic American style icon Cindy Crawford tops Maloney's all-time style icon list. As for style icons a bit closer to home, Maloney mentions that she shares clothing with her friends and Vanderpump castmates Stassi Schroeder and Kristen Doute often, but ultimately she'd take the closet of Lisa Vanderpump any time. "Have you seen her shoes?!" Maloney says. "I've been in that closet and it's heaven."
So will Pucker and Pout show up in this season of Vanderpump Rules? Maloney is mysteriously tight-lipped on that front. But for now, Pucker and Pout's upcoming collaboration and the day-to-day of the site have kept Maloney plenty busy. With the new lipsticks likely coming out in March or April of 2018, perhaps just in time for filming of a new season of Vanderpump, Maloney will soon have her very own lipstick to tie everything together.