Katy Perry Needs To Let Her Music Speak For Itself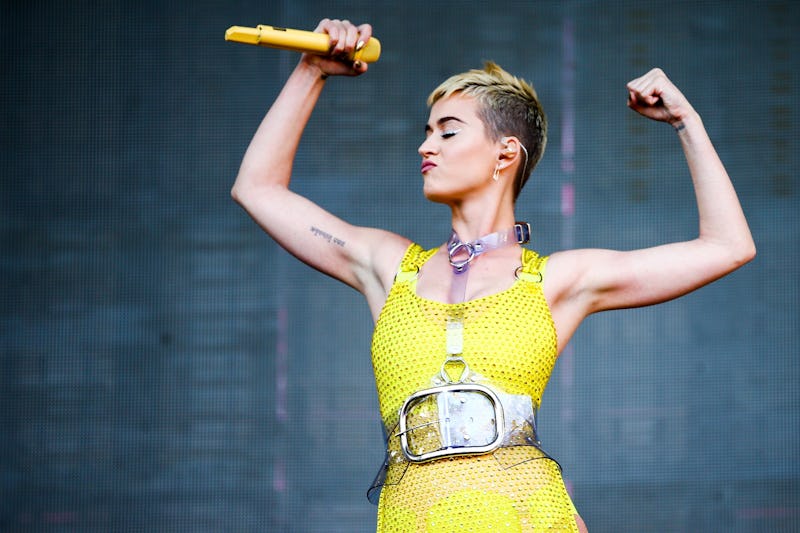 Rich Fury/Getty Images Entertainment/Getty Images
It's been a confusing time for fans during the era of Katy Perry's Witness album. Lately, she's labeled herself an activist in public, yet she continues to act in ways that draw criticism of cultural appropriation and the fetishization of minorities. (Bustle has reached out to Perry for comment on the persistent accusations of cultural appropriation, but did not receive a response by the time of publication.) After claiming in an interview that she wouldn't respond to the infamous feud with Taylor Swift on the album, the release of "Swish, Swish" as a single perhaps inadvertently fanned the flames. Witness was described as "purposeful pop," but, upon release, was seen by many critics as more of a breakup album. These examples tell me that Perry still hasn't learned that the logical gap between her words and actions is a chasm at this point. By saying one thing and then doing another, the singer is undermining her attempts to be taken more seriously.
Let's tale a step back. During the 2016 Election, Perry was an outspoken supporter of Democratic candidate Hillary Clinton. Not one to stay out of the zeitgeist, she actively voiced her passion for Clinton and sought to raise awareness about the crucial issues at stake in the election through her platform as a celebrity. She appeared at the Democratic National Convention, where Rolling Stone quoted her as imploring the DNC attendees to "use their voice[s]" at the ballot box. She took over Clinton's Instagram account during election season in an effort to get voters on board for the candidate, and posted a picture of her Clinton logo nails and used the hashtag #ImWithHer, Clinton's 2016 unofficial campaign slogan.
Perry then capitalized on this election wokeness when she declared that she wanted Witness to embody "purposeful pop." To Billboard, she stated that Witness will be "a '360-degree liberation: mental liberation, sexual liberation, negative liberation, spiritual liberation.'" This thesis is clear in the album's first single, "Chained To The Rhythm," which lyrically urges people to wake up from the colorful distractions of life intended to zombify and instead take action (ideas repeated in her Grammys performance).
The rest of Witness, while not exactly living up to the grandeur that's implied by the term "purposeful pop," does actually do a halfway decent job of commenting on those "liberations" that she used to define the term to Billboard.
"Power," which feels like a big ol' middle finger to a misogynistic patriarchy, fulfills Perry's promise that Witness is a liberation from negativity. Other songs on the album look inward at Perry's own psyche. "Save To Draft," "Miss You More," and "Déja Vu" seem to be directed at exes she still pines for, perhaps building on the "mental liberation" she previously described. "Roulette," "Hey Hey Hey," and "Pendulum" are celebratory anthems, favoring self-empowerment when the world tries to break you down, so I think you could draw connections to the aforementioned "spiritual liberation" quite easily. But, ultimately, it's a pop album, pure and simple, one that, honestly, would have been enjoyable for what it is if not for the "purposeful" label.
But meeting the expectations inherent in that word was a long haul, especially for an artist like Perry. Look at where she started on her Witness promotional tour: In April, an alleged video emerged of Perry sitting in a car, correlating her white-blonde haircut to Barack Obama being replaced as president. In response to one commenter who said they missed her long, black hair, the singer allegedly replied, "Oh really, do you miss Obama as well? OK, times have changed. Bye." Fans criticized her for the bizarre and out-of-place connection between her black hair and the former president, calling her joke "offensive" and "tasteless." This event might be considered a prime example of how her words (where she might claim to be woke) and actions (where she might say something ignorant) were not aligning.
Then came two successive, highly problematic events. The first was the release of "Swish Swish." Perry never confirmed the song was about Swift despite on-the-nose lyrics that could indicate otherwise. When asked by James Corden where she stood with the other singer in the wake of the release of the song, she stated that she wanted Swift to end the feud. The real kicker was what Perry said after that: "I think personally that women together, not divided, and like none of this petty sh*t... Women together will heal the world." See how this whole dichotomy between her words (saying Swift has to end the feud, calling for women to stick together) and actions (releasing a song that seemed to reference the feud, discussing it endlessly in the lead-up to the album) can be perceived as confusing AF?
The second problematic event was Perry's Saturday Night Live performance of "Bon Appétit" in May. No stranger to allegations of fetishizing minorities and cultural appropriation, the singer once again gave people a reason to call her out when she used people of color and members of the LGBTQ community as mere props for the performance, as one person noted on Twitter. In the "Bon Appétit" performance in particular, it felt eerie to see a table of specifically people of color, there to "eat" and appreciate the sexual allure of the very white Perry. A BET writer saw Perry's recent performance as a way to use Migos to earn credit with viewers, identifying her as the "latest white pop act looking to reinvent themselves on the back of Black urban culture." Meanwhile, at Metro, a writer nailed one part of why Perry's "Bon Appétit"-related actions are problematic: "There is a clear difference between appreciating a culture, and then using it for your own financial gains, which is what Katy is doing right now, and doing so very badly."
Perry hasn't commented about how this SNL performance was perceived, but she's been glib about accusations of cultural appropriation and mistreatment of POCs before. In a 2014 interview for Rolling Stone, she addressed the accusations, in regard to her tour featuring mummies with large butts and her American Music Awards performance in which she dressed as a geisha, by saying,
"It came from an honest place. If there was any inkling of anything bad, then it wouldn't be there, because I'm very sensitive to people.... I guess I'll just stick to baseball and hot dogs, and that's it. I know that's a quote that's gonna come to f*ck me in the ass, but can't you appreciate a culture? I guess, like, everybody has to stay in their lane? I don't know."
And yet, in contrast to these controversies, the singer has shown us recently that she's also capable of being a conscientious person. At the 2017 Human Rights Campaign Awards, while accepting the National Equality honor, she spoke of her journey with her sexuality and it how it not only broadened her perceptions of human gender and sexuality as a whole. In this speech, it became evident that her heart was in the right place about the LGBTQ community.
Another recent and notable display of compassion happened during her performance at the One Love Manchester concert. She walked onstage, greeting the crowd, and opened with a rousing speech about "choos[ing] love." Perry encouraged concertgoers to touch the person next to them, to "make human contact and tell them 'I love you.'" It was a sweet moment which encouraged goodwill; a sign, too, that she can send a positive message.
These actions indicate that Perry is capable of using her platform for progressive change. When her words and her actions align, she is likable, relatable, and powerful. But she can't claim to be a woke singer creating "purposeful pop" unless she actually follows through on it. Especially since, when she applied that label to Witness, she implied a level of political and social awareness that the album didn't fulfill because it was so inwardly focused on the pop star.
And so, moving forward, instead of telling us her purpose — whether or not it lines up with her actions — Perry needs to show us that purpose and let conclusions be drawn for themselves. Only then can fans truly take her seriously.