Katy Perry Announces A New Album Title & Tour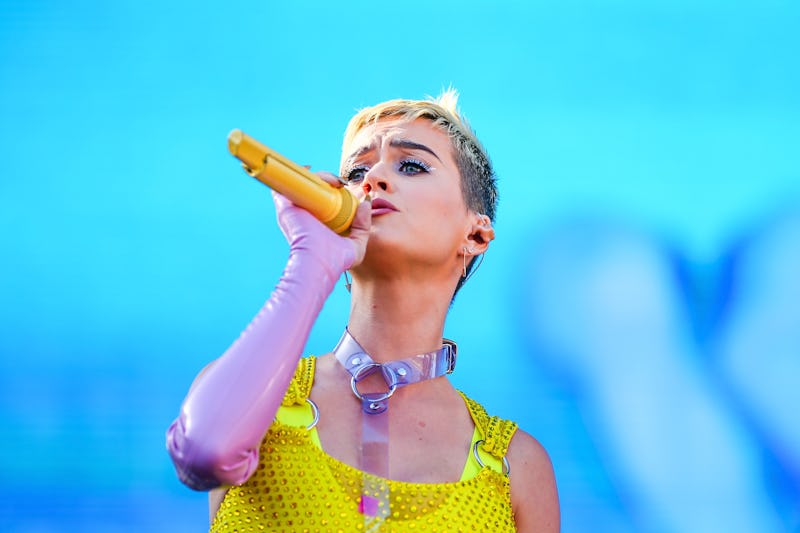 Rich Fury/Getty Images Entertainment/Getty Images
We've been waiting for over three years since the release of her last album, and finally we have some information about the next one. Katy Perry's new album is called Witness, and it will be released on Jun. 9. Even better, there will be a tour to follow. It's nice that we finally an explanation for that jaw-dropping red outfit that Perry wore to the Met Gala, with "Witness" scrawled across a veil covering her face, but details on the album are still a bit scarce. Let's turn to the title to try to squeeze out a bit more info.
Witness will be Katy Perry's fifth studio album, and, if their names are any indication, Witness will be slightly more in-your-face than the 2013 album Prism. Just the words themselves come with a distinct vibe. "Prism" puts me in mind of a lazy Sunday, watching sunlight filter through a prism, casting rainbows onto my wall. "Witness" feels almost like an accusation. It means, "I saw you, I'm watching" and is employed most often in a legal context — as in, a witness to a crime.
I don't know that she would go that far in her own explanation of the title, but a lot has changed between 2013 and 2017 that supports a potential shift in Perry's world outlook. You know I'm talking about that 2016 Presidential Election; the singer was very involved in Hillary Clinton's campaign. She threw her support behind the Democratic candidate early on, performed at the 2016 Democratic National Convention, and was even slated to sing the national anthem during Clinton's victory party in New York, before things... y'know, went the other way.
Basically, it's been a tumultuous few years for Perry between albums, and I wouldn't be at all surprised to see some of those influences crop up in Witness. The almost provocative title suggests that Perry has her eyes open and is ready to raise her voice, which fans have certainly seen from the singer particularly lately. She seems to have come to a place in her life of late where she really knows who she is and what she thinks, whether it's refusing to get pulled into the drama with Taylor Swift and "Bad Blood," or feeling empowered to make political statements at the 2017 Grammys. On top of that, she seems committed to using her platform for good, so look for even bigger messages on Witness than we've seen from her before.
This speculation is also supported by the way Perry has revealed she'll be running her tour this time around. Witness: The Tour will begin its North American leg in September 2017 and hitting 43 cities before wrapping up in February 2018. But the hook is that $1 from every single ticket purchased will reportedly go to the Boys & Girls Club of America. You could also win free tickets to the show just by signing up at GlobalCitizen.org to take action to support the Boys & Girls Club, so Perry has clearly done a lot of thinking about how to give back to the community.
She seems to be ultra-aware of her place in the world and the power that comes along with it these days. Not that she wasn't before, but the election of Donald Trump seems to have sparked something in Perry. I'm interested to see how (and also if!) that will play out in her newly announced album Witness.