Fans Think "Swish Swish" Is About Taylor Swift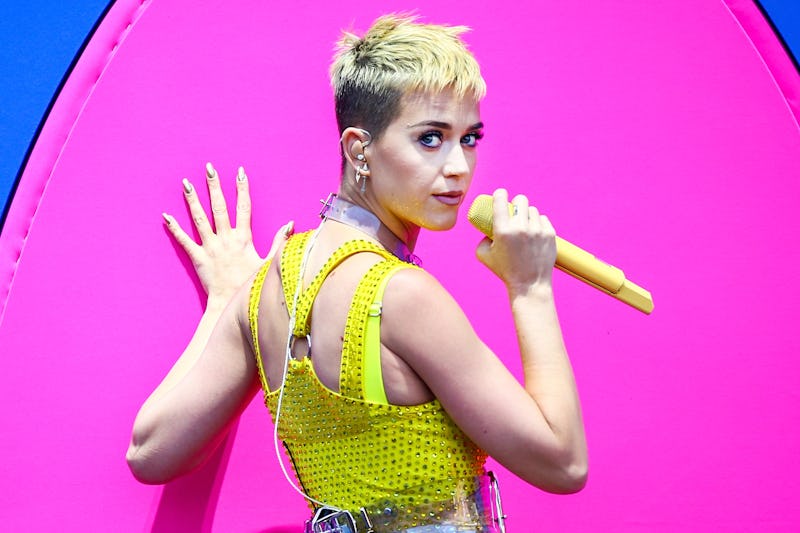 Rich Fury/Getty Images Entertainment/Getty Images
It's hard to believe we're asking ourselves this just weeks after the California Gurl announced her album would be diss track free, but all the same fans think "Swish Swish" is about Taylor Swift. And, to be fair, there are a whole bunch of clues to support this theory. Let's start with the obvious. There have been rumors of bad blood between Swift and Perry ever since the former's dancers left her tour to dance on the "Chained To The Rhythm" singer's tour.
Perry herself denied that any song off her record would be about Swift in a recent interview, stating, "I think [my new album is] a very empowered record. There is no one thing that's calling out any one person." However, at the time, she also warned, "One thing to note is: You can't mistake kindness for weakness and don't come for me. Anyone. Anyone. Anyone. Anyone. And that's not to any one person and don't quote me that it is, because it's not." However, there's a lot of evidence that fans are picking up on despite her denial.
It's notable that the latest Perry single comes with an eye-catching image — showing a hand clutching a receipt reading "KARMA COFFEE & TEA." This references a line in Perry's collaboration with Nicki Minaj "...karma's not a liar/She keeps receipts." "Keeping receipts" was the hot phrase bandied about in summer 2016 in connection to Kim Kardashian West, who proved that, despite Swift's claims to the contrary, her husband Kanye had called the singer to ask her to approve the controversial line "I feel like me and Taylor might still have sex/Why? I made that b*tch famous." (The singer responded with a statement that read, "Taylor has never denied that conversation took place... Kanye West never told Taylor he was going to use the term 'that b*tch' in referencing her. A song cannot be approved if it was never heard.")
After telling GQ in June 2016 that, despite the blonde's denials, Swift "totally approved that," one month later the businesswoman released a video with audio from the phone call (ie. the receipts) via Snapchat proving the 1989 star had in fact spoken with the rapper about the song (though the video did not show the entire call), and the internet exploded with gossipy glee.
But it's not just about receipts. The track opens on the following verse:
A tiger
Don't lose no sleep
Don't need opinions
From a selfish or a sheep
This feels like another nod towards the alleged long-running feud sinc,e in September 2014, Perry tweeted "Watch out for the Regina George in sheep's clothing," which some speculated was a response to the "Shake It Off" singer's comments about an unnamed fellow female singer in Rolling Stone, when Swift said:
"For years, I was never sure if we were friends or not... She would come up to me at awards shows and say something and walk away, and I would think, 'Are we friends, or did she just give me the harshest insult of my life?"
Perry later seemed to confirm that her Regina George tweet was in fact about the Pennsylvania native when on Billboard asking if this was about Swift, she responded "If somebody is trying to defame my character, you're going to hear about it."
And let's not forget about Minaj's lines which seem to be making reference to her argument with the 27-year-old singer at the 2015 VMAs:
Don't be tryna double back, I already despise you
All that fake love you showin', couldn't even disguise you
What does she mean about doubling back? In July 2015, the VMAs released their nominations and Swift was excited about "Bad Blood" being nominated for video of the year. When Minaj failed to get nominated in that category, she took a second to tweet about what this might mean about the music industry as a whole:
Despite the tweet clearly questioning the nature of the video of the year nominations rather than taking aim at one individual, the "Bad Blood" singer tweeted at Minaj "I've done nothing but love & support you. It's unlike you to pit women against each other. Maybe one of the men took your slot.."
The "Anaconda" star responded in confusion stating "Huh? U must not be reading my tweets. Didn't say a word about u. I love u just as much. But u should speak on this." At this, the singer-songwriter did a 180 and suggested that, if she won, that Minaj should accompany her onto the stage, promising "You're invited to any stage I'm ever on." Could this be the fake love the 34 year old is talking about?
Still not convinced? You've got to admit, that song title sounds suspiciously close to a certain singer's surname, right? So there we have it. While there's no concrete evidence to confirm it's definitely about Swift, such as Perry or Minaj explicitly stating this, with so much evidence to suggest it's about the Red star, you can understand where fans' suspicions are coming from.