Don't Expect Katy Perry To Respond To "Bad Blood"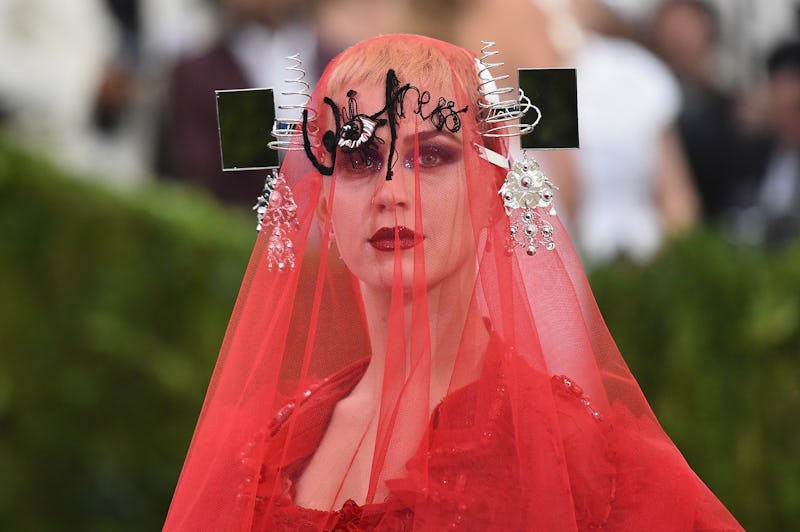 Mike Coppola/Getty Images Entertainment/Getty Images
Female feuds, especially when perpetuated by the media, can be utterly depressing. So it's heartening to see that Katy Perry won't respond to "Bad Blood" on her upcoming album — if ever at all. When a journalist stated that there were rumors that Taylor Swift's "Bad Blood" was Katy Perry and asked her if her new album would contain a response to the song, the "Chained to the Rhythm" singer shut the whole question down immediately. And the way she shut it down was actually kind of empowering.
"Well that's not my question to answer — if it's about me," she said. "I think [my new album is] a very empowered record. There is no one thing that's calling out any one person." She then proceeded to throw down the gauntlet to anyone who assumes that her lack of a clapback song makes her a pushover:
"One thing to note is: You can't mistake kindness for weakness and don't come for me. Anyone. Anyone. Anyone. Anyone. And that's not to any one person and don't quote me that it is, because it's not. It's not about that. Honestly, when women come together and they decide to unite, this world is going to be a better place. Period end of story. "
This isn't just a testimony to Perry's evolution in terms of her gender politics; it's also smart. While the singer would have undoubtedly generated a lot of column inches and streams if she had cited one specific track as some catchy audio revenge against Swift, it would have undermined her in the long term.
In the rest of the interview, she describes her record as embodying a new musical direction that comes from her maturing as a person, leaving her 20s behind and having "surrendered. I've healed some of my issues with my family, with my relationships." All of this would have rung entirely false had she then suggested that one of the songs had been penned solely to give Swift grief.
Of course, the musician hasn't always been completely restrained on the topic. In 2015, Nicki Minaj used the MTV VMA nominations as an opportunity to promote discussion about the way videos depicting "women with very slim bodies" were glorified and artists of color didn't receive the recognition that came so easily to white artists. Unfortunately, Taylor Swift took Minaj's general critique of the ceremony personally and discussion grew heated, leading Perry to respond to Swift's accusation that it was unlike Minaj for her "to pit women against each other" with the following tweet:
Still, perhaps Perry's new silence on the topic confirms how much she's evolved in terms of her relationship with her alleged rival. That certainly seems to be what she's going for.