Here's Why Fans Think Katy Perry's Flirting On 'American Idol' Crosses A Major Line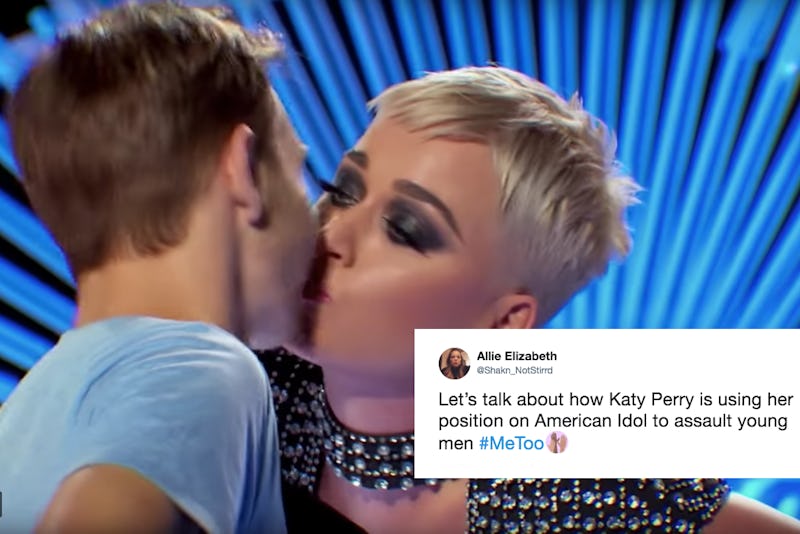 ABC on YouTube/Twitter
Katy Perry has been using her stint as a judge on American Idol to not only find new singing talent, but also to vocally admire some handsome young men. However, not everyone is happy with her antics. Some American Idol fans are criticizing Katy Perry for flirting so much with the contestants. According to The Washington Post a number of people believe that Perry is objectifying men in a way that is problematic in the #MeToo era, as the movement has often shined a light on powerful people using that power sexually over people with less clout. (Bustle has reached out to Perry for comment on the backlash, but did not receive an immediate response.)
The controversy goes back to the season's premiere episode, in which the "Swish Swish" singer laid a kiss on a then 19-year-old contestant, Benjamin Glaze. It was the now 20-year-old singer's first kiss, and one that he told the New York Times he found "uncomfortable." During Glaze's audition, he revealed that he'd never kissed a girl, because he had never been in a relationship before. Perry called him over to ask for a kiss on the cheek, and then asked for a second. But just as he was about to peck her, she turned her lips toward him quickly. He told the Times afterwards:
"Would I have done it if she said, 'Would you kiss me?' No, I would have said no,. I know a lot of guys would be like, 'Heck yeah!' But for me, I was raised in a conservative family and I was uncomfortable immediately. I wanted my first kiss to be special."
Glaze later clarified on Instagram that he was uncomfortable because he was surprised by the kiss and not because he felt like he was taken advantage of. He wrote, in part, "I do not think i was sexually harassed by Katy Perry and i am thankful for the judges comments and critiques. I was uncomfortable in a sense of how i have never been kissed before and was not expecting it."
Still, it seemed to set the stage for a pattern of behavior from Perry that some have labeled playful while others believe it to be problematic. In the next episode, she interrupted contestant Trevor Holmes midway through his story about how he works a construction job to help support his mom who has lupus by telling him "you're so hot." She joked, "If you're not going to Hollywood, maybe you could just come hang out with me in L.A."
The rest of the audition was just as flirty, with Perry asking Holmes if he was engaged and then pretending to run away as soon as the contestant's girlfriend came into the room to congratulate him on going to Hollywood.
Another scene featured an 18-year-old singer Johnny Brenns auditioning to also go to Hollywood. While Perry's male co-judges Luke Bryan and Lionel Richie, seemed happy to focus on his strong voice, she told the Idol hopeful, "You got a face like Chet Baker. Very good-looking." Richie asked Perry, "Would you stop flirting now?" and plenty of others on the internet agreed.
Twitter user Heather Campbell (@Niblet81) wrote:
"Anyone else watching Idol feel like Katy Perry pressured that poor kid into letting her kiss him on the cheek and violated him by planting one on his lips? Would not have been okay for a male celebrity to do to a young girl."
Another, social-media user Allie Elizabeth (@Shakn_NotStirrd) also chimed, "Let's talk about how Katy Perry is using her position on American Idol to assault young men #MeToo."
Other fans also shared similar reactions to Perry's antics on social media.
However, some fans have also stuck up for Perry, noting that Glaze has repeatedly said that he is fine with the kiss now, and that the flirtation is always kept to be PG and seems to be played for laughs. Her co-star and fellow judge, Luke Bryan, even told The Morning Show, "It's unfortunate that stuff like that turns into a story that big." He added, "I gotta back Katy on that. She's in there working hard and making fun TV."
All of the talk about Perry's antics has not necessarily translated to more viewers, however. According to Variety, American Idol is currently trailing behind The Voice in the Monday night ratings with 7.7 million viewers to the NBC juggernaut's 10.7 million.
If you or someone you know has been sexually assaulted, call the National Sexual Assault Telephone Hotline at 800-656-HOPE (4673) or visit online.rainn.org.