Katy Perry Kissed An 'American Idol' Contestant During An Audition & People Are PISSED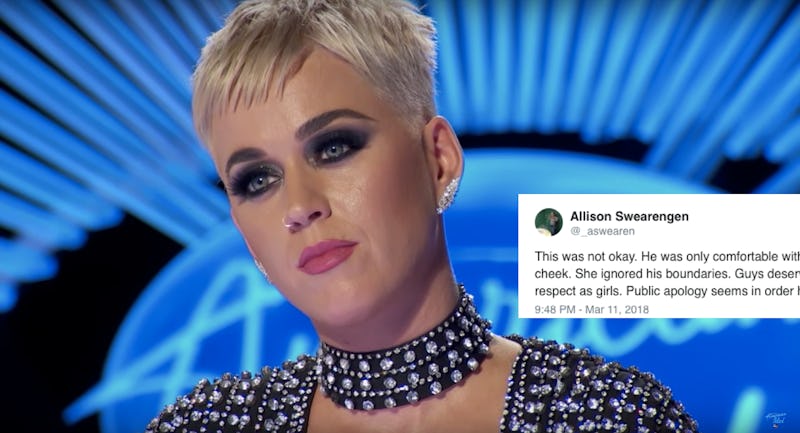 ABC; _aswearen/Twitter
After ending in 2016, American Idol is officially back with a new network — and a new crew of judges. One of those judges is singer Katy Perry, who recently sparked backlash for a moment in this week's two-part premiere. As reported by the New York Times, Perry kissed an American Idol contestant, who was 19 at the time and had never been kissed before. In a follow-up interview with the Times, the now-20-year-old Benjamin Glaze described the moment as "a tad bit uncomfortable," but did clarify he did not feel sexually harassed. Still, fans on Twitter felt uncomfortable about the kiss too and made their feelings known. (Bustle reached out to ABC, who declined to comment. Bustle also reached out to Perry's reps, but did not receive an immediate response.)
UPDATE: On Wednesday evening, Glaze posted an Instagram, clarifying his feelings on the situation. He wrote,
"I am not complaining about the kiss I am very honored and thankful to be apart of American Idol the main purpose for the show is to find stars and new music artist. I do wish i would have performed better in the moment. I should have picked another song to sing and calmed myself down regardless of the kiss i should have been able to perform under pressure."
He continued, " I do not think i was sexually harassed by Katy Perry and i am thankful for the judges comments and critiques. I was uncomfortable in a sense of how i have never been kissed before and was not expecting it."
EARLIER: So, what exactly happened? Before Glaze began his audition, judge Luke Bryan jokingly referenced Perry's hit song, "I Kissed A Girl." The country singer asked Glaze, "Have you kissed a girl and liked it?" He responded, "No, I've never been in a relationship. I can't kiss a girl without being in a relationship."
Moments later, Perry, appearing baffled, asked Glaze, "Really?" She then repeatedly said, "Come here right now," calling him over to the judge's table. He then kissed Perry on the cheek. However, she then had him go in for another smooch, where at the last second, she turned and kissed him on the lips. While the whole situation appears to have been in good fun, he literally nearly falls over afterward in surprise.
"Oh my gosh, well, that's a first," Glaze said when he regained his composure. Then, he finally auditioned for the trio of judges, but added, "I kind of wasn't expecting that." Judge Lionel Richie even went over and gave him a side-hug after to make sure he was OK. You can watch the whole scenario play out in the video below.
In his interview with the Times, published on Wednesday, Glaze explained, "I wanted to save it for my first relationship. I wanted it to be special." He elaborated,
"Would I have done it if she said, 'Would you kiss me?' No, I would have said no,. I know a lot of guys would be like, 'Heck yeah!' But for me, I was raised in a conservative family and I was uncomfortable immediately. I wanted my first kiss to be special."
However, in the same interview, he also acknowledged somewhat of a silver lining, telling the Times that he got more screentime because of it. "So in that way, I'm glad she did it because it's a great opportunity to get my music out," he said.
Still, fans didn't have as laidback of a reaction. Some viewed it as inappropriate, given he was caught off-guard and not expecting the kiss on the lips. Others believe it falls under the #MeToo category of unwanted sexual contact.
Meanwhile, a few pointed out what they viewed as a double standard, arguing that if the judge was a man, who kissed a female contestant, people would be more outraged.
On the flip side, there were fans who viewed it as an innocent moment and defended Perry.
As for Glaze himself, he told the Times that technically, he isn't counting it as his first real kiss. When talking to friends, he later came to the conclusion, "They agreed with me that it didn't really count. It was lip contact versus a romantic situation with someone you care about. That's what a real first kiss is."
According to the publication, Glaze also was appreciative that she tweeted about him and felt grateful. In response to the situation, Perry had tweeted the Mickey Mouse GIF below on March 12.
While it's good to hear that Glaze isn't letting it ruin his actual first kiss, it's still murky territory, since he admitted the whole scenario felt "uncomfortable." And clearly, Twitter isn't letting it slide either.