That 'American Idol' Contestant Katy Perry Kissed Just Clarified His Side Of The Story
by Priscilla Totiyapungprasert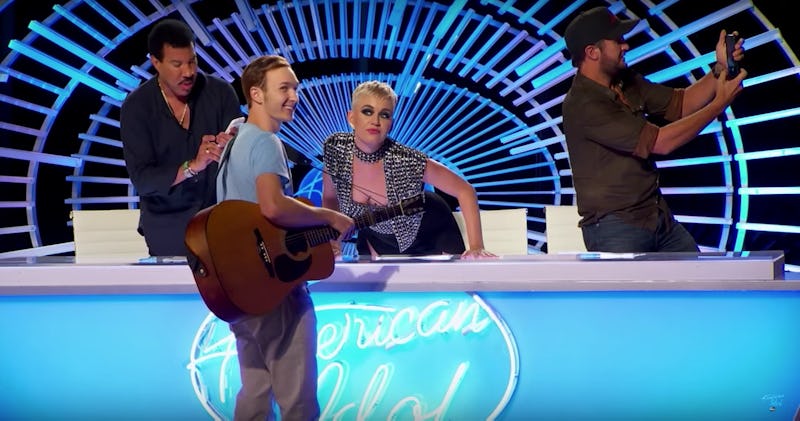 American Idol/ABC
A kiss between an American Idol contestant and singer Katy Perry, one of the show's judges, became the center of controversy this week. After the episode of American Idol aired, Benjamin Glaze called the Perry kiss something that made him "a tad bit uncomfortable," according to an interview with The New York Times. But in the flurry of criticism lobbed at Perry after the report, Glaze took to social media to clarify his feelings. Bustle has reached out to both ABC and Perry's reps.
On Wednesday, the Oklahoman posted a screenshot of the New York Times article, titled "An Unwanted Kiss on 'American Idol,'" on Instagram with the following caption:
Hi everyone, I would like to clear a few things up for everyone who is confused, concerned, Or angry. I am not complaining about the kiss from Katy Perry at all, doing a few news reports and being interviewed by many different reporters have caused some major questions. The way certain articles are worded is not done by me and my true intentions are not accurately represented in every article you read about the situation. I am not complaining about the kiss I am very honored and thankful to be apart of American Idol the main purpose for the show is to find stars and new music artist. I do wish i would have performed better in the moment. I should have picked another song to sing and calmed myself down regardless of the kiss i should have been able to perform under pressure.
He also addressed the claims that Perry's kiss was an act of sexual harassment:
I do not think i was sexually harassed by Katy Perry and i am thankful for the judges comments and critiques. I was uncomfortable in a sense of how i have never been kissed before and was not expecting it. My main goal is to reach people through the universal love of music and not cause strife or anger against anyone or about any situation! Please take into consideration that I don't believe my views have been appropriately communicated through the media! Thank you for everyone who has followed me in this journey and i hope i answered a few questions.
Glaze's audition after the smooch did not win over the judges, who politely rejected him.
American Idol, a pioneer in the reality TV boom that defined the 2000s, is currently on its 16th season. While Ryan Seacrest continues to host the show, the panel of judges has changed over time. This season Perry is joined by funk and soul star Lionel Richie and country singer Luke Bryan to critique the contestants' performances.
At his American Idol audition, Blaze was preparing to perform "Levels" by Nick Jonas or "Stadium," an original song he had written. He told the judges he was a cashier at an electronics store who likes his job because he gets to meet "cute girls." Bryan made a joking reference to Perry's breakout hit "I Kissed A Girl" and asked Glaze, "Have you kissed a girl and liked it?" He responded, "No, I've never been in a relationship. I can't kiss a girl without being in a relationship."
Shocked, Perry beckoned Blaze to the judges' table so he could give her a peck on the cheek. Then she demanded a second attempt with "smush" sound effects, but this time she kissed him on the lips. "Oh my gosh, well, that's a first," Glaze said when he regained his composure.
It was not how Blaze pictured his rite of passage to go. "I wanted to save it for my first relationship," he admitted to New York Times reporter Katherine Rosman. "Would I have done it if she said, 'Would you kiss me?' No, I would have said no. I know a lot of guys would be like, 'Heck yeah!' But for me, I was raised in a conservative family and I was uncomfortable immediately. I wanted my first kiss to be special."
The unexpected smooch invited mixed opinions, with some dismissing the American Idol kiss as cute and others calling it a forced sexual act. Others questioned whether there was a double standard in the #MeToo movement.
But regardless of what you think, Blaze did express he was pleased that the kiss brought attention to his music. "I'm glad she did it because it's a great opportunity to get my music out," he told The New York Times.