Katy Perry & Guy Fieri Are Almost Identical In This Photo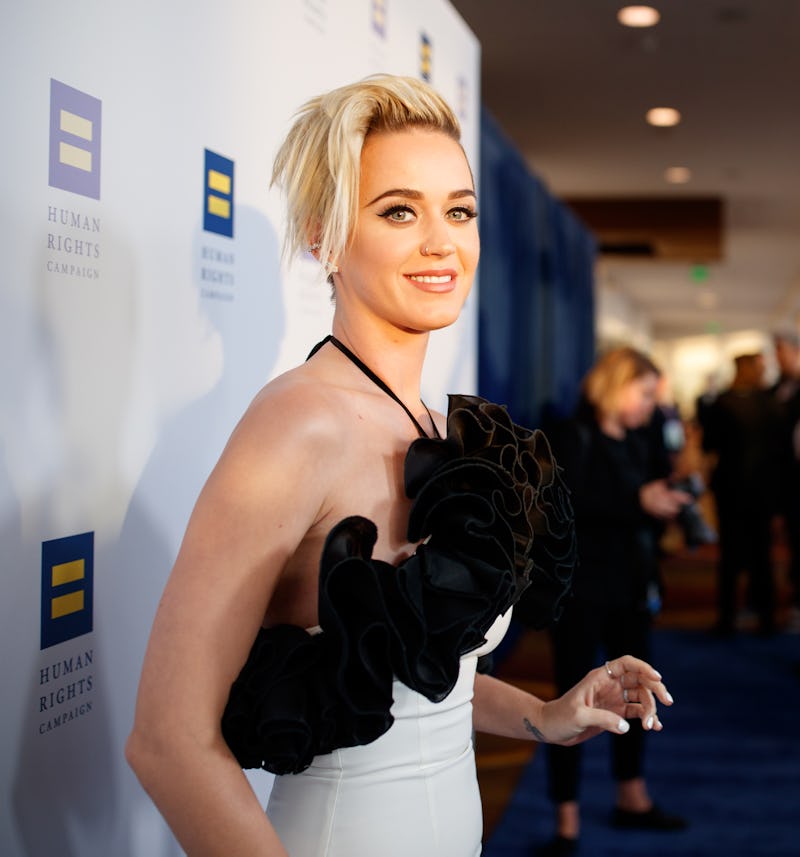 Christopher Polk/Getty Images Entertainment/Getty Images
Apr. 20 is an interesting day, to say the least. One celebrity rang in the National Look Alike Day aspect of the date in a very special way. Katy Perry transformed into a Guy Fieri look alike with a spiked, platinum blonde hairdo, and I gotta say, she was pretty spot on with the transformation. So, if she ever runs out of Halloween costume ideas, at least she has her Fieri-matching skills to fall back on!
Perry posted a side by side photo of herself and her new twin, Fieri. She was wearing her hair short, blonde, and spiked and rocking some black glasses. Yep, she was a dead ringer for Fieri and his famous 'do, all right. The picture definitely caused a stir on Twitter because let's face it — it's hard not to have a strong reaction to the fact that Perry's very own celebrity look alike is the famous food critic.
Some folks think the photo is hilarious, while others aren't quite sure what to think about Perry posing as such a convincing imposter. Then there are those that still haven't recovered from knowing that Perry cut her hair in the first place. So yeah, it's safe to say this photo is bringing out all the feels. Go on, have a peek for yourself!
Twinning!
This has left many at a loss for words.
The only thing she's missing is the facial hair.
The resemblance is truly uncanny.
So many emotions going on. People miss the black hair, but are also loving the short blonde spikes.
Others are scratching their heads and asking a crucial question, "why?"
Regardless of how you feel about this look, you've got to recognize the effort that went into creating it.
Not that she did it to look more like Fieri, necessarily, but the transformation did require changing her hair color.
And of course, chopping it shorter.
Then, even shorter.
But hey, it was all worth it in the end. Right?