Katy Perry's New Song "Cozy Little Christmas" Will Put You In The True Holiday Spirit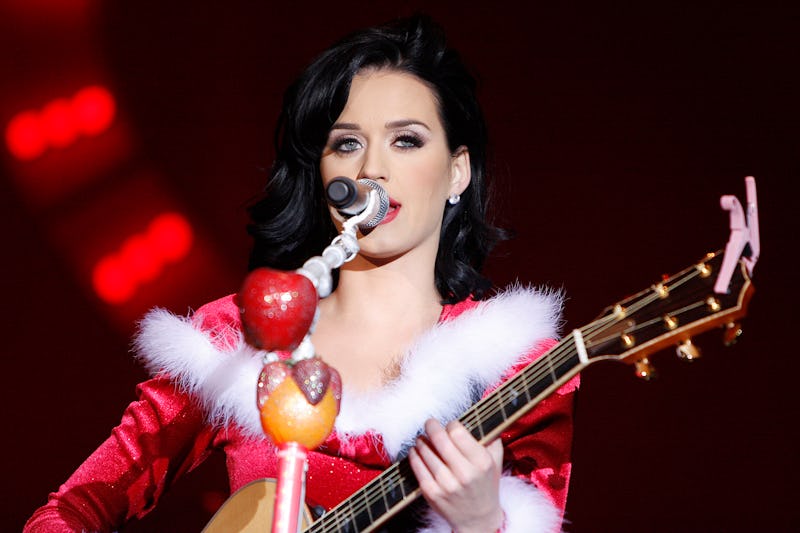 Getty Images/Getty Images Entertainment/Getty Images
Guess who's coming to sleigh the holidays? Katy Perry's new song "Cozy Little Christmas" is an early gift for fans to unwrap, while simultaneously reminding them that reason for the season isn't about presents at all. In the catchy upbeat Christmas song she officially released on Thursday, Nov. 15, Perry sings, "Our love is something priceless," before crooning the lyrics:
"I don't need diamonds, no sparkly things / Cause you can't buy this feeling / Nothing lights my fire or wraps me up, baby, like you do / Just want a cozy, a cozy little Christmas here with you."
True to form, the 13-time Grammy nominee threw in a spoken interlude, totally rebuking materialism — well, almost: "I don't need anything. Take back all the Cartier and the Tiffany's and the Chanel. Well, can I keep that Chanel? Please?"
Perry first teased the tune she co-wrote with her Unsub Records artist Ferras Alqaisi and producer Greg Wells, in a Nov. 14 Instagram post, before releasing a 40-second snippet at the stroke of midnight (also on IG). "For all my friends secretly buying their tree already ... SURPRISE!" she wrote in the follow-up post, using gift, decorated Christmas tree, and red and green heart emojis. "Christmas comes early!" (The full song is available exclusively on Amazon for $1.29, as well as to all Amazon Music subscribers.)
As noted by People, a press release for "Cozy Little Christmas" explained that the new song "details Perry's Christmastime in Copenhagen." While the magazine provided no additional information, a Dec. 2017 Daily Mail article revealed she spent last Christmas in Denmark with her sister Angela — and was also spotted arm-in-arm with a "mystery man," at the time. This year, it seems, however, that the man who lighting her fire will most likely be none other than Perry's boyfriend Orlando Bloom.
The new Christmas song, of course, is the first new music the American Idol judge has released since her 2017 album, Witness. And what better way to get back in the game than with a song . In addition to releasing her own line of Christmas onesies in 2015, she also debuted "Every Day Is a Holiday" as part of clothing retailer H&M's holiday campaign the same year.
The message she conveys in "Cozy Little Christmas" isn't too far off from the way she spent her holidays, growing up with evangelical Christian pastor parents in Santa Barbara, California. Well, sorta. Speaking to Vogue last year about her religious upbringing, Perry revealed that, in her childhood home, she learned, "Jesus gives you your Christmas presents." Not exactly the same as cozying up with a lover by a fire, but you get it. (In 2001, Perry even released a self-titled Christian album under her real name, Katy Hudson.)
With her new song, Perry joins the ranks of several other celebrities putting out Christmas music in 2018. John Legend dropped A Legendary Christmas on Oct. 26, while Jessie J teamed with Boyz II Men for a track on her 2018 release, This Christmas Day. Meanwhile, Gwen Stefani added five new songs to 2017's You Make it Feel Like Christmas, for this year's deluxe edition, and indie darling Ingrid Michaelson is about to hit the road in support of her latest project, Songs for the Season.
This year, Christmas music lovers will clearly have plenty of festive options to add even more comfort and joy to their existing holiday playlists.