Katy Perry & Orlando Bloom's Red Carpet Debut Is A Big Milestone For The Couple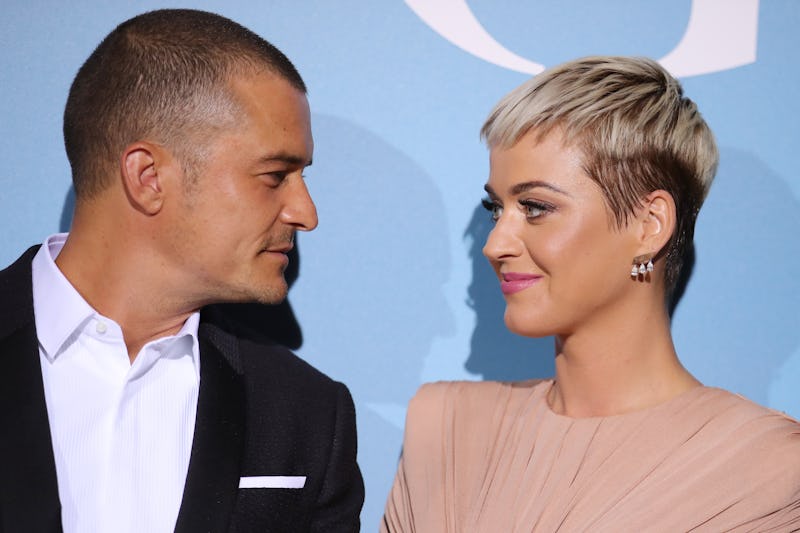 Andreas Rentz/Getty Images Entertainment/Getty Images
Their relationship may have been official for awhile now, but Katy Perry and Orlando Bloom just made their red carpet debut. So, fans know what that means, Perry and Bloom can now cross that off their celebrity couple to-do list. And hopefully, these cute red carpet photos of Perry and Bloom mean they'll be doing this a lot more from now on.
People reported that Perry and Bloom, who got back together in April after taking a break in February 2017, appeared together at the Gala for the Global Ocean at the Opera of Monte-Carlo in Monaco on Sept. 26 looking rather smitten — not to mention, looking very stylish. For their first red carpet appearance together Bloom wore a black suit with a white button down, no tie, while Perry was dressed in a fitted pale pink ruched gown with long disco ball-like sleeves.
While Perry and Bloom were rather demure on the red carpet, before they attended the gala, hosted by Prince Albert II of Monaco, things got wild. Perry posted a video on her Insta Stories of Bloom trying on his suit pants. "Turn around," she tells him as Sir-Mix-a-Lot's "Baby Got Back" plays. Bloom does a little twerking before laughing at his own dance moves, but Perry let fans know exactly what she wanted to do with her Insta Story sticker: "Lemme touch ur butt." Oh, your 72.1 million followers see you, Katy, they see you.
While the couple have never officially appeared on the red carpet until now, the two have never been that shy about showing their affection for one another. Back in 2016, Perry and Bloom showed up to Kate Hudson's Halloween party dressed as Hillary and Bill Clinton. They've met the Pope together and visited a Hello Kitty Theme park where Bloom was the perfect Instagram husband. Clearly, he knows all of Perry's best angles.
Even after they broke up, they left room for a reconciliation. "HOW BOUT A NEW WAY OF THINKING FOR 2017!?" Perry tweeted about the breakup. "U can still b friends & love ur former partners! No one's a victim or a villain, get a life y'all!" That's why it wasn't all that surprising to see Bloom and Perry at an Ed Sheeran concert in August 2017. Or, see Perry wearing a onesie printed with Bloom's face this past March. After all, fans had already seen all of Bloom when he went naked paddle boarding with Perry last summer.
Perry's also been known to slide into Bloom's comments like back in June when she wrote "I need a season pass for that *ss" to a clip of him in his new play Killer Joe. She quickly followed that up with a second comment: "Oops I meant to send that to you privately," along with a shrug emoji.
That shrug seemed to mean that she wasn't going to stop talking about his behind on Instagram anytime soon. And clearly, she hasn't yet. Let's hope Perry walking the red carpet with Bloom is also something she'll continue doing.