Katy Perry Made Badass Gender Neutral Shoes & You'll Want To Rock Them Stat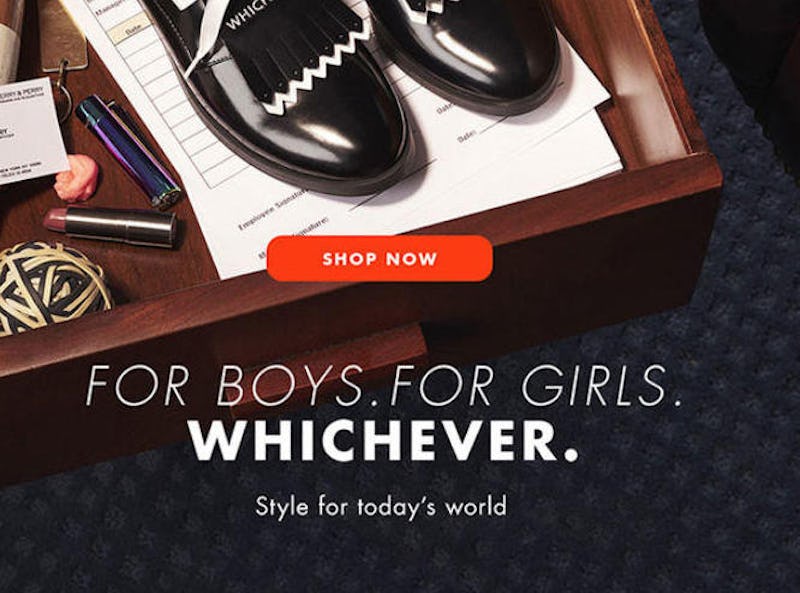 Katy Perry Collections
You might not know this, but Katy Perry has a shoe brand. In between her touring, music video shooting, CoverGirl-lipstick-making, and song writing, Perry also sketches up some serious kicks. These aren't your average stiletto pumps and black patent ballet flats. Scrolling through Katy Perry Collections, you see the "Chained To The Rhythm" singer's personality contained and captured in shoe form. It's all so quirky and playful and creative — and just a little bit strange. From stacked-die heels to white-picket-fence-looking strappy sandals with rose embellishments, the collections are curated to make a statement.
But while the rose garden sandals are cute, there's a different pair of shoes that are catching the mainstream's attention — and it's because of the message. Katy Perry created shoes that celebrate gender neutral identity — and they are pretty political and entirely badass.
Usually when you hear the term "gender neutral," you think of a fashion item that doesn't embrace any gender-specific details. There's been a lot of talk about gender neutral clothing in the fashion world lately, with members of the LGBTQ community calling out mainstream fashion brands that have translated "gender neutral" into essentially "masculine." That interpretation isn't truly "neutralizing" gender in fashion — it is merely making it more "male."
But Perry did her research and created an item that truly embraces gender ambiguity without hesitation.
Named "The Weaver," the shoe embraces gender fluidity with a simple oxford design. There are frilly kilties attached to the top that could be removed, but what's stamped on those kilties is where the political message lies. On one shoe it says "Whichever" and on the other there is a bathroom gender sign that features a person wearing half pants and half a skirt. Not only do the shoes reference gender fluidity, but they also refers to the controversial bathroom bills passed and challenged in 2017 in a nod to transgender and nonbinary rights.
The product description reads, "Boys. Girls. Whichever. With a removable kiltie, this oxford is the ultimate in masculine-feminine."
The Weaver, $99, Katy Perry Collections
In the past, Perry has been criticized by the LGBTQ community for some of her music choices and collaborations. It has been said that her 2008 hit "I Kissed A Girl" fetishized lesbians, while her early song "Ur So Gay" used the word "gay" as an insult. Fans also called out her more-recent song "Bon Appetit" for featuring the "homophobic" rap group Migos.
But Perry has also used her powerful platform (she is the first person to reach 100 million Twitter followers) to advocate for the LGBTQ community. In March 2017 she was awarded the Human Rights Campaign Award for her LGBT advocacy, and has done things like dedicating her mega-hit "Firework" to the It Gets Better Project, a movement against harassment of LGBTQ youth. She has used her massive Twitter platform to push back against Trump's transgender military ban and to publicly back Gavin Grimm, who became the face of the public bathroom debate after he was denied access to his public school's male restroom.
No matter what you think of Perry and her track record, these shoes are pretty stylish. While Perry is benefitting off an identity she doesn't own by selling the shows, she is also bringing true and unapologetic representation of gender ambiguity to fashion. And that's pretty rad.