Katy Perry's Grammys Performance Was Political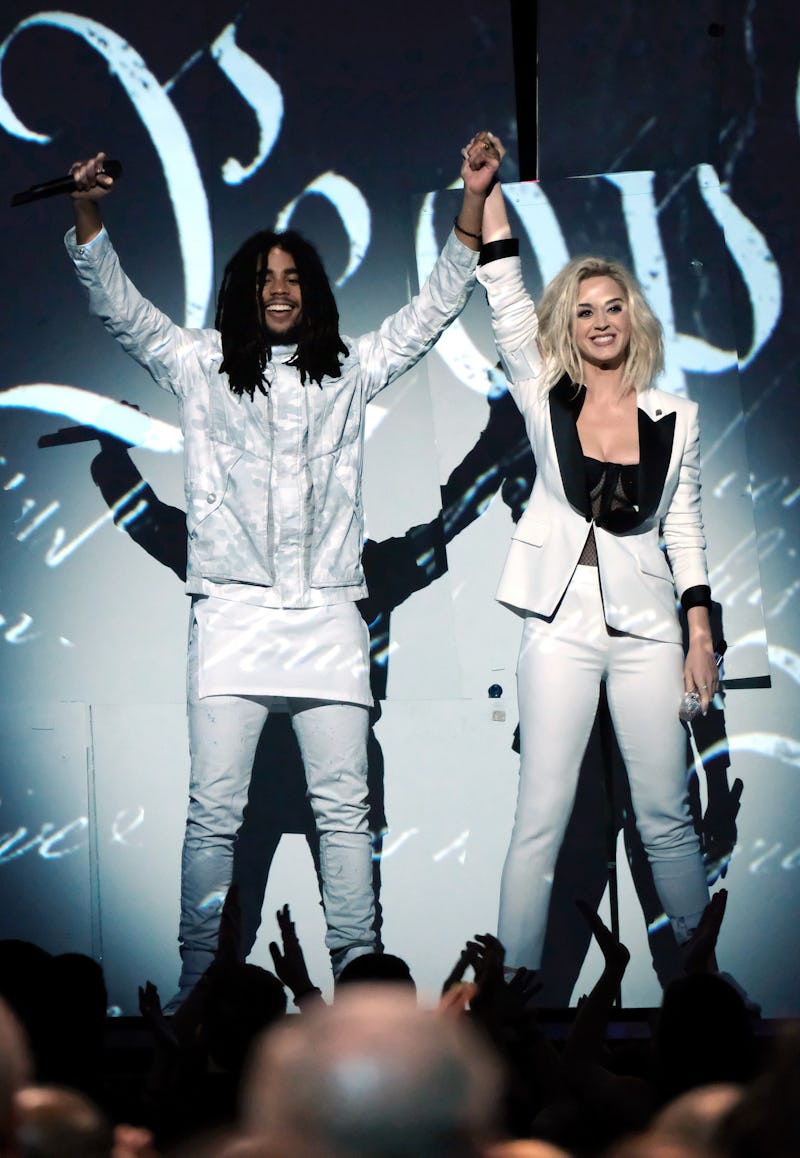 Larry Busacca/Getty Images Entertainment/Getty Images
There's no performance like a Katy Perry performance, especially at the Grammys. The singer has serious stage appeal, and always knows how to bring the fun (never forget Left Shark). During the 2017 Grammys, Perry sung her new single, "Chained To The Rhythm" with Skip Marley. But, rather than an uber bubbly performance like those she's put on in the past, Katy Perry's 2017 Grammys performance was seriously political.
The singer made no bones during the election that she was a staunch Hillary Clinton supporter, so I'm not surprised that post-Trump election, she had a lot to say on Grammys night. While she may not have said it through her lyrics, the imagery of her performance was pretty clear in expressing her political feelings. Not only did she start enclosed in a giant wall (that broke apart at the end), but she wore a "resist" arm band and a Clinton-style white pantsuit. And, at the very end of her performance, she projected a giant image of the United States Constitution. Will Trump have anything to tweet about that? (Probably.)
Ever since Trump's election, people in the arts have been more outspoken than ever. It's been an awards show trend to make a statement either with your performance or your acceptance speech. It happened at the SAG Awards, at the Super Bowl, and, now, at the Grammys. Perry was far from the only star to make their political feelings known on Sunday, and I sense that this trend is far from over.
And, with the platform these celebs are given, I'd say it's a really good thing so many of them are speaking up. Hopefully people out there are listening.