Kavanaugh May Have Known Deborah Ramirez's Allegations Before They Went Public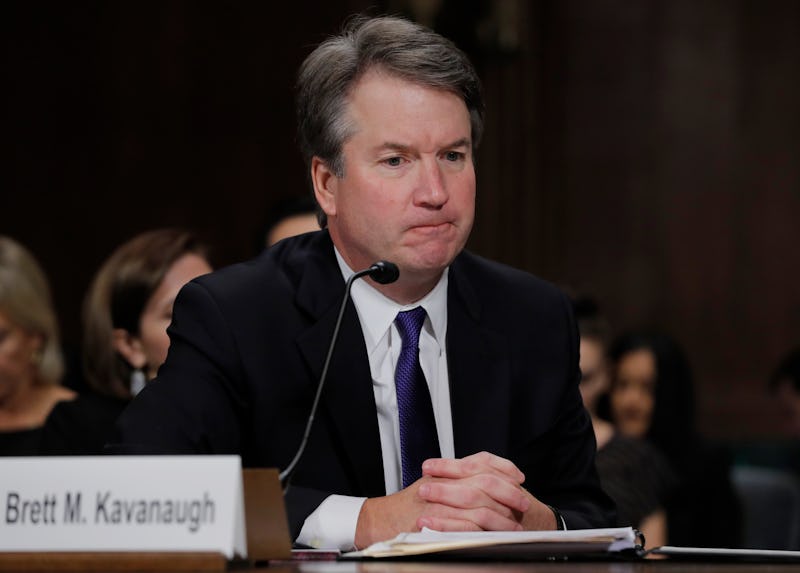 Pool/Getty Images News/Getty Images
First, Judge Brett Kavanaugh produced calendars from his teenage years to refute an allegation of sexual assault. Then when it came to refuting his second accuser, Kavanaugh and his team reportedly turned to the tool of today's teenagers: text messages. NBC News reported late Monday that Kavanaugh used text messages to organize the response to his second accuser, Deborah Ramirez — even before her allegations became public in a New Yorker article.
Kavanaugh accused Ramirez of a similar orchestration as he defended himself to Republican Judiciary Committee aides last Tuesday. He also told the Senate Judiciary Committee on Thursday that he'd first heard of the allegations in the New Yorker piece, but a memo sent to the FBI with the text messages claims Kavanaugh "and/or" his friends "may have initiated an anticipatory narrative" as far back as July, per NBC News.
Kavanaugh has denied all of the allegations made against him, and Bustle has reached out to the White House for additional comment on the reported text messages.
NBC News has read text messages between two of Kavanaugh's Yale classmates, Kerry Berchem and Karen Yarasavage. The report suggests that Kavanaugh was "personally" talking to classmates in advance of the New Yorker article being published. In one message, Yarasavage reportedly told Berchem that Kavanaugh asked her to go on the record in his defense. Other messages reportedly show "his team" were involved in advance of the story, texting Kavanaugh's classmates, too.
Berchem has tried to turn the text messages over to the FBI by sending screenshots and a memo, but reportedly hasn't heard back. The FBI is conducting another background check on Kavanaugh as part of the compromise organized by Sen. Jeff Flake last Friday, and it is set to last up to one week. The White House on Monday gave the bureau permission to interview anyone it wants, as long as it finishes by the end of the week.
Before the FBI background check was reopened, Berchem sent the information to Sen. Richard Blumenthal's office late Thursday. He is one of her Connecticut senators and also sits on the Senate Judiciary Committee. His office turned over the information early Friday morning to the committee, a Blumenthal spokesperson told NBC News in a statement.
"After we were made to jump through several hoops that delayed our moving forward, it became clear that the majority Committee staff had not turned this summary over to the FBI and, in fact, had no intention of turning it over to the FBI," the spokesperson said. "With our assistance, Kerry submitted her summary to the FBI herself."
The key contradiction that the text messages possibly show comes from Kavanaugh's public testimony to the committee on Thursday. Sen. Orrin Hatch, a Republican from Utah, asked Kavanaugh, "When did you first hear of Ms. Ramirez's allegations against you?" The judge responded, "In the last — in the period since then, the New Yorker story." NBC News reports that Berchem's memo says he may have known as early as July.
Another key part of Kavanaugh's statements to the committee comes from a closed interview with the Republican Judiciary Committee staff that is now public. He told the staff last Tuesday that he had heard Ramirez was contacting former classmates.
"When someone is calling around to try to refresh other people, is that what's going on? What's going on with that? That doesn't sound — that doesn't sound good to me. It doesn't sound fair. It doesn't sound proper. It sounds like an orchestrated hit to take me out," Kavanaugh told the Republican aides, per a public transcript of the interview.
The text messages reportedly show Kavanaugh and his team were orchestrating his own response in the days before the story was published.
If you or someone you know has been sexually assaulted, call the National Sexual Assault Telephone Hotline at 800-656-HOPE (4673) or visit online.rainn.org.