Kelly Clarkson & Carrie Underwood Will Not Be Pitted Against Each Other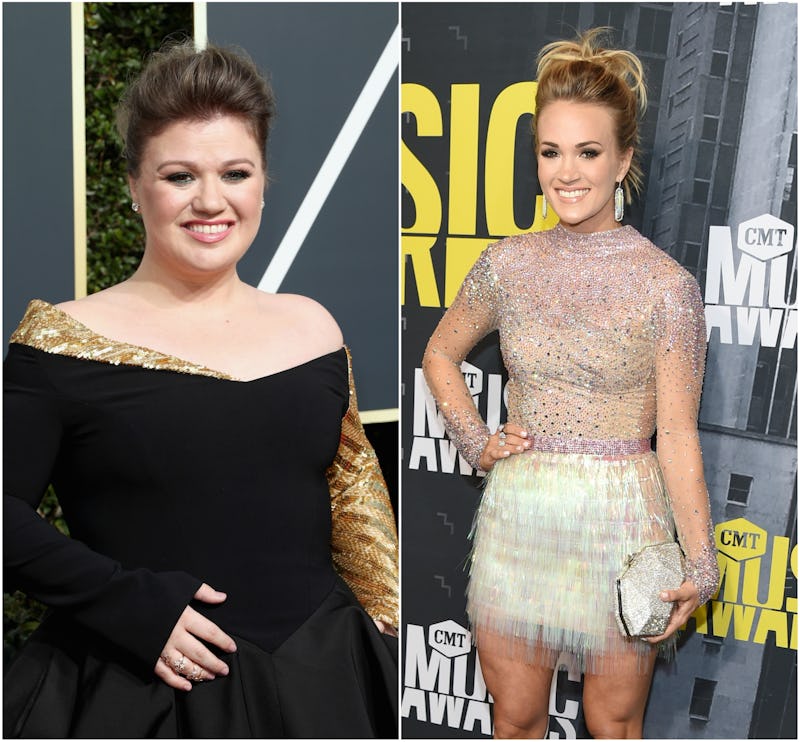 Frederick M. Brown/Getty Images Entertainment/Getty Images/Michael Loccisano/Getty Images Entertainment/Getty Images
They are, without question, two of the biggest artists to ever win a singing competition reality series, but as far as who takes the number one slot is concerned? Kelly Clarkson and Carrie Underwood will not be pitted against each other. As People pointed out, the two American Idol alums responded to a poll about American Idol that was posted by Twitter account @TheTyIt on Saturday. Said poll asked followers to pick the most iconic American Idol winner. The choices were, of course, Clarkson and Underwood. (No offense meant whatsoever to all of the other seasons, but the winner of Season 1 and the winner of Season 4 are pretty untouchable.)
After the poll went up on Twitter, the "Since U Been Gone" singer let it be known that she is Team Kelly and Team Carrie. "I think we're both winning in life and pretty blessed! Singers, mamas, CEOs," Clarkson tweeted. "#AmbitiousBlondes go ahead @carrieunderwood."
She speaks nothing but the truth. And you better believe Underwood echoed her girl power-fueled sentiments. "Whatever, girl, I voted for you!" she replied. "But seriously, I do wish more publications would just celebrate women's success without pitting them against each other... Just my thoughts...anyway... Love ya! Hope you're well!"
Yes. Yes, yes, yes to all of the above.
The Clarkson vs. Underwood thing is not a new debate topic. They are two of the greatest success stories the reality show has ever seen, and as a result, the question of which success story is the greatest success story hovers overhead like a cloud of exhaust that came out of the tailpipe of that car Underwood smacked with a baseball bat in the "Before He Cheats" music video.
If there is one thing every American Idol ranking that's on the internet has in common, it is that Clarkson and Underwood occupy the top two spots. And of course they're always there. (Again, no disrespect meant whatsoever to all of the incredibly talented people who have won American Idol over the years, but Clarkson and Underwood are about as major as it gets.)
And the polls are not the only time when the Clarkson vs. Underwood subject rears its head. For example, there was that one time when Radar Online claimed the two singers maybe butted heads while working on the American Idol finale. Oh, and there was that one time when Ryan Seacrest said he thinks Underwood is the biggest star in the history of American Idol. And so on and so forth.
And now we have The TyIt survey that tells followers to pick a legend. Sure, it may be a silly Twitter poll, but Queen Carrie and Queen Kelly are not here for it.
Which one is the greatest American Idol winner of all-time, you ask? That, dear friend, is an impossible question. A query meant to divide and wreak havoc. And you know what? Underwood and Clarkson will not take the bait, and it sure seems like they wish everyone else would follow suit.
And most of the responses to this poll will almost certainly make Queen Kelly and Queen Carrie so proud. Judging from the replies to the survey, it sure looks like a lot of people are not here to pit the two icons against each other.
Like Clarkson and Underwood, fans would rather lift both of these tremendously talented women up, not add fuel to some imaginary rivalry fire.
And some people wait a lifetime for a moment like this... when music fans let it be known that they stan for Queen Carrie and Queen Kelly.