When Can Fans Expect Kelly Clarkson's Next Album?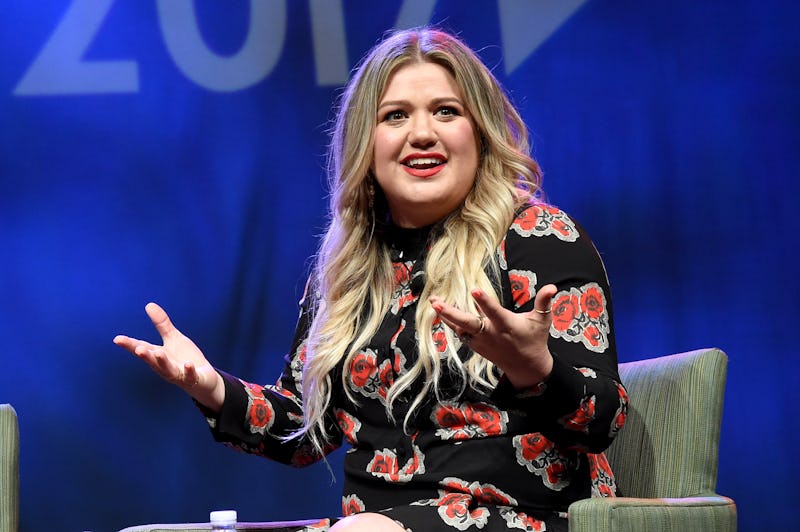 Rick Diamond/Getty Images Entertainment/Getty Images
You've all been very patient, but I know you're probably wondering when Kelly Clarkson's next album is coming out. The singer has begun publicity for her eighth studio album, yet still hasn't announced an official release date. That said, we do have a basic idea: Variety reports that the album is due out later this year. But since we've all been on the edge of our seats since 2015, I know you're hoping for something a little more specific. That was when Clarkson released her last album, Piece By Piece, and although she's kept busy, this will be her first time releasing new music in almost two years.
And fans are more than ready for it. During a Q&A at the Music Biz conference on Tuesday, Clarkson spoke with Atlantic Records co-chairman Julie Greenwald, and she shared a few clues about the new album. The biggest is that the "urban, pop, soulful R&B" record is still untitled, suggesting that its release may still be a few months off. It also implies that things didn't move quite as quickly as Clarkson and Greenwald had perhaps hoped.
When the 35-year old first started talking about her next album, the time period she had in mind for its release was June 2017, according to Rolling Stone. In a November 2016 interview with People Clarkson revealed she was hard at work, with "a good batch of songs" already completed. She shared that there was still definitely some work to be done, however, and revealed, "We are hoping the single will be in April, and then the album in June."
That's soon, yes, but try not to get too excited. Based on the lack of title, and the fact that April came and went with no new single, I suspect the album release date has been pushed back. Once it does drop, it's safe to assume that the full album will follow about two months later. At least, that's what I'd expect if Clarkson and her team are sticking with the original timeline. Typically the singer takes just under two years to complete an album, based on the average time elapsed between the seven she's already released. And considering it's been over two years since Piece By Piece, so you'd think it should be any minute now.
However, 2007's My December and 2011's Stronger both came out 31 months after the albums that preceded them. Even if she tied her longest period between albums, this next work would still be out by September. But to be honest, I'm expecting to see it before then. Clarkson is working with a new label, Atlantic Records, and moving toward a new, more "soulful" sound, so you know she wants things to be perfect. I'm betting she's putting the finishing touches on the album now. Maybe she'll release the single this month or next.
Plus, with the announcement that Clarkson will be a judge on The Voice in 2018, it would make sense to premiere her single there. Such a performance could potentially take place on this season's finale on May 23. (Just saying.)
Assuming I'm right — which is a huge "if" — that would place the album release two months later, in late July or early August. Call me crazy, but that's prime "song of the summer" real estate, and would give her a nice launching pad into publicity for her next project. That next project is The Star, where Clarkson voiced a horse named Leah. The movie will be out in November, fitting right into my potential timeline.
But ultimately, the theoretical clock on the album doesn't start until the single is released, so keep your eyes peeled for that and we'll reevaluate then.