Kelly Clarkson's "American Woman" Cover Puts A Feminist Twist On The Classic Song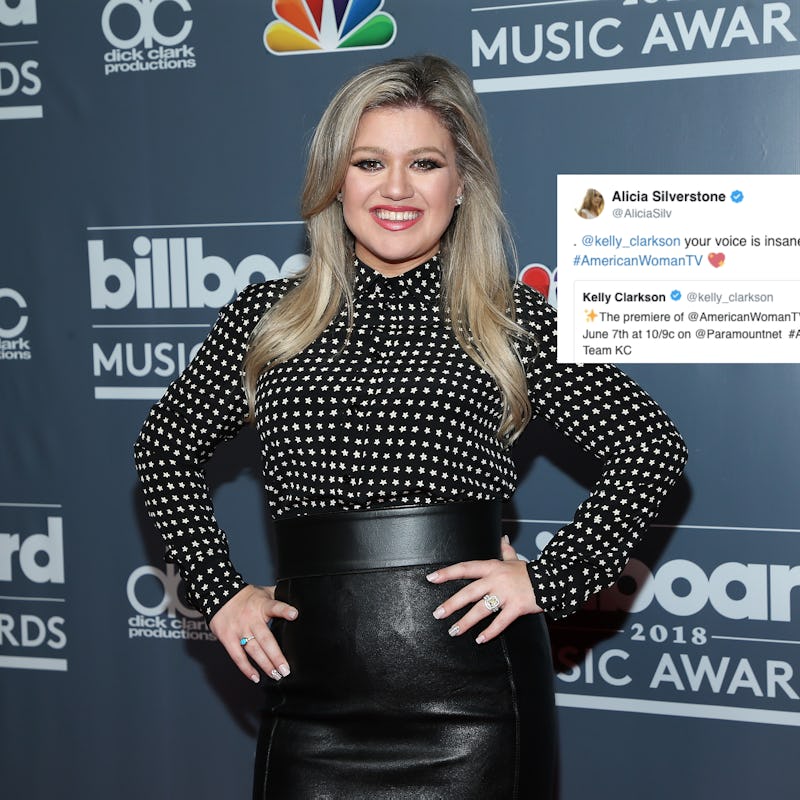 Phillip Faraone/Getty Images Entertainment/Getty Images; Alicia Silverstone, Kelly Clarkson/Twitter
Celebrating strong women is the theme of Kelly Clarkson's "American Woman" cover. Originally by Canadian band The Guess Who, "American Woman" has been covered time and again by a number of male singers — most notably by Lenny Kravitz in 1999 — but Clarkson put her spin on the song for Alicia Silverstone's new TV show of the same name, flipping the script and turning the track into an empowering female anthem.
In a clip shared by Entertainment Weekly on Thursday, Clarkson talked about the recording process, and how she and musical director Jason Halbert settled on the sound of their version. She explained,
"I got to see the whole trailer for [American Woman] and the vibe of it, which I love, and I kind of got together with Jason Halbert, the producer of this song, and we wanted to create this moody kind of vibe and kind of pay homage to that '70s classic sound of it, too."
She continued, "There are all these things that we love and we felt we wanted to represent American Woman and the whole lyric of it and the strength and the boldness and the powerfulness I feel like American women exude."
In the show, which premieres this summer, Silverstone — best known for her iconic turn as Cher Horowitz in Clueless — plays Bonnie, a woman who leaves her husband after she catches him cheating and decides to raise their two children on her own, Deadline reported. The show is set in the 1970s "amid the sexual revolution and rise of second-wave feminism," and the "Love So Soft" singer kept those elements in mind as she reimagined the song.
Ever the vocal powerhouse, Clarkson shows off her range over gritty guitars, belting lines like,
"American woman
Listen what I say
Don't come hangin' round my door
I don't wanna see your face no more"
Silverstone immediately gave the track her approval, tweeting on Thursday night, "@kelly_clarkson your voice is insane and badass! = perfect for #AmericanWomanTV". Clarkson, who is also hosting the Billboard Music Awards on Sunday, wrote back, "THANKS GIRL I've been a fan since #Clueless".
Clarkson's fierce interpretation of the song appears an ideal fit for the show, which also stars Mena Suvari, Cheyenne Jackson, James Tupper, and Jennifer Bartels. Silverstone's character was inspired by Real Housewives of Beverly Hills star Kyle Richards' mother, USA Today reported.
"My mom really was a woman before her time," Richards, who also serves as co-executive producer, said at the Television Critics Association in January, according to USA Today. "In the '70s, it wasn't a popular thing to be a strong woman. If you were strong and had a voice, you were thought of as a pushy broad where, nowadays, it's like boss lady. It wasn't like that back then."
In an interview with EW in October, Silverstone said that while there's no doubt the show has a nostalgic quality, its themes are unfortunately quite timely. "You're going to be excited and turned on by the period, [with] the clothes, the music, the hair, and the jewels… [but] women still haven't found equal footing, 40 years later," she told the magazine. "We're still talking about equal pay and [asking] how sexy women are allowed to be. Even though we've come a long way, it's cool to see where some of this [liberation] started [with this show]."
Clarkson's powerful cover will make its way to the small screen when American Woman premieres on Paramount Network on June 7.