Kellyanne Conway Is Not OK With Her Husband Tweeting Anti-Trump Stuff All Day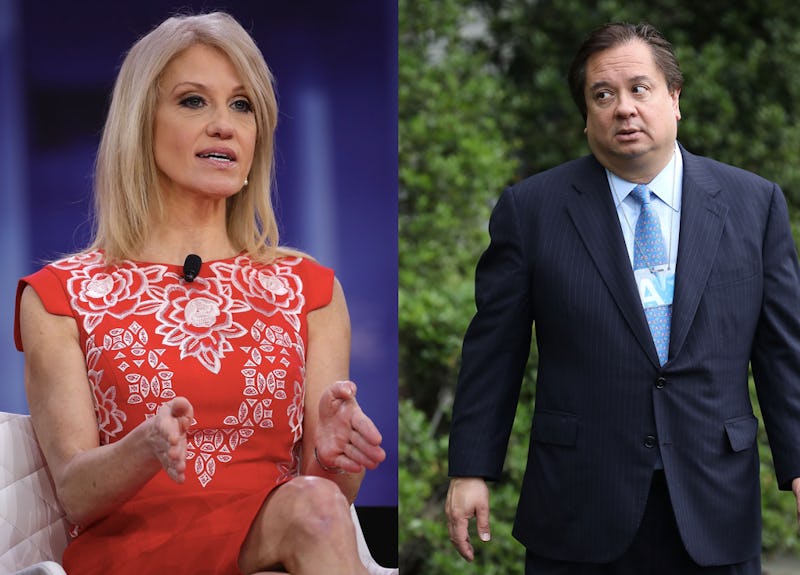 Chip Somodevilla/Getty Images News/Getty Images
George Conway has developed a reputation for sharing and penning critical tweets of Donald Trump, even though his wife is one of the president's most high-profile advisers. Until recently, it hasn't been clear whether this gets under his wife's skin, but that has since changed. A recent profile of the couple in The Washington Post reveals that Kellyanne Conway finds her husband's anti-Tump tweets "disrespectful."
"I think it's disrespectful," she told the Post. "I think it disrespects his wife."
By and large, George tends to decline interview requests regarding his critical opinions of President Trump on Twitter. But in the Post profile, he described his tweeting as "an outlet."
"It's a quick easy way to express myself, that keeps me from making it a bigger part of my life," he said.
Back in March, George made headlines when he began deleting tweets that criticized Trump, though he declined to tell reporters why he was doing so. He has since resumed sharing critical tweets, though sometimes those tweets are only passively critical.
On Tuesday, for example, he shared a tweet that included an excerpt from an article claiming that Trump has an aversion to dogs. He followed that tweet up with images of other presidents and world leaders seated with and petting their respective pets. Though there is no explicit criticism, the juxtaposition of such messaging suggest a critical point of view.
Earlier this summer, George wrote an op-ed for the the Lawfare Blog, arguing against Trump's claim that the special counsel's appointment was unconstitutional. Trump had tweeted as such earlier in the summer.
"The 'constitutional' arguments made against the special counsel … had little more rigor than the tweet that promoted them," George wrote. "Such a lack of rigor, sadly, has been a disturbing trend in much of the politically charged public discourse about the law lately, and one that lawyers — regardless of their politics — owe a duty to abjure."
According to the Post profile, George used to be a Trump supporter — so much so that he said he cried when Trump won the presidential election. "Now I cry for other reasons," he said, according to the article.
The Post profile described a couple that was doing its best to get along despite apparent differences of opinion on the president. One recurring topic was Kellyanne's independent personality.
"I feel there's a part of him that thinks I chose Donald Trump over him," Kellyanne told the Post. "Which is ridiculous. One is my work and one is my marriage."
As for George, he didn't offer many specifics as to why he was so critical of the president. He hinted that he felt morally compelled to speak out.
"If my wife were the counselor to the CEO of Pepsi and I had a problem with her boss," George explained, "I would simply drink my Coke and keep my mouth shut. If the president were simply mediocre or even bad, I'd have nothing to say. This is much different."
George's critical tweeting won't be slowing down any time soon, if what he has tweeted thus far this week is any indication. And at this point, Kellyanne's job at the White House appears on track to be one of the most secure high-profile positions in the administration so far. For the Conways, this marital disagreement seems slated to stay.