Kendall & Khloe Clash With Kim Over Guns On 'KUWTK'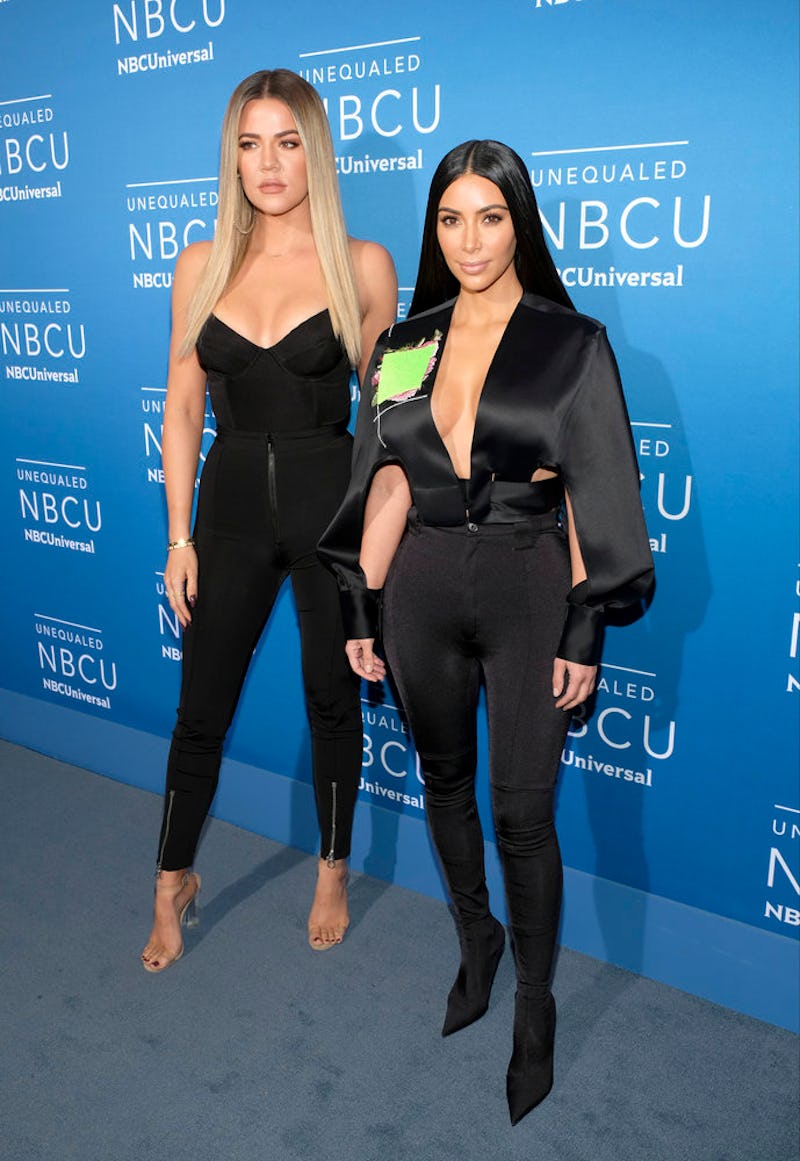 Peter Kramer/NBCUniversal
Keeping Up With The Kardashians is usually a pretty lighthearted show, but Sunday night's episode included a very serious theme. Kendall Jenner and Khloé Kardashian wanted to get guns so they'd be prepared to defend themselves against anyone who might want to cause them harm — in light of the scary situations their family has faced in the past.
Like Kendall pointed out in her initial conversation with Khloé, their family has been through a lot over the past couple of years. Aside from Kim's Paris robbery and Kendall's home being robbed of $200,000 worth of jewelry, she also mentioned that she's had stalkers outside of her home multiple times a week, which means that sometimes her security won't let her leave the house until the suspicious person is gone. "I think in the last year, the conversation of safety has really changed in my family," Kendall said. "A lot has been happening to all of us. It's a scary world."
It's easy to see why Kendall would feel that way, but when Kim found out that Kendall and Khloé were going to learn how to shoot and potentially buy guns of their own, she was really uncomfortable. And, it's hard to blame her.
Last season, fans got to see how scary Kim's robbery was for her — a robbery where she was held at gunpoint. She's also made it her mission to call attention to the importance of gun control, even visiting with those who have lost loved ones due to gun violence on the show before. "I'm not comfortable with it," Kim said. "I wouldn't want my kids around it. I wouldn't want sleepovers here with my kids knowing there's a gun around."
But even after hearing that, Kendall and Khloé still wanted to at least learn how to handle a gun in case they ever needed to. They went to a shooting range to practice, and though Kendall took longer to warm up to it, Khloé was a natural. They left feeling more comfortable around guns and even had fun practicing their shooting skills, but it also didn't make them want to run out and make the purchase right away.
Instead, they decided to talk to Kim about the fact that they went shooting in the first place. At first, she was really surprised that they would actually go spend time around guns after she told them how strongly she was against them, but then they revealed something important: They actually had a phone call with gun control organization Everytown, where they had the chance to ask questions about gun safety and learn statistics about how dangerous it can be to have guns in the home.
In her talking head interview, Khloé said:
"After our phone call with Everytown and us actually going to the shooting range and just realizing that no matter what, no matter how informed or how much practice we've had, accidents can happen. They're accidents. and we know we don't even want that possibility to be around us."
Kim was happy that they'd come to the conclusion, adding that maybe it would be best to leave the protection up to their security. She's right, though — it is really unfair that they have to worry about things like this.
Hopefully, Kim, Kendall, Khloé and the rest of their family are able to feel safer and more secure in the future, because no one should have to live in fear. Fortunately, it sounds like after doing their research, not only did Khloé and Kendall learn how not to be afraid of guns but also got to make an educated decision about why they didn't want them in their house. Knowledge is power, after all.