Kendall Jenner Wore Head-To-Toe American Eagle & You Can Get The Look From The Local Mall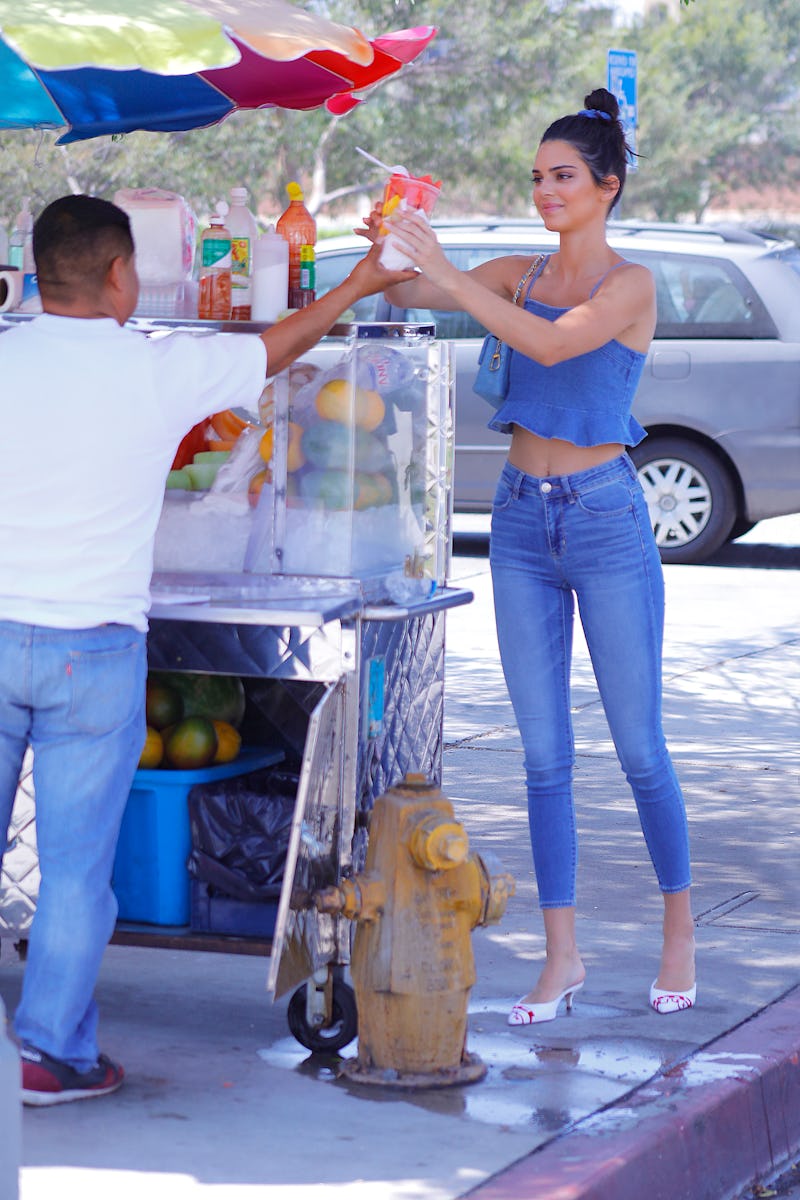 Splash News, Courtesy American Eagle Outfitters
A member of the Kardashian-Jenner clan has worn an outfit sold at your local mall. Yes, it's true. Take a minute and let your shock wear off. Once that's done, you should totally check out Kendall Jenner's American Eagle denim ensemble (XXS-XXL; 00-20; short and tall options). The eldest Jenner of the family took the basketball court wearing kitten heels (which is, you know, a choice) and a Canadian tuxedo. Now, before you start thinking this is going to be some sort of roast of Jenner's ensemble, you need to see it. Honestly, it's pretty damn cute.
While out in Los Angeles, the model sported American Eagle from head to toe. Yes, the American Eagle from your childhood trips where you'd definitely get a giant pretzel and maybe a Double Doozie then head to the store for the latest in ultra low rise jeans. Now, times have changed, and Jenner's all denim everything ensemble proves that low-rise is out and Canadian tuxedos are in.
Jenner wore a straight fit, high-rise jean that stopped just at the ankle. Honestly, they're totally in line with her laid-back vibe. The top, however, switched things up. The peplum style, cropped denim top basically looked like it came straight out of 1999, and she topped off the entire ensemble with a slightly over-sized denim jacket.
It wasn't just Jenner's clothes that were denim, though. Just in case you didn't notice, she's also wearing a denim scrunchie because yes, that's a thing now. Basically, other than her shoes, Jenner went full on bananas for denim. Whether you love it or hate it, the most amazing part of the outfit may be that you can get the whole thing for under $200. However, if you're not really feeling like rocking head to toe jeans, there's always the possibility of wearing these items separately. After all, who doesn't love a great jean jacket.
Whether you're an online shopper or love going in to your local American Eagle, you can shop every single piece.
Clearly, Kendall Jenner has a thing for denim. Could she be beckoning in the next big fall trend? Will you sporting a Canadian tuxedo in a few months? Honestly, probably not. That doesn't mean that each of these individual pieces aren't great though. From on trend jeans to a perfect transitional staple, Jenner's American Eagle ensemble is still low-key style inspo. Plus, let's be honest, if you're going to go shopping for it, you can also get a giant pretzel, and that's kind of all the motivation you need.