Kendall & Joe's 'BiP' Finale Talk Was A Rollercoaster Ride Of Emotions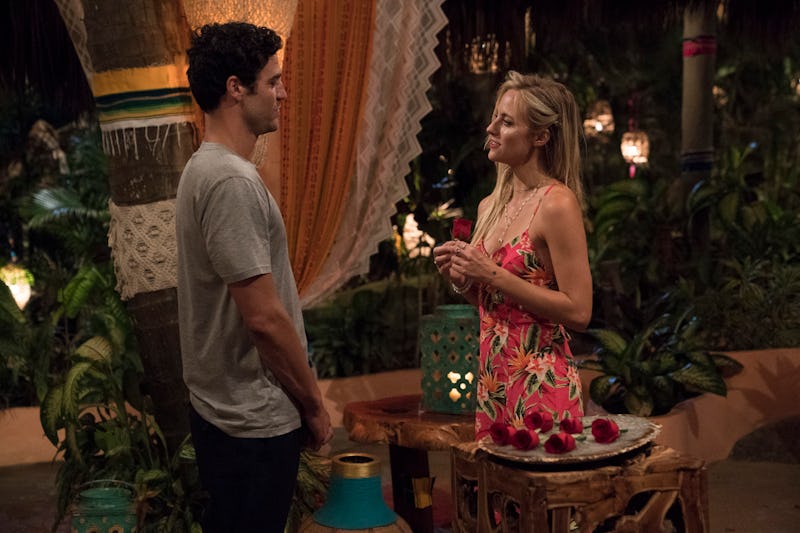 Paul Hebert/ABC
Watching Kendall and Joe break up on Bachelor in Paradise on Monday night was heartbreaking, but is there a chance they could end up together after all? On Tuesday night's reunion, this former couple finally came face to face again, and this time, their conversation was just as gut wrenching as the last time we saw them together. But Kendall and Joe's BiP finale talk proved that there are happy endings in Bachelor Nation, after all.
As we know from watching their very, very painful breakup unfold on screen less than 24 hours ago, Kendall really hated the way things ended almost as soon as she was heading to the airport. And as she told Chris Harrison, once she walked away from Joe, that feeling of regret was immediate. She knew that she'd made a mistake as soon as everything that Joe had just said to her during that final conversation hit her. And the regret was so strong that Kendall actually went to Chicago to see Joe and tell him how she felt face to face, and fortunately, the ABC cameras joined her on her trip.
For the record, this is what they should call "pulling a reverse Arie," since Kendall didn't fly to Chicago to end things with Joe; just to try to get him back. And fortunately, this one comes with a much happier ending.
When they had the chance to sit down together, she told Joe that as she saw their relationship getting more serious, the more she freaked out and felt like pulling away... and then she admitted that she actually is in love with Joe. He wasn't immediately receptive to her apology, because he thought their relationship was over, but he did say that he needs to be able to trust Kendall again first. It's perfectly understandable, even if it had to have been hard for her to hear.
But they went to dinner after that initial conversation in Chicago, and Joe has been to LA to visit Kendall a few times, admitting that he loves her (which elicited a giant smooch from Kendall). "I like waking up next to her," he said. "She thinks she's a know it all, but I love that about her. I love when she gets mad. So, you know, it works. Right now we're in a good spot."
And then, it was time for a major announcement, as if this news wasn't enough to make your heart explode. Kendall confirmed that she's not going to let him go again, and that they are, in fact, in an exclusive relationship... which prompted Chris to announce that Joe is going to be on Dancing With The Stars next season, offering him a way to live near Kendall for the time being. How adorable is that?
Bachelor Nation might not give fans a reason to believe in love all that often, but fortunately, Joe and Kendall are living happily ever after. Can the adorable Instagram posts commence now that their relationship is public?