A New Kentucky Abortion Law Was Challenged In Court Before The Governor Even Signed It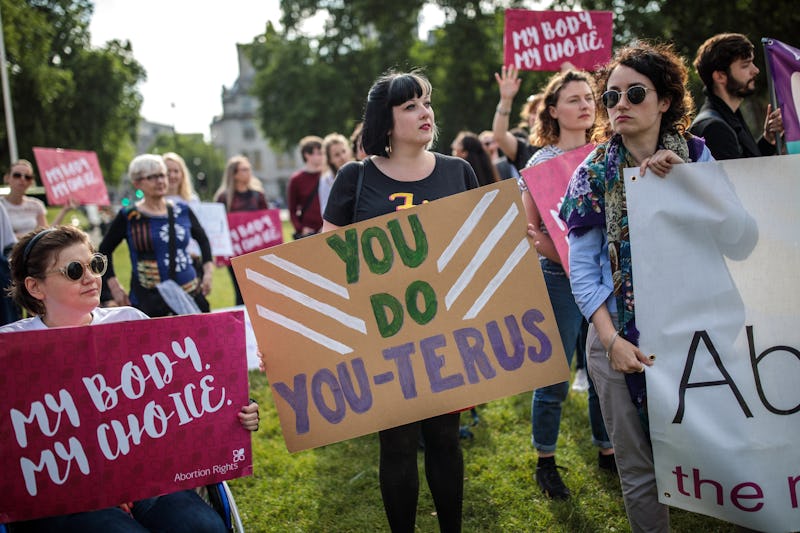 Jack Taylor/Getty Images News/Getty Images
Kentucky Gov. Matt Bevin has made it clear that he "would love to see" the day when women are no longer allowed to get abortions in his state, and his latest effort to restrict the right to choose was embroiled in a legal battle before it even got off the ground. On Wednesday, Bevin signed a Kentucky abortion law that the American Civil Liberties Union (ACLU) had already sued the state over.
The new measure, House Bill 5, prohibits women from terminating a pregnancy on the basis of the fetus' race, gender, or disability. It defines disability as "any disease, defect, or disorder," but makes an exception for defects that are lethal for the fetus and cases when the woman's health is in seriously danger. The law penalizes doctors who perform abortions in violation of the measure, but not the patients themselves.
In documents filed in court on Friday, the ACLU called the law "blatantly unconstitutional."
"The decision to terminate a pregnancy for any reason is motivated by a combination of diverse, complex, and interrelated factors that are intimately related to the individual woman's values and beliefs, culture and religion, health status and reproductive history, familial situation, and resources and economic stability," the ACLU's motion reads. "The Bans would prevent all of these women from obtaining a pre-viable abortion in the Commonwealth."
The law took effect as soon as Bevin added his signature, and the ACLU is seeking a temporary injunction to block it. A judge has already granted an injunction against a law Kentucky passed last week that declared abortion illegal as soon as a fetal heartbeat was detected, which can happen as early as six weeks. The ACLU's new lawsuit addresses both measures.
Bevin has pushed to restrict women's reproductive rights in Kentucky beyond these two laws, including a move by his administration to shut down the state's only abortion clinic in 2017. In November, he told local radio station 840 WHAS that his legal actions against the clinic weren't an attempt to outlaw all abortions, "although I would love to see that's the case too, I really would," he added.
The ACLU's Friday motion argues that Kentucky's new law violates the landmark 1973 Supreme Court case Roe v. Wade, which ruled that a measure restricting a woman's access to abortion violated her right to privacy. "Underlying the privacy right," the lawsuit reads, "is the principle that the State may not dictate appropriate reasons for a woman's decision to terminate a pregnancy, nor may it commandeer her deliberative process."
President Donald Trump's appointment of two new justices to the Supreme Court has caused many reproductive rights advocates to worry that the court will overturn Roe v. Wade. If that happens, it will be because a state law restricting abortion was challenged, made its way to the Supreme Court, and was ultimately upheld. Measures like the one just passed in Kentucky make that trajectory possible.
"Kentucky is racing to the finish line to be the first in the nation to end Roe v. Wade," Planned Parenthood's Tamarra Wieder told WUKY last month. "And they have several other states that are with them in this race."