Kesha Will Be Performing At The iHeartRadio Music Festival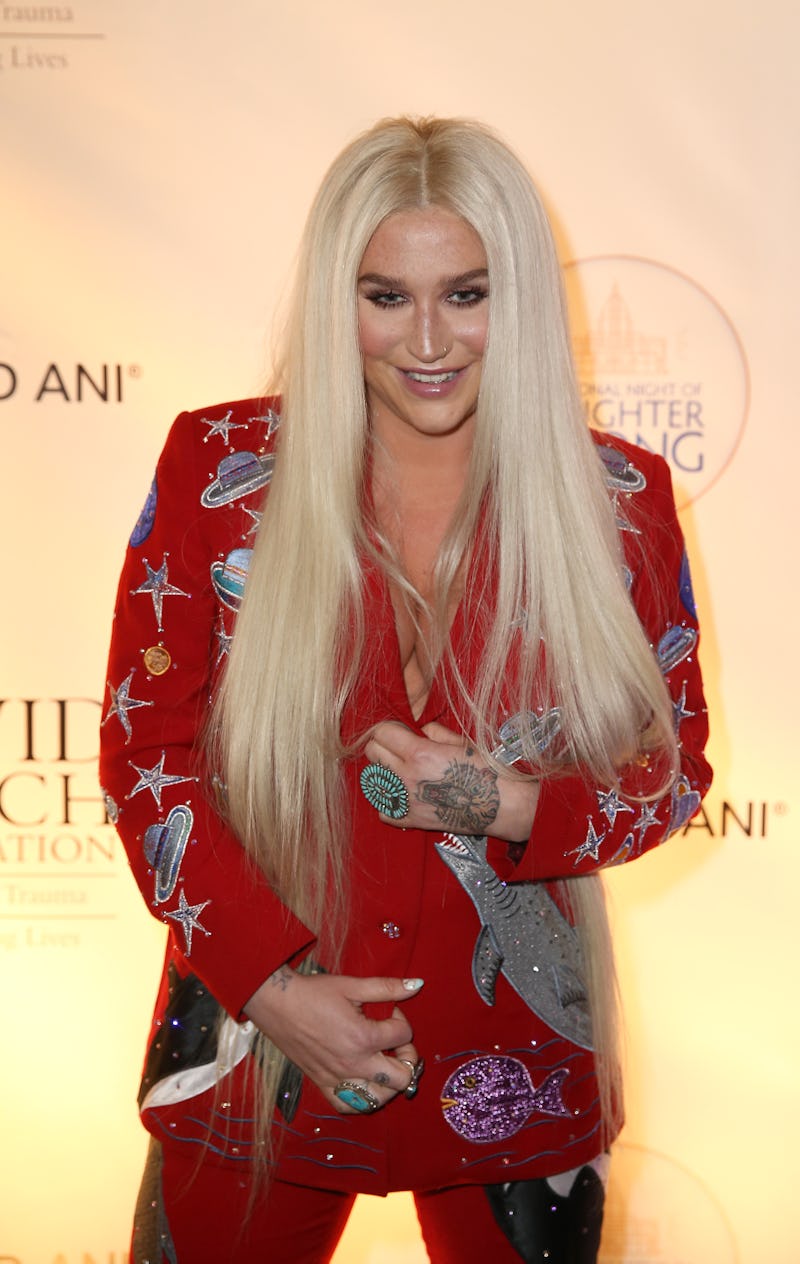 Tasos Katopodis/Getty Images Entertainment/Getty Images
Continuing the comeback that fans have been waiting for, Kesha will perform at the 2017 iHeartRadio Music Festival in Las Vegas as a special guest on Saturday, July 23. She'll play alongside Niall Horan, Lorde, Big Sean, and Miley Cyrus, just to name a few. The performance will be her first major show since the release of new music, making it perfect for fans of "Praying," "Woman," and the singer in general. But it's far from her first time ever lighting up the iHeartRadio Music Festival stage.
Back in 2013, Kesha brought the house down with a leather-clad performance that included a duet with Joan Jett. The legendary rocker joined Kesha onstage for a performance of "Bad Reputation." In keeping with the song's theme, Kesha reportedly took swigs from a bottle of Jack Daniels — a clever nod to her song "Tik Tok" — while Jett did her thing. Kesha definitely didn't give a damn about her bad reputation that night.
But that was only an appetizer to the main course, which, according to iHeartRadio's review, included Kesha kissing a fan, spitting whipped cream into the crowd, and a whole lot of glitter. Seriously, by the end of the night everyone was covered in it. For her finale, Kesha and her male backup dancers took some pointers from the Rockettes by adding a kick line to the "Tik Tok" finale.
In an interview before hitting the stage in 2013, Kesha said she had always heard the iHeartRadio concert was "epic," and that she was planning on bringing some "fierce feminine energy" to that stage. No doubt she'll want to do the same this time around, possibly by ending the night with her girl power anthem "Woman." But it's also likely that she want go even bigger her second time around, especially since, for many fans, this is the first time they've seen her live since she covered Dylan's "It Ain't Me Babe" at the 2016 Billboard Music Awards.
Just don't expect to see the same Kesha from four years ago take the stage. For nearly three years, Kesha has been in an ongoing legal battle with producer Dr. Luke. As a refresher, the legal case involves Kesha asking to be released from her recording contract after accusing Dr. Luke (real name Lukasz Gottwald) of sexual assault and other abuse. Gottwald repeatedly denied the allegations and filed a defamation lawsuit, which recently was dismissed. (Kesha's mother, Pebe Sebert, and Gottwald released a joint statement about the dismissal.) The California lawsuit alleging sexual assault has also been dropped, but Kesha's New York case to break her contract remains ongoing.
When Kesha released her new song "Praying," she let fans know her new music marked a new beginning. "I hope this song reaches people who are in the midst of struggles, to let them know that no matter how bad it seems now, you can get through it," she wrote in an essay for Lenny Letter. "If you have love and truth on your side, you will never be defeated. Don't give up on yourself."
At the iHeartRadio Music Festival, Kesha will get a chance to show what moving on looks like and how powerful that can be. Let's bet it will look a little different than the Kesha of the past, but will still include a whole lot of glitter.