Kesha's Latest Single Will Make You Want To Smash The Patriarchy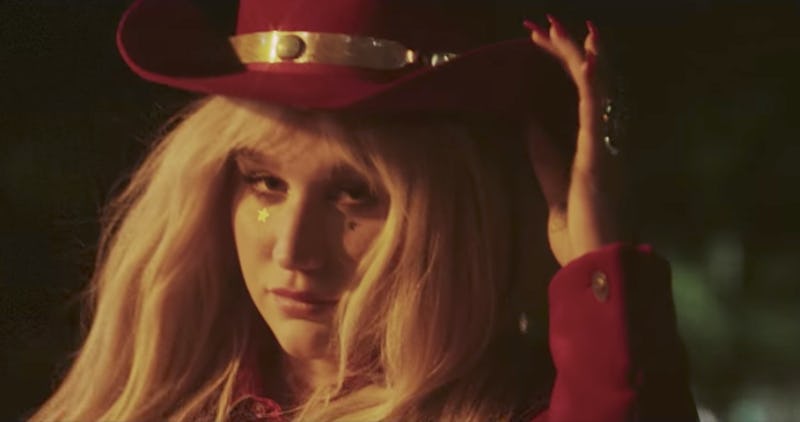 KeshaVEVO on YouTube
The second single from Rainbow arrived on Thursday, and Kesha's "Woman" lyrics were subsequently fleshed out by both a new music video and an essay by the singer in Rolling Stone. "That day in particular I felt like I had earned the right call myself a motherf*cking woman," Kesha wrote. "I have always been a feminist, but for much of my life I felt like a little girl trying to figure things out. In the past few years, I have felt like a woman more than ever. I just feel the strength and awesomeness and power of being female." Amen. It sounds like "Woman" may be the summer anthem needed to push listeners into taking on the world.
Over the past few months, it seems like the 30-year-old singer has been going through a rebirth of sorts, speaking out about her life struggles and sharing her tales of her survival along the way. In her ballad, "Praying," she explained some of the pain that she's experienced over the past few years, describing how she managed to overcome and become stronger in spite of it. With "Woman" as her follow up, Kesha makes it more than clear that she's back and as tough as ever. Even better, she's dragging her fans along with her for the ride, to stand up and be themselves.
Her resiliency on this newest track is evident. The lyrics are pointedly feminist as the entertainer belts out an ode to her independence in the first verse. Getting straight to the point, the song kicks off,
"I buy my own things, I pay my own bills
These diamond rings, my automobiles
Everything I got, I bought it
Boys can't buy my love, buy my love, yeah
I do what I want (She does), say what you say
I work real hard every day"
However, it would be the chorus that, perhaps, gives you more insight on exactly how Kesha's feeling these days; she's female, she's proud and she's definitely not letting anyone get in her way. Kesha unapologetically continues,
"I'm a motherf*cking woman, baby, alright
I don't need a man to be holding me too tight
I'm a motherf*cking woman, baby, that's right
I'm just having fun with my ladies here tonight
I'm a motherf*cker"
It certainly sounds like Kesha's got it all figured out as she lets fans know that she's taken complete control of her life. Her Rolling Stone essay elaborates on what led her to write such a passionate melody. She said, "I just really f*cking love being a woman and I wanted an anthem for anyone else who wants to yell about being self-sufficient and strong."
Throughout her essay, Kesha speaks of the joy that she found creating the lyrics and accompanying video to "Woman," which she co-directed along with her brother. Her tone in the song and the written piece are both indicative of her newfound happiness and restoration. Kesha closes her poignant article explaining the enthusiasm and pride that came along with creating this latest project:
"To me, the thing I'm most proud of is that the song and video never lost the pure joy from the day it was birthed. I really hope people enjoy this song because I had the best time making it. I hope that energy passes through people and the fun is infectious. It's important for me that people know that there are a lot of emotions on my new album Rainbow - but the wild fun energy that first inspired me to perform has not, and will never, go away. I'm still a mother*ckerrr."
Kesha's fortitude, her tenacity, her new fervor for life, and her feminism are all so very refreshing and inspiring. First with "Praying" and now "Woman," the singer is reminding us all that the strength needed to survive this thing called life lies inside each and every one of us.