The Way Kesha Wrote "Rainbow" Says It All About The Song's Emotion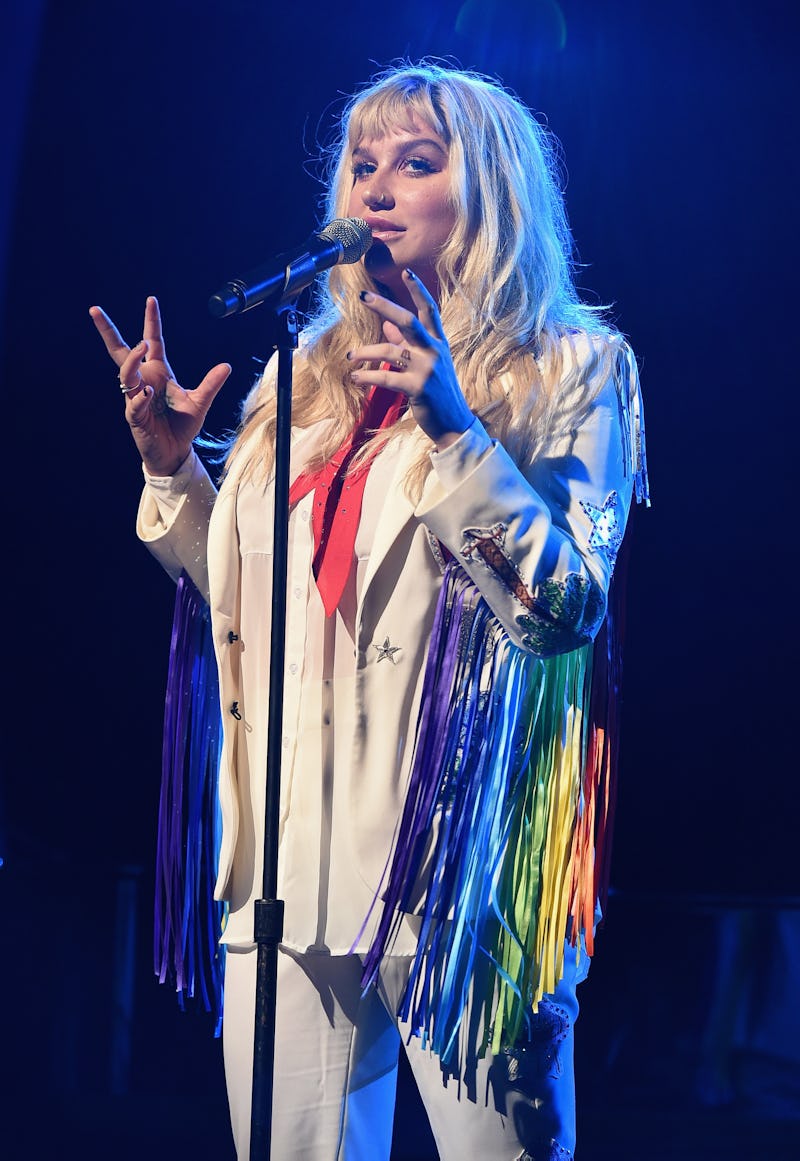 Theo Wargo/Getty Images Entertainment/Getty Images
Capping off the emotional roller coaster that's been her life the past few years, Kesha released her newest album, Rainbow, on Friday, and there's a lot more to it than meets the eye. In an essay penned for Refinery29 Kesha reveals she started writing Rainbow one hour at a time while at rehab for her eating disorder, and in a lot of ways, it set the singer on a path to recovery.
The 30-year-old has been embroiled in lawsuits with producer Dr. Luke since 2014. Along the way, the legal battle has taken both a professional and emotional toll on Kesha. She tweeted to fans last year that she was dropping a portion of the case in order to get her music out, so Friday was a big day for the hit-maker. That's when she finally got to release Rainbow, an album that was building up inside her throughout her time in rehab in 2014, and that she got down on paper in a very nontraditional way — one hour at a time.
Kesha writes in her essay that the facility at which she received treatment was at first reluctant to give her access to a keyboard, but they compromised by allowing her one hour a day to exercise her creativity, and the singer made the most of it.
She writes in her essay,
"The whole album idea and tour and everything, came from me crying and singing and playing and dreaming until my hour was up and they took the keyboard away again. Every day I would just cry and play that song because I knew I had to get through that incredibly hard time."
She said things were so difficult that she sometimes had to use the album as incentive to get up at all, repeating the promise of Rainbow to herself like a mantra:
"I just held onto that idea because it was all I had. I just kept saying, 'I'm gonna put out Rainbow, I'm gonna put out Rainbow. I'm gonna do it. I'm gonna put it out. I'm gonna do it, I'm gonna do it.'"
She says she has no doubt that the album saved her life, and it all started from that one hour a day. Deep in the pit of depression, she gave structure and meaning to her darkest days with a simple daily task: put it into music. These were the first baby steps that set her on the road to recovery, and it's a testament to her strength how far she's come.
All the way back in 2014, Kesha made herself a promise not only to put out the album she'd been dreaming of, but to prioritize her own health. And now, three years later, she's succeeded at both, and seems well on the way to achieving the kind of self-love yearned for in her Rainbow lyrics. Fans should be very proud.