The One Detail About Kesha's "Rainbow" Song That Will Break Your Heart The Most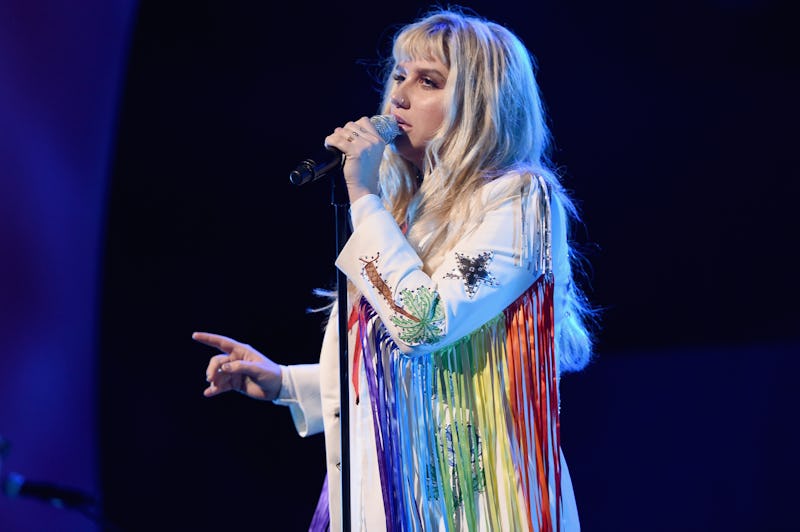 Theo Wargo/Getty Images Entertainment/Getty Images
Despite the uplifting title of Rainbow, the darkness that brought about Kesha's new sound is palpable not only in the title, but throughout the songs. Perhaps that's the most obvious on Kesha's title song "Rainbow." There's an optimistic whimsy about it, but you may also find yourself almost inexplicably tearing up while you listen. And there is actually a very good reason for the title track song bringing up raw emotions, since Kesha has been open about the fact that she wrote "Rainbow" while in rehabilitation for an eating disorder.
In an interview with The New York Times magazine in fall of 2016, Kesha explained how she wrote "Rainbow" in 2014 while at a treatment center that specializes in eating disorders, which she checked herself into. When she first entered rehab, she had not made her allegations against Dr. Luke known, but afterward, Kesha sued her music producer for years of sexual, physical, verbal, and emotional abuse. She also claimed that her eating disorder was caused by this alleged abuse, which is something that she wrote about in letters to fans while she was in treatment. (Dr. Luke, aka Lukasz Gottwald, denied any wrongdoing and countersued for defamation.)
While the legal battle is still ongoing, "Rainbow" has finally been made available to the world almost three years after Kesha initially wrote it. And she confirmed the song's origins to NPR while discussing her new album:
"'Rainbow' was the first song I wrote for this record. I was in rehab for my eating disorder. I was sitting on the floor, and I had begged the head of the rehab to let me have a keyboard for one hour a day, and finally she relented. And for that one hour a day I played and wrote 'Rainbow.' 'Rainbow' was just my promise, my letter to myself that things would get better. It was my mantra, because at the end of a storm comes a rainbow. It's also the eighth song on Rainbow, a nod to 'God Only Knows' on Pet Sounds."
Despite the inspiration for "Rainbow" coming from a harrowing place, the song still manages to be hopeful, as Kesha intended. And like a rainbow appearing after a storm, it's more miraculous because of the darkness it emerged from.
Part of its loveliness comes from the support of producer Ben Folds. New York Times magazine stated that Kesha and Folds have known each other since she broke out in 2009, and, along with bringing in the sweeping orchestral sound, he created a safe space for Kesha to be creative. "He just really helped pull out of me exactly what I wanted to be, but I've always kind of been scared to try," Kesha told the magazine. "...Instead of getting shamed, it was like I was being encouraged and validated, and it was so magical and so beautiful."
New York Times magazine feature also noted that the final version of "Rainbow" was created using just two takes, so recording it really was a magical experience. And while knowing the backstory of how "Rainbow" came to be might tinge the vibrant colors of the song with some sadness, the glow of Kesha's strength manages to shine through it all in this gorgeous ballad.