Kevin Spacey Is Seeking Treatment Amid Multiple Sexual Misconduct Allegations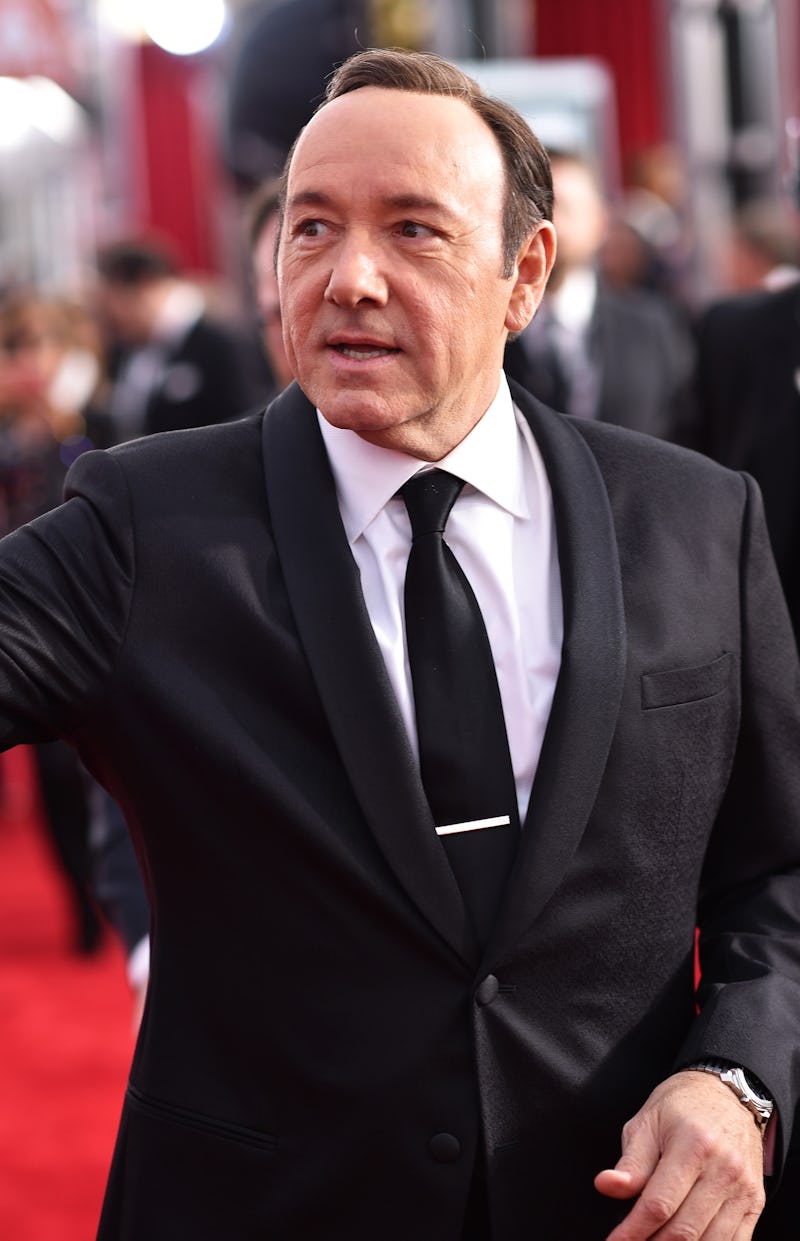 Dimitrios Kambouris/Getty Images Entertainment/Getty Images
After three individuals came forward with sexual misconduct allegations against the House of Cards actor, Kevin Spacey is seeking treatment. His rep released the following statement to Variety Thursday, "Kevin Spacey is taking the time necessary to seek evaluation and treatment. No other information is available at this time." This news comes after actor Anthony Rapp alleged that in 1986 a 26-year-old Spacey made sexual advances toward him when he was just 14 in an interview with BuzzFeed News published on Sunday, Oct. 29.
Rapp claims he was invited by Spacey over to his apartment for a party with a group of people. At the end of the night, the Star Trek: Discovery star claims Spacey picked him up, put him on his bed, and then climbed on top of him. Rapp claims he pushed Spacey off of him and got out of the apartment before anything else happened. "He was trying to seduce me," the Rent actor alleges. "I don't know if I would have used that language. But I was aware that he was trying to get with me sexually."
On Monday, Oct. 30, Spacey responded to Rapp's allegations on Twitter with a response that caused much controversy. The two-time Oscar winner wrote,
I have a lot of respect and administration for Anthony Rapp as an actor. I am beyond horrified to hear his story. I honestly do not remember the encounter, it would have been over 30 years ago. But if I did behave then as he describes, I owe him the sincerest apology for what would have been deeply inappropriate drunken behavior. I am sorry for the feelings he has described carrying with him all these years.
In a statement posted on Twitter on Oct. 30, Rapp explained that he would not be saying any further about the allegations he made against Spacey, at least at this point in time.
"I came forward with my story, standing on the shoulders of the many courageous women and men who have been speaking out, to shine a light and hopefully make a difference, as they have done for me," Rapp tweeted. "Everything I wanted to say about my experience is in that article, and I have no further comment about it at this time."
On Wednesday, two more men, filmmaker Tony Montana and actor Roberto Cavazos, came forward alleging Spacey sexually harassed them and other individuals. Speaking to Radar Online, Montana alleged Spacey groped him in 2003 while at a bar in Los Angeles. "I went up to order a drink and Kevin came up to me and put his arm around me," Montana claims. "He was telling me to come with him, to leave the bar. He put his hand on my crotch forcefully and grabbed my whole package." Montana alleges Spacey told him, "This designates ownership."
Montana claims he removed Spacey's hand and then went to the bathroom, where Spacey allegedly followed him. Montana claims Spacey appeared intoxicated. Montana alleges he told Spacey's friends to take the actor home, which he claims they did. In the six months following the alleged incident, Montana claims he suffered from PTSD.
As for Cavazos, who performed with Spacey at London's Old Vic, he took to Facebook on Oct. 30 and alleged (translation via Vulture), "It seems the only requirement was to be a male under the age of 30 for Mr Spacey to feel free to touch us. It was so common that it even became a local joke (in very bad taste)." He also claimed, "I myself had a couple of nasty encounters with Spacey that were on the verge of being called harassment." He added, "In fact, if I had been a woman, I probably wouldn't have hesitated to identify [them] as such." Cavazos also alleged that he remembered Spacey organizing "picnics" at with actors that were intended for discussing their careers, but where he would end up allegedly touching them inappropriately.
Spacey has yet to comment on Montana and Cavazos' allegations. Bustle has reached out to a rep for the actor for comment, but did not receive a response at the time of publication.
On Tuesday, House of Cards shut down production for Season 6. Netflix and Media Rights Capital released the following statement to Bustle:
"MRC and Netflix have decided to suspend production on House of Cards season six, until further notice, to give us time to review the current situation and to address any concerns of our cast and crew."
House of Cards' creator, Beau Willmon, also told Deadline in a statement about the allegations, "Anthony Rapp's story is deeply troubling." He continued, "During the time I worked with Kevin Spacey on House of Cards, I neither witnessed nor was aware of any inappropriate behavior on set or off. That said, I take reports of such behavior seriously and this is no exception. I feel for Mr. Rapp and I support his courage."
Further actions that have been taken against Spacey include MasterClass, an online education provider, removing Spacey's acting class from its service, which The Hollywood Reporter announced Tuesday. "In light of recent events, MasterClass has closed enrollment in Kevin Spacey's online class," the service told THR in a statement. Also, NBC's This Is Us removed a Kevin Spacey reference from Tuesday's episode.