Khloé Kardashian Got Super Real About Heading Back To Work After True's Birth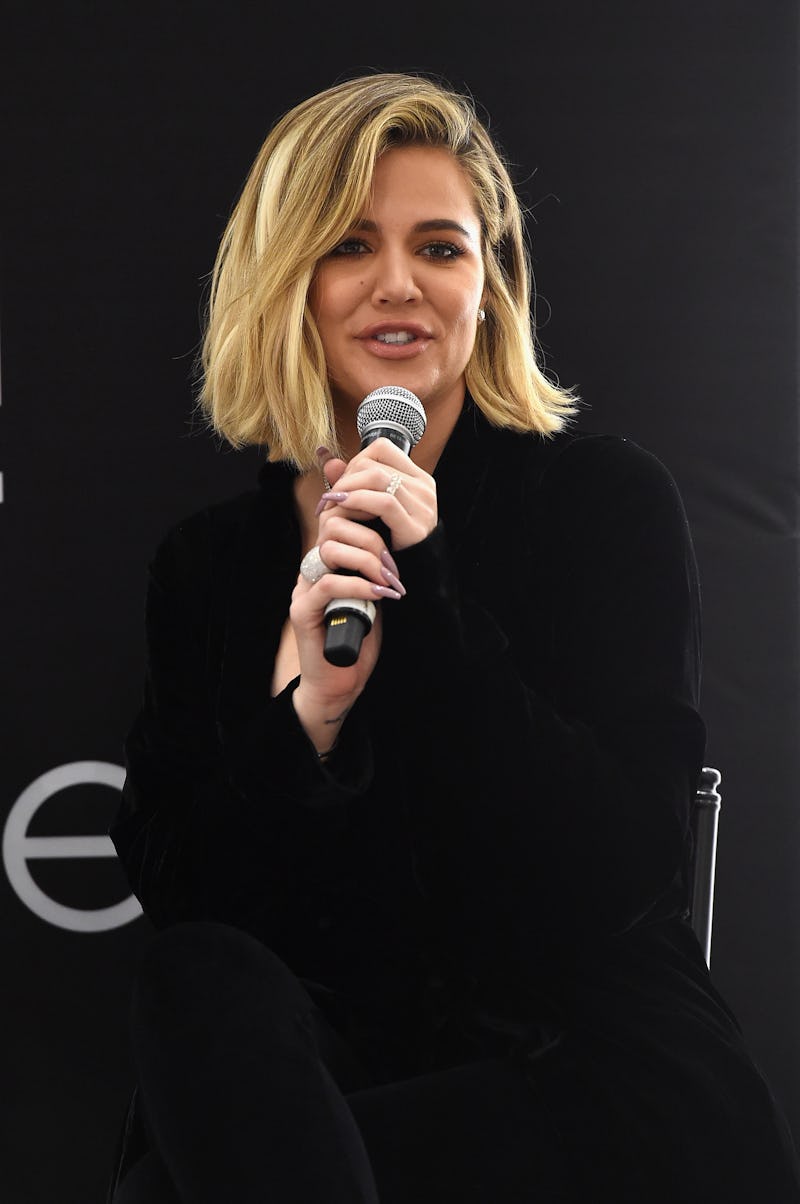 Jamie McCarthy/Getty Images Entertainment/Getty Images
Khloé Kardashian is opening up about another new experience in her motherhood journey. As E! News reported, Khloé Kardashian is going back to work, an event that she opened up about on her social media on July 5. But as she explained, there are some concerns that she expressed about the end of her maternity leave that will likely ring true to many other new moms out there.
Kardashian revealed on Snapchat that she would soon be headed back to work on July 6, which meant that she wouldn't be able to spend her entire days with baby True Thompson anymore. "I've missed a feeding here and there with True, but I've never missed multiple feedings in a day so I have a ton of anxiety," she said, as she held her little one.
The Revenge Body star went on to say that she's been feeling "anxious" about July 6, since that date marks the end of her maternity leave. "I've been thinking about the 6th. Oh my God, I have to start work on the 6th and I've been getting just anxious about it," she said, "Today I'm very anxious. I don't know how I'm going to leave her all day tomorrow. That's freaking me out." Despite her concerns, she's forging ahead and trying to have a good outlook on the situation. The reality star said, as she turned to her daughter, "I got to go back to work at some point. So it will be OK. Right, mama?"
On the day that she returned to work, she shared a positive message about the occasion to her followers on Snapchat and Instagram. To honor the event (which saw her get up at the early hour of 4:35 a.m. to start her day), she not only gave fans a little more insight into what she's feeling but she also revealed the exciting task she'll be doing on her first day back.
Kardashian again said she was "anxious" to leave her daughter for a full day. But she's going back to work with a very positive mindset, thanks to her bundle of joy. She said, "Eager to get back to work now that I have a new push and motivation... It's not just for me anymore." So, True will definitely be on her mind during her workday.
As for what Kardashian will be working on, she stated she'll be busy with her Good American company. It turns out that it was the best place possible to help ease her transition. "I am so excited that today is a Good American day! Best place to start my first day back," she wrote, along with a couple of fun emojis.
It's understandable why Kardashian may be experiencing some anxiety about heading back to work. Ever since she welcomed her daughter in April, she's been a total hands-on parent and has let her fans know just how much she's enjoying motherhood. That was especially evident when she first revealed what her daughter's name was. She wrote, on Instagram, "Our little girl, True Thompson, has completely stolen our hearts and we are overwhelmed with LOVE."
On numerous other occasions, the Keeping Up With the Kardashians star has highlighted her little one on social media and showed just how much she loves to spend time with her. It's completely normal for her to feel a little off about changing up her months-long, established routine with her baby.
Now that she's back in L.A. (as Kris Jenner revealed on June 17), after looking after her daughter in Cleveland, it seems that Kardashian is really back in the saddle when it comes to her many different projects. And, based on her social update, she's going back to work with her adorable daughter as her "new motivation."