Khloe Kardashian Welcomes A Baby Girl With Tristan Thompson — REPORT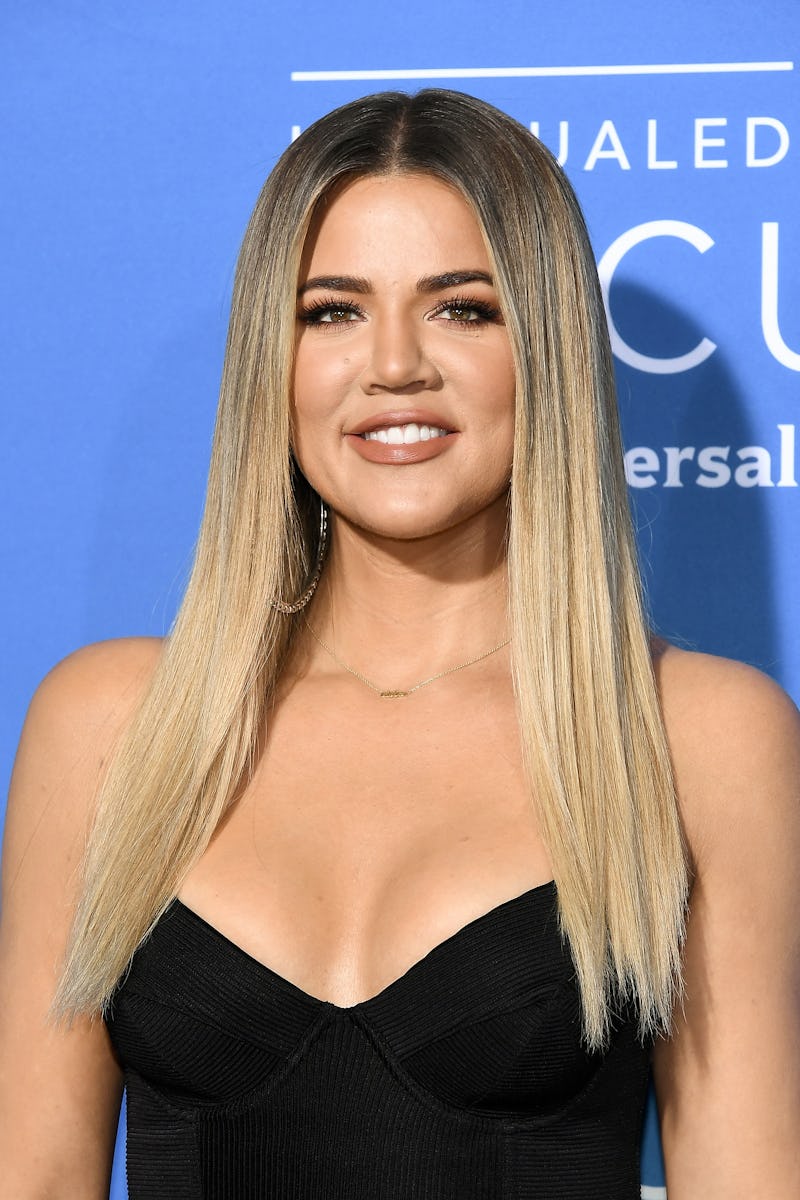 Dia Dipasupil/Getty Images Entertainment/Getty Images
After months of (not so) patiently waiting, fans have finally learned that, according to TMZ, Khloé Kardashian welcomed a baby girl on Thursday, April 12. E! News also reports that the baby is here, but that there are no other details available at this time, like the child's name. (Bustle reached out to Kardashian's rep for comment, but did not receive an immediate response.) TMZ reports that Kardashian delivered her baby early Thursday morning at a hospital near Cleveland, Ohio, where she planned to welcome her little one as she splits her time between the city and her hometown Los Angeles.
It's been a long handful of months for those fans wondering about the simultaneous pregnancies in the Kardashian-Jenner crew. Between Kim Kardashian welcoming daughter Chicago and Kylie Jenner welcoming her daughter, Stormi, Kardashian's baby news is the final missing piece that fans have been anticipating.
The rumors about Kardashian's pregnancy first spread in September 2017, but it wasn't until December that she confirmed her pregnancy with Tristan Thompson in an Instagram photo. "My greatest dream realized. We are having a baby!" she wrote. "I had been waiting and wondering but God had a plan all along. He knew what He was doing. I simply had to trust in Him and be patient."
About a week later, Kardashian announced how far along she was on Twitter, writing, "I'll be 6 months next week," which put her due date around April. In a January episode of Keeping Up With the Kardashians, fans were able to watch Kardashian and Thompson reveal the news to their families for the first time. The entire family was super excited and emotional about the news, especially momager Kris Jenner. Then, during an episode not too long after, Kardashian shared with fans that she was expecting a baby girl.
Since announcing that she was expecting, Kardashian has totally embraced the pregnancy process. In a February episode of KUWTK, she revealed she'd eat her own placenta like Kim did after giving birth. That same month, she asked about her unusual food cravings on Twitter. "I feel like I need Spaghetti and I think I want a side of strawberries and whip cream LOL is this normal," she wrote.
"I've wanted to have a baby for so long it's just the perfect timing," Kardashian told Ellen DeGeneres in January, according to People. "God always has a plan and I just wanted to do it on my time and when I felt comfortable to do so."
Unfortunately, though, right before the news of Kardashian giving birth was announced, reports emerged that Thompson had cheated on Kardashian more than once while she was pregnant. (Bustle reached out to Thompson and Kardashian for comment, but did not receive a response.) Thompson, Kardashian, nor any of her family members have commented on the cheating scandal. TMZ reported that Kardashian still wanted Thompson to be there when she delivered. When the report of the baby being born was published, TMZ reported that he was there, along with Kim, Kris, Kourtney, and Kardashian's best friend Malika Haqq.
It's likely that Kardashian will speak out about what happened eventually, whether on social media or on Keeping Up With the Kardashians. Regardless of what happens with her and Thompson, fans will definitely have a lot of sweet cousin photos to look forward to. Kardashian had her baby not long after Kim welcomed Chicago and Kylie welcomed Stormi, so now there's a third little one for them to hang out with. Kardashian and Kylie loved being pregnant together, and all of their kids are probably already BFFs in the making.