Khloé Responded To Those New Paparazzi Pics Of Her, Because, Yes, She Sees Them Too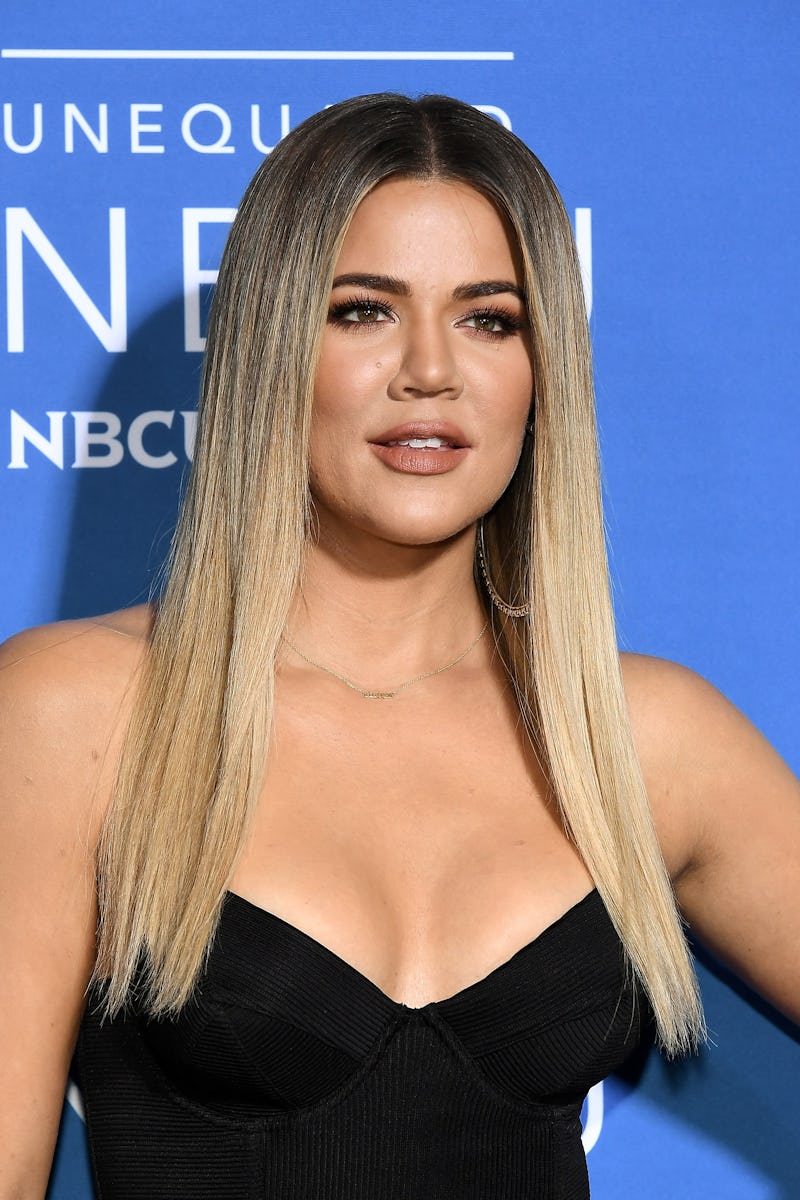 Dia Dipasupil/Getty Images Entertainment/Getty Images
The average person might not think celebrities look at paparazzi photos of themselves, but that's not the case for some. For example, Khloé Kardashian has responded to the paparazzi pictures published of her on Sunday by the Daily Mail. The publication chose this as the headline: "Khloe Kardashian PICTURE EXCLUSIVE: New mom flaunts her post-baby curves while pictured with daughter True for first time." The photos show the Keeping Up With the Kardashians star on a walk with her daughter in Cleveland, Ohio, but rather than discussing how happy she looks, after the photos were released there was a lot of focus on Kardashian's body.
The reality star decided to respond to the photos in a post shared to her app Tuesday, which she titled, "How I Felt When I Saw My First Postpartum Paparazzi Pics". She wrote, "When I saw myself in those first post-pregnancy paparazzi photos, I couldn't believe how big my booty looked! I can't wait to tone up again and get my body back to where it was."
She continued,
I'm super excited because my doctor finally cleared me this week to work out and I'm going to meet with Coach Joe! I've literally been counting down the days. I'm actually proud of myself for not being as big as I assumed I would be, LOL — but I'm ready to start getting my body back and feeling mentally clear again. Bring on summer and the hard work — I got this!
While she's keeping positive and talking about getting back into working out, unfortunately, Kardashian is facing much judgment, especially about her butt. MTO News published: "Khloe Kardashian Shows Off Her POST BABY BODY . . . And Her Butt Is GINORMOUS!!" People are also sharing harsh tweets like this one: "Can someone explain to me why would anyone want to do this to themselves? Khloe Kardashian had a great body and beautiful legs before and now it just looks insane..I have no words and the fact that they keep telling that is all natural or created in the gym is just disgusting." There are even some people comparing Kardashian's body to an ant. Yes, the insect. "Khloe Kardashian's body reminds me of an ant," a person tweeted.
That said, there are individuals supporting Kardashian. One Twitter user wrote: "It's gross that headlines will be like 'Khloe reveals her post-pregnancy body' when all she did was take her baby on a walk. Makes me think the original headline was 'Woman with post-baby body dares to step outside her own home'". Another person tweeted: "You look amazing Koko! Just remember every BODY is different, AND that's what makes us women different! Not to mention that we have bodies that can push out BABIES!"
The 33-year-old should be applauded for the way she's handled the criticism. She's keeping it positive, which must be especially hard since it hasn't been the easiest time for the Strong Looks Better Naked author lately. In addition to just welcoming her daughter, she continues to deal with the aftermath of the cheating reports involving Tristan Thompson. (Bustle previously reached out to representatives for Kardashian and Thompson about the cheating rumors, but did not receive a response.)
Why does anyone need to comment on her body or send hate her way? Kardashian already has a ton on her plate, so why not just leave her alone? She's no stranger to body-shaming, which is probably why she's taking the high road in this particular instance, too.
The Revenge Body star is also choosing to focus on herself and what makes her feel good: working out. For anyone who may think Kardashian is too focused on exercising right now, just because she's excited about working out doesn't mean she isn't embracing her body after giving birth. She likes exercising. It gives her confidence. It's her body, so she can do whatever she wants with it — and feel however she wants about it. Really, whether she works out or not, she can't please anyone.
"I get body-shamed now that I work out!" she told Health in December 2016. "But I don't care what weight I am. It's genuinely about me being healthy. I was never like, 'I want to lose 30 pounds in 30 days.' Trust me: I've done juice cleanses. I did the Master Cleanse. Like, what would Beyoncé do? But it didn't work for my body and my lifestyle."
As it goes with any woman, but even more so for celebrities, there's immediate focus on women's bodies after they give birth. The "post-baby body" treatment needs to end. By discussing how a woman looks after delivering a human being courtesy of her amazing body adds pressure to what can be a stressful time for mothers. It can also be hurtful. There's no shame in women gaining weight or their bodies changing, which is something that happens when they're growing a child inside of them. And if a mother expresses her excitement about going to the gym, there's also no shame in that.
For Kardashian, you may not think she sees paparazzi photos and the ridiculous headlines accompanying the images, but she does. Now more than ever she deserves to be sent love and support, not ridicule for the shape of her body.